Wirecard's Markus Braun: schmoozing the elite with tech twaddle
Markus Braun, the self-styled tech visionary behind failed German tech firm Wirecard, was adept at fooling the gullible. There were red flags from the start, says Jane Lewis.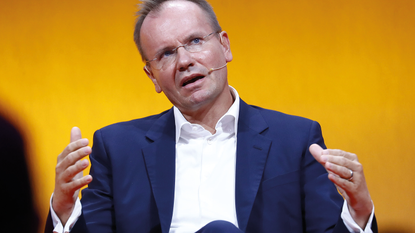 (Image credit: Markus Braun of Wirecard © Bloomberg via Getty Images)
In April this year, after KPMG delivered a highly critical report of Wirecard's accounting, Markus Braun "visibly glowered with barely contained rage" at a recorded company town-hall meeting, says the Financial Times. It was "a rare show of emotion" from the self-styled "tech visionary" behind the German payments processing firm. Braun's arrest last week, following the uncovering of a vast fraud, "is a brutal fall from grace for a once-fêted executive", says The Economist. After taking the helm in 2002, the former KPMG management consultant transformed the start-up into a pioneer of digital payments – eventually persuading everyone from Germany's financial establishment to Silicon Valley (by way of SoftBank's boss, Masayoshi Son, who invested €900m last year) to believe in his company's "amazing growth story".
Wirecard: not an Amazon, but an Enron
We now know, says The Times, that Wirecard "was not the Amazon of digital payments" that Braun claimed, but rather "another Enron". But how did he pull the wool over so many people's eyes? Blame it on the blarney, says The Wall Street Journal. Braun was an instantly recognisable fixture at tech conferences – "recently adopting Steve Jobs-style black turtlenecks" for good measure – and he was Wirecard's "most passionate advocate, as well as its largest shareholder". According to one employee, he and Wirecard's chief operating officer, Jan Marsalek, made "a formidable double act". While Braun, "the storyteller", smoothed investors, "Jan went around the world doing deals".
Braun was born in Vienna in 1969 and studied computer science at the city's Technical University, before beginning his career as a consultant at Contrast Management Consulting. In 1998, he joined KPMG in Munich – combining his work duties with a PhD in social and economic sciences. In 2002 he joined the board of Wirecard, a firm founded in a Munich suburb in the later part of the dotcom boom. After merging it with a local rival, Braun took Wirecard public in 2002 by taking over the Frankfurt listing of a defunct call-centre group – avoiding the scrutiny of an initial public offering.
Subscribe to MoneyWeek
Subscribe to MoneyWeek today and get your first six magazine issues absolutely FREE
Get 6 issues free
Sign up to Money Morning
Don't miss the latest investment and personal finances news, market analysis, plus money-saving tips with our free twice-daily newsletter
Don't miss the latest investment and personal finances news, market analysis, plus money-saving tips with our free twice-daily newsletter
From the start, Braun came across as "aloof and mysterious" to staff. Long-standing employees recall an awkward Christmas party in 2009 – when Wirecard was gearing up for international expansion – remarkable for the fact that Braun "actually spoke to them". More usually, Braun "secluded" himself on a floor reserved for senior management, taking a lift directly to his car, whose chauffeur whisked him between home and work. Braun continued to spend weekends in Vienna, mixing in political circles and contributing to the 2017 election campaign of Sebastian Kurz.
A talent for gobbledegook
Some thought it strange that, even as Wirecard snapped up global businesses, Braun "rarely travelled to see them". To critics, it was an early red flag. Braun was reportedly obsessed with Wirecard's share performance – constantly checking the price on his mobile – but didn't seem interested in the nuts and bolts of the business. When analyst Toby Clothier of Mirabaud Securities started studying Braun's speeches, "the thing we found odd was his obsession with certain words", he told the FT: "strong", "machine-learning" and "ecosystem" all ranked highly. It fooled the gullible, but "it was gobbledegook".
Jane writes profiles for MoneyWeek and is city editor of The Week. A former British Society of Magazine Editors editor of the year, she cut her teeth in journalism editing The Daily Telegraph's Letters page and writing gossip for the London Evening Standard – while contributing to a kaleidoscopic range of business magazines including Personnel Today, Edge, Microscope, Computing, PC Business World, and Business & Finance.
She has edited corporate publications for accountants BDO, business psychologists YSC Consulting, and the law firm Stephenson Harwood – also enjoying a stint as a researcher for the due diligence department of a global risk advisory firm.
Her sole book to date, Stay or Go? (2016), rehearsed the arguments on both sides of the EU referendum.
She lives in north London, has a degree in modern history from Trinity College, Oxford, and is currently learning to play the drums.