Oil passes $110 a barrel as Russia's invasion of Ukraine continues – here's what it means for you
With Russia's invasion of Ukraine intensifying, the price of oil, gas and petrol has soared even further. Saloni Sardana looks at what the future may hold for energy prices.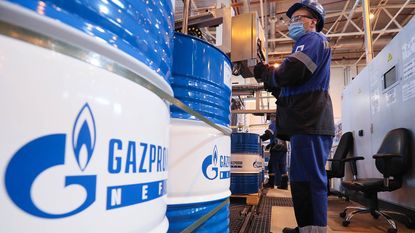 (Image credit: © Gavriil Grigorov\TASS via Getty Image)
Brent crude oil hit an eight year high of $111 on Wednesday as Russia's invasion of Ukraine showed little signs of abating. The price of gas has also shot up.
Russia, which plays a prominent role in both the oil and gas markets, has been hit with a host of sanctions by the West.
"Energy markets have largely been spared from sanctions deployed by the US, EU and UK on Russia's financial sector, but typical buyers are effectively self-sanctioning, setting off a race to secure alternative supplies in an already tight market," says the Financial Times.
Subscribe to MoneyWeek
Subscribe to MoneyWeek today and get your first six magazine issues absolutely FREE
Get 6 issues free
Sign up to Money Morning
Don't miss the latest investment and personal finances news, market analysis, plus money-saving tips with our free twice-daily newsletter
Don't miss the latest investment and personal finances news, market analysis, plus money-saving tips with our free twice-daily newsletter
So what does Putin want and what does the situation mean for fuel and energy prices?
Why has Russia invaded Ukraine?
The Kremlin ostensibly wants Nato to guarantee that Ukraine will not join the defensive alliance. He also wants Nato to stop all military activity in eastern Europe and pull out troops from countries that joined after 2017.
More fundamentally, he wants to reclaim what he sees as historic Russian territory. Putin has long pushed the idea that Ukraine is not a real country and is merely a region of Russia. Last year, he published an essay in which he appeared to be "rewriting Ukraine's history", notes the FT. He repeated these views last week in a scathing televised speech.
In 2014 Russia invaded and then annexed the Ukrainian peninsula of Crimea, which it regards as an integral part of Russia that was erroneously given to Ukraine after the breakup of the Soviet Union. In the same year, encouraged and armed by Russia, "separatists" in the cities of Donetsk and Luhansk in Ukraine's eastern Donbas province broke off from Ukraine.
Now, a week after invading Ukraine and having made little progress, Russia has stepped up its attacks, pounding the city of Kharkiv and inching closer to Kyiv, the capital.
How has the oil market reacted?
The price of Brent crude oil continues to rise despite 31 member countries of the International Energy Agency agreeing to release 60 million barrels of oil on Tuesday in an attempt to control prices
Vishnu Varathan, head of economics and strategy at Japan's Mizuho Bank, said last week "the scale of disruption and corresponding difficulty in substituting for lost Russian supply mean that price sensitivity to Russian oil disruptions are high."
He expects oil prices to rise by at least another 15% if around a third of Russian oil exports are affected. So there is further pain ahead for the oil market, with prices "as high as $115-$130 (a barrel) is not unimaginable amid elevated risks of a head-on conflict between Russia and the West," he said.
Russia's influence on the oil market cannot be understated. It is the world's second-largest oil exporter after Saudi Arabia, and is the world's largest producer of natural gas.
What about gas prices?
EU natural gas prices briefly hit a record high of €194.72 per megawatt hour on Wednesday before slipping back to €160. UK natural gas prices followed suit. The last time European gas prices traded near these levels was December 2021.
Several gas companies have said they are exiting contracts with Russian firms, including state-owned giant Gazprom. It comes as oil giants including Shell and BP have exited all Russian operations, with the latter abandoning its stake in Rosneft, something which could cost the company well over $25bn.
Russia has faced a barrage of sanctions in recent days, including against the country's central bank and cutting access to SWIFT, the international payments system, for seven of the country's banks.
There are fears that gas prices may rise if Russia, which supplies around 4% of the UK's and 40% of Europe's gas may, along with Belarus, reduce flows as a response to sanctions. For now, however, Russia has said it will continue to export gas. But Alexander Lukashenko, the Belarussian president, hasn't ruled out halting flows through his country.
Germany has refused to certify Nord Stream 2, an $11bn gas pipeline from western Siberia to Germany owned by Gazprom. It was intended to double the capacity of the Nord Stream 1 pipeline which is already operational.
A sardonic Tweet by Dimitry Medvedev, Russia's former prime minister and now deputy chair of Russia's Security Council, underscores how much higher European gas prices may rise. Medvedev, who tweeted in response to the project being cancelled last week, said: "Welcome to the brave new world where Europeans will soon be paying €2,000 per 1,000 cubic meters of gas!"
For comparison, European gas prices were trading at around €830 per 1,000 cubic meters of gas before the invasion took place.
How will this affect UK energy bills?
While the UK is less reliant than its European peers on Russian energy, wholesale prices rising in Europe means prices will jump in the UK as well.
Jonathan Brearly – chief executive of Ofgem, the UK's energy regulator – warned earlier this month that a Russian invasion of Ukraine could send prices higher in the UK and ultimately result in an even higher energy price cap.
The energy price cap, which is the maximum price per kilowatt hour (kWH) that energy providers can charge consumers for gas and electricity, increased by £693 (for the average household's usage) at the start of the month and Russia's conflict with Ukraine is just one of many factors that are likely to see the price cap rise even further in October.
How will it affect petrol prices?
The crisis in Ukraine is driving the price of petrol to record highs, too.A litre of petrol on UK forecourts hit £1.52 on Tuesday, with the average cost of a litre of diesel at £1.55, according to Experian Catalist, a data firm.
As oil prices are still climbing further, petrol is expected to hit new highs in the coming days.
Simon Williams, a spokesperson for the RAC, warned of further pain ahead for petrol prices. "The sudden $10 (£7.50) jump in the oil price on Tuesday to $113 (£85) a barrel is likely to take the average price of petrol towards 155p a litre and diesel to 160p..."
For perspective, in 2000, when protests erupted over rising petrol prices in the UK (partly due to higher fuel duty) the price for a litre of unleaded had just hit 80p.
• The Money Edit: Fuel prices hit record highs: how can you keep your fuel costs down?
What about interest rates?
One bigger concern with higher oil prices is that it may exacerbate inflation, which is already running high around the world.
This will make life even trickier for central banks. Higher energy and petrol prices push inflation up but they also cut into consumers' disposable income – which is in itself recessionary.
Jason Hollands, managing director of online investing platform BestInvest, says: 'There is now a real possibility that the Bank of England's forecast CPI inflation peak of 7.25% in April will be exceeded, and inflation at those levels will be totally unprecedented for many of today's investors."
That could lead to interest rates rising faster than many people are comfortable with.
Saloni is a web writer for MoneyWeek focusing on personal finance and global financial markets. Her work has appeared in FTAdviser (part of the Financial Times), Business Insider and City A.M, among other publications. She holds a masters in international journalism from City, University of London.
Follow her on Twitter at @sardana_saloni