Quiz of the week 9-15 May
Test your recollection of the last seven days' events with MoneyWeek's quiz of the week.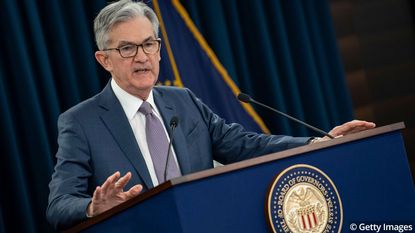 1. Which monetary policy tool did Federal Reserve Chairman Jerome Powell rule out on Wednesday?
a. Quantitative Easing Infinity 2.0
b. Negative interest rates
c. Raising interest rates
Subscribe to MoneyWeek
Subscribe to MoneyWeek today and get your first six magazine issues absolutely FREE
Get 6 issues free
Sign up to Money Morning
Don't miss the latest investment and personal finances news, market analysis, plus money-saving tips with our free twice-daily newsletter
Don't miss the latest investment and personal finances news, market analysis, plus money-saving tips with our free twice-daily newsletter
d. Lowering reserve requirements
2. Which date are trade talks set to resume between the UK and the EU?
a. 1 August
b. 1 July
c. 1 June
d. 18 May
3. "It is now very likely that the UK economy will face a significant recession this year," said Chancellor Rishi Sunak on Wednesday, announcing the economy had contracted by how much in the month of March?
a. 1.5%
b. 2.8%
c. 4.2%
d. 5.8%
4. As the UK lockdown begins to ease off, Ryanair boss Michael O'Leary has made ambitious plans to have what percentage of flights restored from July?
a. 15%
b. 40%
c. 25%
d. 30%
5. Which tech CEO recently announced that his employees could "work from home forever" this week?
a. Google CEO Sundar Pichai
b. Facebook CEO Mark Zuckerberg
c. Twitter CEO Jack Dorsey
d. Microsoft CEO Satya Nadella
6. Which hedge funds recorded their best month in half a decade in April?
a. Gold ETFs
b. China-focused hedge funds
c. Pension funds
d. Investment trusts
7. How many people did a single worker at a fish factory in Ghana infect with coronavirus?
a. 112
b. 533
c. 47
d. 302
8. What country received this week a $2.77bn loan from the International Monetary Fund to prevent economic collapse due to the coronavirus pandemic
a. Iran
b. Egypt
c. Nigeria
d. Israel
9. The Office for Budget Responsibility revealed this week that Britain's budget deficit could be pushed to:
a. £250bn
b. £175bn
c. £450bn
d. £300bn
10. By what percentage is the UK property market predicted to fall this year?
a. 13%
b. 15%
c. 7%
d. 11%
Answers
1. b) Negative interest rates. Despite President Donald Trump claiming this policy to be a "gift" earlier in the week, Fed chairman Jerome Powell made it clear on Wednesday that negative interest rates were not being considered.
2. c) 1 August. Due to coronavirus turmoil, Brexit trade talks have been scheduled to resume on 1 June.
3. d) 5.8%
4. b) 40%
5. c) Twitter CEO Jack Dorsey.
6. b) China-focused hedge funds. A rebound in the country's markets following the coronavirus sell-off helped investors outperform their global peers. The Eurekahedge Greater China Hedge Fund index, which tracks almost 70 hedge funds with about $30bn between them, climbed 9.7%, its best showing since April 2015.
7. b) 533. The "superspreader" infected 533 co-workers in an incident that now accounts for around 11% of the country's total recorded infections.
8. b) Egypt.
9. d) £300bn. The cost of measures to prop up the economy during the crisis could push the country's budget deficit to well above £300bn, the watchdog warned. In the Budget in March, the OBR forecast a deficit of £55bn this year.
10. a) 13%. Economists and housing experts are forecasting UK-wide price falls of up to 13% as the property market struggles to rebuild during the coronavirus crisis.
Jasper is a former writer for the MoneyWeek and he wrote on an array of topics including travel, investing in crypto and bitcoin, as well as cars. Previous to that he freelanced at The Art Newspaper, PORT Magazine and The Spectator. Jasper is currently a freelance writer at FAD magazine and he has an English literature degree from the University of Exeter, and a Master's degree from UCL.