Great frauds in history: John Rigas and Adelphia
John Rigas and his family embezzled at least $1bn from their company, Adelphia, wiping out shareholders.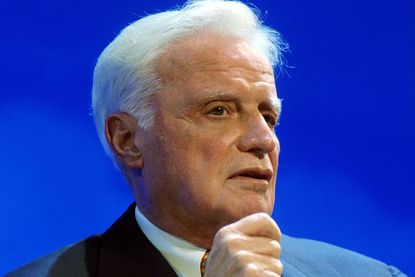 (Image credit: Kim Kulish / Contributor)
John Rigas was born in Wellsville, New York, in 1924. He served in the second world war and graduated with a degree in engineering, later buying a cinema in a town in Pennsylvania. In 1952 he bought the local cable television station for $300, naming the new company Adelphia Communications Corporation. By borrowing large sums of money to fund takeovers, Adelphia was able to expand beyond the local area, eventually becoming one of the largest providers in the US of cable television, long distance telephone calls and then later broadband internet.
What was the scam?
Rigas took Adelphia public in 1986, but he retained ownership of his own private family ventures. Rigas and his family persuaded a group of bankers to lend these family ventures money on condition that the loans were jointly backed by Adelphia as well as the family's own assets. Rigas treated the overdraft as a personal slush fund, using the money to speculate on Adelphia stock and injecting money into his personal companies, including $150m in the Buffalo Sabres, a professional hockey team. These loans were hidden from both shareholders and creditors, who were unaware that Adelphia was liable for an additional $2.3bn in debt.
What happened next?
In early 2002, Adelphia finally disclosed that it was potentially liable for that $2.3bn in extra loans. When analysts demanded that the company disclose the destination of these funds, the stock plunged, prompting auditors Deloitte to refuse to sign off on the accounts, which caused the stock to fall further. The Securities and Exchange Commission, the US regulator, opened its own investigation, prompting John Rigas and his son Tim to resign. Meanwhile, creditors called in their loans, pushing Adelphia into bankruptcy. In 2004 John Rigas and his son were convicted of fraud and sentenced to jail.
Subscribe to MoneyWeek
Subscribe to MoneyWeek today and get your first six magazine issues absolutely FREE
Get 6 issues free
Sign up to Money Morning
Don't miss the latest investment and personal finances news, market analysis, plus money-saving tips with our free twice-daily newsletter
Don't miss the latest investment and personal finances news, market analysis, plus money-saving tips with our free twice-daily newsletter
Lessons for investors
It's estimated that the Rigas family embezzled at least $1bn from Adelphia. Shareholders were wiped out. With appropriate controls, family firms can be good investments as the family has the incentive to make sure the firm is properly run and the ability to hold management to account. In this case, however, poor corporate governance (including a share structure that gave the family 60% of the voting rights while holding only 20% of the company) and a general attitude that it was their firm provided fertile ground for fraud.
Matthew graduated from the University of Durham in 2004; he then gained an MSc, followed by a PhD at the London School of Economics.
He has previously written for a wide range of publications, including the Guardian and the Economist, and also helped to run a newsletter on terrorism. He has spent time at Lehman Brothers, Citigroup and the consultancy Lombard Street Research.
Matthew is the author of Superinvestors: Lessons from the greatest investors in history, published by Harriman House, which has been translated into several languages. His second book, Investing Explained: The Accessible Guide to Building an Investment Portfolio, is published by Kogan Page.
As senior writer, he writes the shares and politics & economics pages, as well as weekly Blowing It and Great Frauds in History columns He also writes a fortnightly reviews page and trading tips, as well as regular cover stories and multi-page investment focus features.
Follow Matthew on Twitter: @DrMatthewPartri