Amancio Ortega: the humble introvert who made a billion
Amancio Ortega shook up the retail industry with his "fast-fashion" revolution. Now he's the richest man in Spain and has a property empire bigger than the Duke of Westminster's.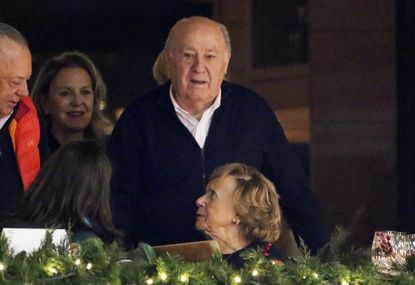 (Image credit: Europa Press Entertainment / Contributor)
Move over Hugh Grosvenor, there's a new European property king. According to Bloomberg data, the founder of Zara, Amancio Ortega, has quietly overtaken the real-estate heirs of London to hold the continent's biggest portfolio with assets worth $13bn, compared with $12bn for the young Duke of Westminster and $7bn for Charles Cadogan. Not bad for a man who grew up so poor that there were periods in his childhood when he ate "only potatoes".
At 83, Ortega is Spain's richest man, with a fortune put at $63.6bn most of it derived from his majority stake in Zara's parent Inditex, the world's largest fast-fashion operator. For some years Ortega's wealth managers have been scrambling to diversify his wealth, says The Economist. Property was the natural choice for a mogul who likes an investment "he can touch". And of late the chief target of Ortega's investment firm, Pontegadea, has been the US, where he has spent $3bn over the past six years typically on landmark properties in key cities. Like many multibillionaires, he mostly pays in cash.
How he turned fashion on its head
Zorba the Greek
Subscribe to MoneyWeek
Subscribe to MoneyWeek today and get your first six magazine issues absolutely FREE
Get 6 issues free
Sign up to Money Morning
Don't miss the latest investment and personal finances news, market analysis, plus money-saving tips with our free twice-daily newsletter
Don't miss the latest investment and personal finances news, market analysis, plus money-saving tips with our free twice-daily newsletter
Right from the start, Ortega turned the fashion industry's established modus operandi on its head. Rather than deciding what people should wear, then trying to persuade them to buy it, he asked shoppers what they wanted and designed the products accordingly. Before a global push in the 1980s, Ortega built a pioneering system linking Zara's talented young designers with its factories, warehouses and stores. It was the start of a fast-fashion revolution that left rivals trailing. These days, garments "fly from the design room to the shelves of stores in New York and Tokyo within four weeks".
In 2008 Inditex whose other brands include Pull&Bear, Massimo Dutti and Bershka overtook Gap to become the world's largest clothes retailer by sales; in 2011, it usurped Banco Santander as the biggest company in Spain. Success has posed problems for Ortega, "whose leadership style appears to favour extreme introversion", says The Economist. He is so self-effacing that investors visiting in advance of the firm's 2001 float "awkwardly" confused him with other staff. He has always preferred to direct his firm while standing with colleagues in the design room "he has never had his own office, deskor computer".
No model stays brilliant forever in business, and the challenge facing Inditex is how long it can keep growing, and at what pace, says the Financial Times. Ortega, who retired in 2011, is out of the daily fray, but still occasionally drops by the staff canteen. Described by one financier as "a man of the people", it must have come as a shock when Spain's Podemos party recently insinuated during a lament about inequality that he was "a terrorist". If so, he's been a remarkably productive one for Spain.
Jane writes profiles for MoneyWeek and is city editor of The Week. A former British Society of Magazine Editors editor of the year, she cut her teeth in journalism editing The Daily Telegraph's Letters page and writing gossip for the London Evening Standard – while contributing to a kaleidoscopic range of business magazines including Personnel Today, Edge, Microscope, Computing, PC Business World, and Business & Finance.
She has edited corporate publications for accountants BDO, business psychologists YSC Consulting, and the law firm Stephenson Harwood – also enjoying a stint as a researcher for the due diligence department of a global risk advisory firm.
Her sole book to date, Stay or Go? (2016), rehearsed the arguments on both sides of the EU referendum.
She lives in north London, has a degree in modern history from Trinity College, Oxford, and is currently learning to play the drums.