Should your business switch to a new current account?
The current-account market has plenty to offer small businesses. Don't be afraid to switch, says David Prosser.
The current-account market has plenty to offer small businesses.
There has never been a better time to switch business current-account provider. Competition between banks targeting small and medium-sized enterprises (SMEs) has never been this intense and not just among the digitalnew entrants we hear somuch about.
Like most individuals, SMEs have often been deterred from switching because of the perceived hassle, or because they assumed other products aren't sufficiently different or compelling. As far as the first problem is concerned, however, businesses with an annual turnover of up to £6.5m and fewer than 50 employees are now covered by the Current Account Switching Service. This scheme counts all the major British banks among its members and guarantees a trouble-free current-account switch completed within seven working days, with compensation if something does go wrong.
Subscribe to MoneyWeek
Subscribe to MoneyWeek today and get your first six magazine issues absolutely FREE
Get 6 issues free
Sign up to Money Morning
Don't miss the latest investment and personal finances news, market analysis, plus money-saving tips with our free twice-daily newsletter
Don't miss the latest investment and personal finances news, market analysis, plus money-saving tips with our free twice-daily newsletter
On the second count, there are also now some really compelling products on the market. For SMEs looking for a high-tech service, digital players offer an innovative approach. New entrants such as Tide and Cashplus make it much quicker to open new accounts than traditional banks and offer a superior range of mobile and web-based services. Monzo, one of the UK's best-known digital banking brands, is starting to develop a business account.
However, other types of challengers offer alternatives. Specialist SME-orientated banks such as Aldermore have targeted the SME sector with products designed specifically for its needs, rather than trying to tweak their consumer accounts. Metro Bank and Shawbrook Bank new brands serving both sides of the market have won plaudits for their business products.
Don't rule out older names
This range of choice underlines an argument that SMEs haven't always appreciated: there's more to choosing a bank than simply comparing headline interest rates. In this context, the independent Business Banking Insight is a good place to start for SMEs contemplating changing account. It ranks small-business banking services according to the ratings given to them by other business customers, based on a broad range of criteria.
SMEs' costs go up
The FSB's research focused on taxes, business rates, employee obligations and other government levies, recording a 15% increase in annual costs for the typical small business over thepast eight years. But in April new rules on pension contributions, along with a higher minimum wage, will add to the burden.
On pensions, the minimum contribution rates are increasing in the auto-enrolment system, which requires all employers to set up and pay into a pension scheme for their staff. From6 April, employers will have to pay 3% of salary into the pension funds of staff, up from 2% now.
As for the minimum wage, the minimum hourly rate for staff over the age of 25 increases to £8.21 on 6 April, up from £7.83 today. The increase, at just under 5%, is more than twice the current rate of inflation.
Many businesses will support the principle of more generous pay and pensions for employees, but the ever-rising cost burden will put them under considerable and in some cases, intolerable strain.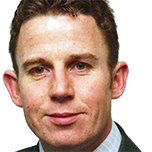 David Prosser is a regular MoneyWeek columnist, writing on small business and entrepreneurship, as well as pensions and other forms of tax-efficient savings and investments. David has been a financial journalist for almost 30 years, specialising initially in personal finance, and then in broader business coverage. He has worked for national newspaper groups including The Financial Times, The Guardian and Observer, Express Newspapers and, most recently, The Independent, where he served for more than three years as business editor.