How the FTSE reshuffle works
Royal Mail has been demoted from the FTSE 100 in the latest quarterly review. John Stepek explains how the decision is made.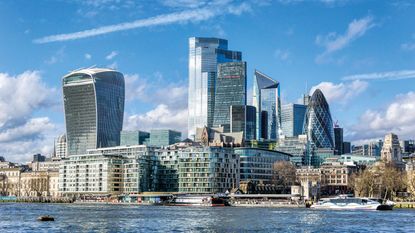 (Image credit: City of London © UrbanImages / Alamy Stock Photo)
Royal Mail has been demoted from the FTSE 100 in the latest quarterly review. How is the decision made?
This week saw the results of the quarterly FTSE 100 reshuffle. Struggling postal service Royal Mail will fall out of the index on 19 December, and Lloyds insurer Hiscox will join. If you're not familiar with the mechanics of indices, this might all seem baffling. So how does the reshuffle work? And can investors do anything with this information?
The FTSE 100 comprises the biggest 100 UK-listed companies by market capitalisation (market cap see below). The FTSE 250 (often known as the mid-cap index) is made up of the next 250 stocks (the 101st to 350th stock exchange members, ranked by market cap). The FTSE 350 combines the two. Of course, shares trade every day and market caps go up and down. So at any given point, the biggest stocks in the FTSE 250 might well be larger than the smallest in the FTSE 100.
Subscribe to MoneyWeek
Subscribe to MoneyWeek today and get your first six magazine issues absolutely FREE
Get 6 issues free
Sign up to Money Morning
Don't miss the latest investment and personal finances news, market analysis, plus money-saving tips with our free twice-daily newsletter
Don't miss the latest investment and personal finances news, market analysis, plus money-saving tips with our free twice-daily newsletter
Each quarter, index provider FTSE Russell reviews each index to see if any members should be relegated or promoted. For a company to enter the FTSE 100 at a reshuffle, it has to have a market cap that puts it in the top 90 by size. Similarly, once in the FTSE 100, a stock has to fall quite far to be relegated it has to have a market cap below that of the 110th biggest company in the UK stockmarket.
This prevents stocks from constantly dipping in and out of either index at each reshuffle, but there are usually at least a few changes in fact, the review prior to this week's (the September reshuffle) was the first in 12 years that resulted in no changes being made.
So what, if anything, can an investor make of these moves? As Tom Stevenson notes in The Daily Telegraph, a study by Smith's Corporate Advisory shows that, on average, stocks heading for relegation lost nearly 19% in the two months prior to the announcement date. Similarly, companies that made it to the FTSE 100 enjoyed average gains of more than 15% in the run-up to the news, then another 2% up to the actual joining date. This is partly down to funds that track the FTSE 100 having to sell or buy stocks that leave or join.
But that's no help to those hoping to make an "arbitrage" trade after all, this movement mostly happens prior to the review. And once a stock has joined its new index, its performance shifts new FTSE 100 entrants typically lost 5% in the two months after joining, while those relegated to the FTSE 250 were flat. In reality, says Stevenson, the quarterly reviews are pretty predictable by the time the results are out, they have been priced in.
In short, while reshuffles are useful to be aware of, and might provide buying or selling opportunities for stocks that are already on your watchlist or in your portfolio, they're not a feature to build a strategy on.
I wish I knew what market capitalisation was, but I'm too embarrassed to ask
Market capitalisation, often abbreviated to market cap, is the total value of all outstanding shares in a company. To get the market cap, you simply multiply the number of outstanding shares by their price. For example, there are currently just under 20 billion BP shares in issue, with a price of around 530p each, giving the oil giant a market cap of £104bn.
The largest listed firm in the world is technology group Apple. In August this year, it became the first-ever company to boast a market cap of more than $1trn. Since then, its share price has fallen sharply, and it currently has a market cap of around $860bn, which has left it vying with old rival Microsoft for pole position.
Companies are often divided into "nano cap", "micro cap", "small cap", "medium cap" and "large cap", depending on size, although there is no official definition of the specific parameters of these categories. In the UK, the FTSE 100 is usually referred to as the large-cap index, and the FTSE 250 as the mid-cap. Most major stockmarket indices (though not all the Dow Jones and the Nikkei 225 are notable exceptions) are weighted by market cap, whereby changes in the value of the firms with the highest market caps will move the index more than changes in the smaller stocks.
On its own, market cap doesn't tell you much, other than what it would cost you to buy all of a company's issued equity at current prices. If you divide market cap by annual earnings, you get the price/earnings (p/e) ratio (also calculated by dividing the share price by earnings per share). You can compare this with the p/e of the sector to get an idea of how expensive or cheap a company is.
But this doesn't take account of outstanding debt, preferred stock, or cash held. So analysts often use "enterprise value" (EV) instead. This gives a fuller measure of what a firm is worth and also allows the comparison of stocks with different funding structures.
John is the executive editor of MoneyWeek and writes our daily investment email, Money Morning. John graduated from Strathclyde University with a degree in psychology in 1996 and has always been fascinated by the gap between the way the market works in theory and the way it works in practice, and by how our deep-rooted instincts work against our best interests as investors.
He started out in journalism by writing articles about the specific business challenges facing family firms. In 2003, he took a job on the finance desk of Teletext, where he spent two years covering the markets and breaking financial news. John joined MoneyWeek in 2005.
His work has been published in Families in Business, Shares magazine, Spear's Magazine, The Sunday Times, and The Spectator among others. He has also appeared as an expert commentator on BBC Radio 4's Today programme, BBC Radio Scotland, Newsnight, Daily Politics and Bloomberg. His first book, on contrarian investing, The Sceptical Investor, was released in March 2019. You can follow John on Twitter at @john_stepek.