Iran: a fascinating place to visit, but not a place to invest
Max King marvels at the contrast between the friendliness of the Iranian people and the hostility of its government.
The friendliness of Iranian people is, rightly, regarded as one of the prime reasons to visit the country. But the first encounter of a would-be tourist with Iranians conveys precisely the opposite.
The Iranian government is deeply hostile to the British, an attitude that is made abundantly clear in the process of obtaining a visa.This has to be done in person at the Iranian consulate in London. A queue starts forming outside in the late morning, three days a week, in advance of the 2pm opening of the process. In theory, it's first come, first served but in practice there are a couple of sweet-smiling, mobile phone clutching spivs who enable their clients to jump the queue.
Inside, there is a long wait for your number to be called when, provided you have the required letter of invitation, application form, passport, photos and £240 in cash, you get to hand over your paperwork and have your fingerprints taken. You can pay "just" £160 and also hand over a Royal Mail-registered self-addressed envelopebut this assumes that the officials will remember to process your application, which they sometimes don't. Otherwise, you collect your passport at 5pm.
Subscribe to MoneyWeek
Subscribe to MoneyWeek today and get your first six magazine issues absolutely FREE
Get 6 issues free
Sign up to Money Morning
Don't miss the latest investment and personal finances news, market analysis, plus money-saving tips with our free twice-daily newsletter
Don't miss the latest investment and personal finances news, market analysis, plus money-saving tips with our free twice-daily newsletter
The fingerprint process means that all applicants have to apply individually, which rules out all but the most determined would-be visitors from more than a short way from London. It leads you to assume that you will be fingerprinted on arrival at Tehran airport as part of a high tech immigration control system. But nothing of the sort happens; the fingerprinting is merely to annoy, inconvenience and deter the British. As for the large amounts of cash collected each week by the consulate, goodness knows where it ends up. Most galling of all, visitors from Europe obtain their visas with between a hundredth and a tenth of the time and cost.
Some years ago, when hostility to Britain was at an extreme, the mullahs declared that sugar lumps, supposedly an iconic British product, were haram (forbidden). When relations thawed a little, they wanted to make a small positive gesture towards Britain. But verdicts of haram, coming as they do from Allah, cannot be rescinded. The mullahs found a solution; sugar lumps were, after all, halal (permissible) but only once they had been dipped in tea.
The omnipresent posters, pictures and murals of past and present religious leaders Ayatollahs Khomeini and Khamenai make it clear that Iran is, at core, very much a theocracy. The most obvious manifestation of this is that all women have to wear the hijab, though the covering of faces is not required. Posters claim that this is for the protection of women, though protection from whom and the necessity of compulsion are not explained. Women respond in one of two ways; either they dress like Brian's mum in the film Life of Brian, or they make every effort to look their best despite it. This has the opposite effect from the one intended of making women unnoticed.
It is pretty clear that for men as well as women religious autocracy is counter-productive in terms of fostering faith and that most people have little time for fanatics or respect for clerics. Clerics avoid all eye contact, let alone greetings, with ordinary people and never smile. Clearly they speak only to each other and to God. There is absolutely no opportunity of greeting any of them with a cheery "good morning, Vicar."
On the positive side, Iran is surprisingly tolerant to religious minorities, which include Jews, Christians and Zoroastrians. A large poster at the entrance to one mosque, little frequented by tourists, proclaimed "Death to Israel," suggesting that Allah might be merciful but his representatives on earth weren't, yet Jews don't attract a second glance when they walk down the street wearing a yarmulke. These minorities are steadily emigrating, but it's due to the pull from overseas rather than a push from Iran.
The streets leading into every town are lined with the pictures of the local martyrs, who were killed in the bloodbath that was the Iran-Iraq war of the 1980s. Outside many mosques and shrines are also pasted collective posters of these martyrs, with the Ayatollahs looking benignly on from the corner. This turns the process of remembrance for a war that ended nearly 30 years ago into something approaching obsession, perhaps warning of the potential need for sacrifice in the future. However, it does make clear why Iran is acutely concerned with what is going on in Iraq. There are such strong links between the two countries in history, in religion and in their culture as to make them almost one.
There must be few countries in which foreigners are more regularly accosted by locals who have nothing they want to sell. They welcome you, they are puzzled as to why there are so few British, as to why their government so dislikes Britain and they want to make it clear that government attitudes don't reflect them. As one man who accosted us said; "the heart is Iran is its people, not its government. They do not represent us." Half a dozen of his companions nodded in agreement.
Sometimes, Iranians just want to practise their English or ask strange questions. For example, in Shiraz:
"Excuse me; can I ask you a question? Have you travelled much in Europe?"
"Yes, we have been to most countries in Europe."
"Then can you please tell me in which country do most people have moustaches?"
"Bulgaria. Everyone has a moustache there."
"Everyone? What about the children?"
"Ok, not the children under 13."
"Thank you very much."
But this is a country where so much is strange or contradictory. Busking, walking a dog and inter-faith marriage are all illegal. Women aren't allowed to sing in public. The national (male) sport is a cross between a physical work-out class and Scottish country dancing. Smuggling alcohol attracts a more severe penalty than smuggling opium, but people distil and consume moonshine in their own houses. The BBC is banned, with internet access blocked, but the ban is easily circumvented and doesn't apply to satellite receivers. So only tourists are affected.
Infrastructure is much better than expected and has many of the characteristics of developed economies: good roads, water generally drinkable from the tap, good healthcare (apparently not tested) and terrible urban traffic. On the other hand, credit cards are banned and ATMs, thanks to international financial sanctions, not available to foreigners. Banks don't change money, not even the Tourism Bank.
There is no respect for copyright laws and nearly all goods with Western brands are fakes. Unless, that is, Armani has gone into the hand-made carpets business, Hermes now runs cafes and Chanel has developed fragrances that make you smell like a camel. A fake brand, it seems, is an inverse indicator of quality.
Is Iran investable? In a word, no. The economy is heavily dependent on oil exports while import controls and international sanctions protect inefficient local businesses. The law is far more interested in interpreting Allah than protecting or regulating commercial rights. Despite a booming tourist industry, local investment in tourist facilities is minimal nobody has any confidence that the opening up of the country in the last four years won't be suddenly reversed. But the last word goes to Ayatollah Khameini: "I consider the imposition of Western culture upon other peoples and the trivialisation of independent cultures as a form of silent violence and extreme harmfulness." How can this not apply to Western investors?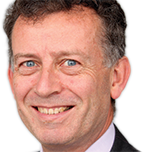 Max has an Economics degree from the University of Cambridge and is a chartered accountant. He worked at Investec Asset Management for 12 years, managing multi-asset funds investing in internally and externally managed funds, including investment trusts. This included a fund of investment trusts which grew to £120m+. Max has managed ten investment trusts (winning many awards) and sat on the boards of three trusts – two directorships are still active.
After 39 years in financial services, including 30 as a professional fund manager, Max took semi-retirement in 2017. Max has been a MoneyWeek columnist since 2016 writing about investment funds and more generally on markets online, plus occasional opinion pieces. He also writes for the Investment Trust Handbook each year and has contributed to The Daily Telegraph and other publications. See here for details of current investments held by Max.