2 December 1943: 'Bevin Boys' conscripted into the mines
With the coal industry desperately short of men, the Minster of Labour, Ernest Bevin, announced today in 1943 that thousands of conscripts would be sent down the mines instead of to the front.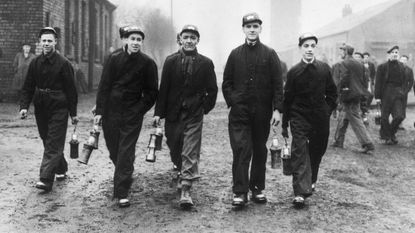 (Image credit: © Keystone/Getty Images)
During the First World War, many working men were called up to serve in the armed forces, leaving the country desperately short of skilled workers to contribute to the war effort. So the government drew up a "Schedule of Reserved Occupations" whereby men within the stipulated ages working in the listed occupations would not be required to fight. For some clever reasons, the schedule failed to mention coalminers. Given that coal powered virtually all the country's industry, this was a fairly serious omission.
When WWII came round, thousands of miners signed up to fight. And by 1943, there was a severe shortage. While women were able to stand in for the absent men in many other occupations, they were not allowed to work underground as miners, having been banned in 1842.
From 1942, people called up for war service were given the option of working in the mines as an alternative to military service – 13,000 or so chose this option. They were joined by people with mining experience serving in the army at home. But that still left the industry short of some 50,000 men.
Subscribe to MoneyWeek
Subscribe to MoneyWeek today and get your first six magazine issues absolutely FREE
Get 6 issues free
Sign up to Money Morning
Don't miss the latest investment and personal finances news, market analysis, plus money-saving tips with our free twice-daily newsletter
Don't miss the latest investment and personal finances news, market analysis, plus money-saving tips with our free twice-daily newsletter
And so, on this day in 1943, the Minister of Labour, Ernest Bevin, stood up in the Commons to announce a new compulsory recruitment scheme. Rather than be sent off to give old Jerry a damn good hiding, one in ten random conscripts between the ages of 18 and 25 – no matter what their background or how well suited they were to manual labour – became "Bevin Boys" and instead were sent for six weeks' training, then down the mines to dig for coal. Refusal could land them in jail.
In all, some 21,000 men who thought they were going to fight ended up underground in this way. The scheme continued well past the war, until 1948.
Churchill gave a speech backing the Bevin Boys: "one will say 'I was a fighter pilot'; another will say 'I was in the Submarine Service'; another 'I marched with the Eighth Army'; a fourth will say 'none of you could have lived without the convoys and the Merchant seamen'. And you, in your turn, will say, with equal pride and with equal right: 'we cut the coal'."
But many believed they were not given the recognition they deserved. Their service was not honoured until 2008, when surviving Bevin Boys received a veterans' badge from the prime minister.
Ben studied modern languages at London University's Queen Mary College. After dabbling unhappily in local government finance for a while, he went to work for The Scotsman newspaper in Edinburgh. The launch of the paper's website, scotsman.com, in the early years of the dotcom craze, saw Ben move online to manage the Business and Motors channels before becoming deputy editor with responsibility for all aspects of online production for The Scotsman, Scotland on Sunday and the Edinburgh Evening News websites, along with the papers' Edinburgh Festivals website.
Ben joined MoneyWeek as website editor in 2008, just as the Great Financial Crisis was brewing. He has written extensively for the website and magazine, with a particular emphasis on alternative finance and fintech, including blockchain and bitcoin. As an early adopter of bitcoin, Ben bought when the price was under $200, but went on to spend it all on foolish fripperies.