1 December 1942: the Beveridge Report proposes a welfare state for Britain
With the Second World War still raging, the popular Beveridge Report was published on this day in 1942, proposing a welfare state be set up after the war.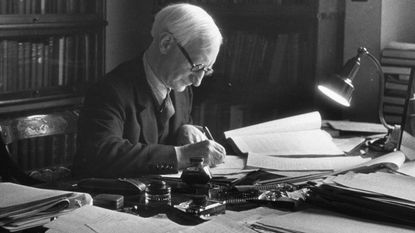 (Image credit: © Felix Man/Picture Post/Hulton Archive/Getty Images)
With the Second World War in its third year, Britain turned its thoughts to what life would be like after the war had been won. It was "a revolutionary moment in the world's history", said respected economist William Beveridge, "a time for revolutions, not patching". In other words, the time was ripe to build a better society.
The problem, said Beveridge, was that there were five "giants" holding back progress: want, disease, ignorance, squalor and idleness. These could be conquered with "co-operation between the state and the individual".
In return for a monthly payment, the state had a duty to provide social welfare to those who needed it, but it could not be so much that it would "stifle incentive, opportunity, and responsibility". That was the central message of Beveridge's report into Social Insurance and Allied Services, published on 1 December 1942.
Subscribe to MoneyWeek
Subscribe to MoneyWeek today and get your first six magazine issues absolutely FREE
Get 6 issues free
Sign up to Money Morning
Don't miss the latest investment and personal finances news, market analysis, plus money-saving tips with our free twice-daily newsletter
Don't miss the latest investment and personal finances news, market analysis, plus money-saving tips with our free twice-daily newsletter
The Beveridge Report, as it was known, was enthusiastically received by a public that had endured months of wartime privations and misery. It called for a national health service and a welfare system "from the cradle to the grave" that paid out 24 shillings a week for a single person on unemployment benefit (40 shillings for a husband and wife), eight shillings per child in family allowance, and a state pension that guaranteed a minimum standard of living.
None of this was going to come cheap, of course. The prime minister, Winston Churchill, urged restraint, and asked the public to prioritise post-war reconstruction. The public responded by voting Churchill out of office in July 1945.
For that year in 1945, the Beveridge Report estimated its recommendations would cost £697m – roughly £30bn in today's money. Since then, with people living longer and more people retired, welfare costs have soared. In 2017, £264bn was spent on welfare payment,s including £11bn on pensions, accounting for 35% of all government spending, according to the Office for National Statistics. And in 2019, £115bn was spent on the NHS in England.
Chris Carter spent three glorious years reading English literature on the beautiful Welsh coast at Aberystwyth University. Graduating in 2005, he left for the University of York to specialise in Renaissance literature for his MA, before returning to his native Twickenham, in southwest London. He joined a Richmond-based recruitment company, where he worked with several clients, including the Queen's bank, Coutts, as well as the super luxury, Dorchester-owned Coworth Park country house hotel, near Ascot in Berkshire.
Then, in 2011, Chris joined MoneyWeek. Initially working as part of the website production team, Chris soon rose to the lofty heights of wealth editor, overseeing MoneyWeek's Spending It lifestyle section. Chris travels the globe in pursuit of his work, soaking up the local culture and sampling the very finest in cuisine, hotels and resorts for the magazine's discerning readership. He also enjoys writing his fortnightly page on collectables, delving into the fascinating world of auctions and art, classic cars, coins, watches, wine and whisky investing.
You can follow Chris on Instagram.