8 October 1908: The Wind in the Willows is first published
After being rejected at first, the popular children's classic The Wind in the Willows was first published on this day in 1908.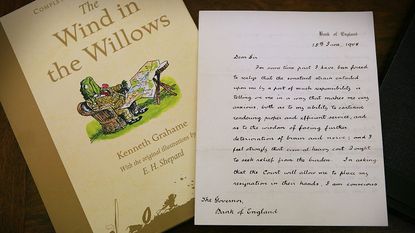 (Image credit: © Peter Macdiarmid/Getty Images)
If you ever need proof that central bankers aren't all completely useless, look to Kenneth Grahame. The author of The Wind in the Willows – one of the most beloved of children's stories – spent almost 30 years toiling away at the Bank of England.
After joining the Old Lady of Threadneedle Street in 1879, Grahame rose up through the ranks to retire in 1908 in the senior position of company secretary. And he could count himself fortunate to do so. Back in 1903, a gunman had entered the Bank looking for the governor. As luck would have it, the governor was out, and the would-be assassin made do with Grahame. Miraculously, Grahame escaped unhurt and would live to see his riverbank tale of Ratty, Mole, Badger and Toad published.
Losing no time after leaving the Bank of England (which it has been said he did under a bit of a cloud), Grahame turned his thoughts to happier times spent messing about by the banks of the River Thames in Berkshire as a child.
Subscribe to MoneyWeek
Subscribe to MoneyWeek today and get your first six magazine issues absolutely FREE
Get 6 issues free
Sign up to Money Morning
Don't miss the latest investment and personal finances news, market analysis, plus money-saving tips with our free twice-daily newsletter
Don't miss the latest investment and personal finances news, market analysis, plus money-saving tips with our free twice-daily newsletter
It's likely these fond childhood memories stood out all the more, considering Grahame had been sent away to live with his grandmother. His father in Scotland was a lapsed alcoholic, while his mother had succumbed to scarlet fever. But down by the riverbank, the young Kenneth Grahame found happiness. Later, as an adult, Grahame drew on these same memories to invent bedtime stories for his sickly young son, Alastair.
These stories evolved into The Wind in the Willows. Considering how popular the story is today, it's hard to imagine that nobody at first wanted to publish the book. But Methuen and Co took a chance, and on 8 October 1908, The Wind in the Willows was first published, in the year of Grahame's retirement from the Bank.
It was widely panned from the outset. One critic wrote that it would "win no credence from the best authorities on biology", completely missing the point of Grahame's anthropomorphic characters. But Grahame did receive one piece of fan mail from an admirer who carried an awful lot of weight – Theodore Roosevelt. The US president said he had read and re-read the book until the riverside residents were like "old friends". He even popped over to Britain for a visit. The book soon became a huge success – so much so, in fact, that it's never been out of print.
And if you do have an old, first edition knocking about, it could be worth something. In 2010, a first edition dedicated to Foy Felicia Quiller Couch, the daughter of one of Grahame's friends, thought to be the inspiration for Ratty, sold for £32,400 at Bonhams. Time to check the attic.
Chris Carter spent three glorious years reading English literature on the beautiful Welsh coast at Aberystwyth University. Graduating in 2005, he left for the University of York to specialise in Renaissance literature for his MA, before returning to his native Twickenham, in southwest London. He joined a Richmond-based recruitment company, where he worked with several clients, including the Queen's bank, Coutts, as well as the super luxury, Dorchester-owned Coworth Park country house hotel, near Ascot in Berkshire.
Then, in 2011, Chris joined MoneyWeek. Initially working as part of the website production team, Chris soon rose to the lofty heights of wealth editor, overseeing MoneyWeek's Spending It lifestyle section. Chris travels the globe in pursuit of his work, soaking up the local culture and sampling the very finest in cuisine, hotels and resorts for the magazine's discerning readership. He also enjoys writing his fortnightly page on collectables, delving into the fascinating world of auctions and art, classic cars, coins, watches, wine and whisky investing.
You can follow Chris on Instagram.