25 August 2012: Voyager 1 enters interstellar space
On this day in 2012, the Voyager 1 spacecraft crossed into interstellar space, becoming the first manmade object to explore the space between the stars.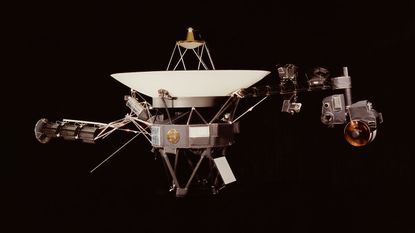 (Image credit: © NASA/Hulton Archive/Getty Images)
What do a recording of Chuck Berry's Johnnie B Goode, a photograph of a woman licking an ice cream and the sound of a chimpanzee have in common? They are all heading away from Earth at over 56,000 km per hour. These sounds and images are part of an eclectic mix recorded onto a gold-plated 12-inch copper disc, currently hitching a ride through the galaxy on the Voyager 1 spacecraft.
Originally named after the Mariner missions, Voyager 1 and its twin, Voyager 2, blasted off from Florida's Kennedy Space Flight Center in August and September 1977 on a mission to study Jupiter and Saturn. But the probes, on separate trajectories, far exceeded their goals.
From May 1972 to the point Voyager 2 encountered Neptune in 1989, the bill for the Voyager programme was $865m. That is, as Nasa points out, "a fraction of the daily interest on the US national debt". And when you consider that the probes are still returning data almost 40 years after their launch, you have to agree, that's not bad value for money. By comparison, the Mars Curiosity rover had a budget of $2.5bn, while Europe's Rosetta comet mission, which included the Philae lander, cost €1.4bn – not cheap.
Subscribe to MoneyWeek
Subscribe to MoneyWeek today and get your first six magazine issues absolutely FREE
Get 6 issues free
Sign up to Money Morning
Don't miss the latest investment and personal finances news, market analysis, plus money-saving tips with our free twice-daily newsletter
Don't miss the latest investment and personal finances news, market analysis, plus money-saving tips with our free twice-daily newsletter
Having said goodbye to Neptune, the pair of spacecraft were given a new objective: to study the outer region of our solar system, known as the heliopause. Then, on 25 August 2012, Voyager 1 crossed into interstellar space. (To be completely accurate, it's not really possible to pinpoint this event to any specific day, but that's the date Nasa's sticking with.)
On that fateful day, Voyager 1 became the first, and so far only, manmade object to enter the space between the stars, bearing Earth's calling card. "The spacecraft will be encountered and the record played only if there are advanced spacefaring civilisations in interstellar space", said the late Dr Carl Sagan, the man behind the mix-tape.
So, here's hoping that an alien race so advanced as to stumble on this memento of Mankind will have hung on to their old turntables. If they find themselves fans of Chuck Berry, there's a good chance they will have. If they haven't, they can always extract the gold for portfolio insurance.
I'll leave you with this thought: in the time it's taken you to read this, Voyager 1 has travelled over 3,000 kilometres. But it will be another 40,000 years before it gets anywhere near another star system.
Chris Carter spent three glorious years reading English literature on the beautiful Welsh coast at Aberystwyth University. Graduating in 2005, he left for the University of York to specialise in Renaissance literature for his MA, before returning to his native Twickenham, in southwest London. He joined a Richmond-based recruitment company, where he worked with several clients, including the Queen's bank, Coutts, as well as the super luxury, Dorchester-owned Coworth Park country house hotel, near Ascot in Berkshire.
Then, in 2011, Chris joined MoneyWeek. Initially working as part of the website production team, Chris soon rose to the lofty heights of wealth editor, overseeing MoneyWeek's Spending It lifestyle section. Chris travels the globe in pursuit of his work, soaking up the local culture and sampling the very finest in cuisine, hotels and resorts for the magazine's discerning readership. He also enjoys writing his fortnightly page on collectables, delving into the fascinating world of auctions and art, classic cars, coins, watches, wine and whisky investing.
You can follow Chris on Instagram.