18 August 1587: The first English person is born in the Americas
The first person born to English parents in the Americas, little Virginia Dare, was born on this day in 1587. But what happened to her is a mystery.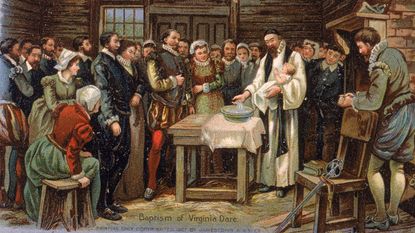 (Image credit: Baptism of Virginia Dare © Hulton Archive/Getty Images)
From the 19th century onwards, the long golden tresses and smiling eyes of Virginia Dare have stared out of everything from wine to ginger ale bottles.
On one advert for Virginia Dare wine from 1947, she's shown carrying bottles and glasses on a tray, soliciting the customer to "Show me the way to your home". Other times she's been found wandering bare-breasted through the wilderness of a Virginia Dare extra fine tobacco tin lid – all entirely innocently, of course.
For many Americans, Virginia Dare, the first person born to English parents in the Americas, represents virgin discovery and new beginnings; the spiritual birth of the nation, no less. In 1937, a commemorative postage stamp and half-dollar coin were produced in her honour. That we know so little about her, and what became of her, has only served to fire the imagination.
Subscribe to MoneyWeek
Subscribe to MoneyWeek today and get your first six magazine issues absolutely FREE
Get 6 issues free
Sign up to Money Morning
Don't miss the latest investment and personal finances news, market analysis, plus money-saving tips with our free twice-daily newsletter
Don't miss the latest investment and personal finances news, market analysis, plus money-saving tips with our free twice-daily newsletter
Virginia was, however, very much a living, breathing person born into the fledgling, and ultimately doomed, colony on Roanoke Island, off modern-day North Carolina on 18 August 1587, in the reign of Queen Elizabeth I.
Her grandfather, John White, was the governor of the settlement. He noted in his journal that his daughter, Elenora, "wife to Ananias Dare, one of the assistants, was delivered of a daughter in Roanoak, and the same was christened there the Sunday following, and because this child was the first Christian born in Virginia, she was named Virginia".
Before returning to England to fetch supplies, White instructed the settlers that, if they chose to depart, they should leave him a message. If they were forced to flee, they should add a cross above the message.
While in England, war with Spain prevented White from making a speedy return, and when he did arrive back at the colony three years later, he found the settlers had gone. There was, however, a cryptic message.
Carved into a post was the name "Croatoan" and the letters "Cro" were etched into a nearby tree. There was no cross indicating danger, and the settlement had been packed up and taken away. John White never did find Elenora and Ananias, and their little girl, Virginia. For the next 425 years, the mystery of the lost colony endured.
But in 2015, The Times reported on an exciting discovery. British archaeologists from the University of Bristol had found Elizabethan artefacts to support the theory that the settlers had been taken in by the local indigenous inhabitants of a nearby island.
Only bad weather and "a stupid captain", said Professor Horton, had prevented White from possibly being reunited with his family, when he sailed passed modern-day Hatteras Island in 1590 – the island formerly named Croatoan.
Chris Carter spent three glorious years reading English literature on the beautiful Welsh coast at Aberystwyth University. Graduating in 2005, he left for the University of York to specialise in Renaissance literature for his MA, before returning to his native Twickenham, in southwest London. He joined a Richmond-based recruitment company, where he worked with several clients, including the Queen's bank, Coutts, as well as the super luxury, Dorchester-owned Coworth Park country house hotel, near Ascot in Berkshire.
Then, in 2011, Chris joined MoneyWeek. Initially working as part of the website production team, Chris soon rose to the lofty heights of wealth editor, overseeing MoneyWeek's Spending It lifestyle section. Chris travels the globe in pursuit of his work, soaking up the local culture and sampling the very finest in cuisine, hotels and resorts for the magazine's discerning readership. He also enjoys writing his fortnightly page on collectables, delving into the fascinating world of auctions and art, classic cars, coins, watches, wine and whisky investing.
You can follow Chris on Instagram.