Calilo – sustainable luxury on a Greek island: MoneyWeek Travel
Rupert Hargreaves visits Calilo, a resort on the Greek island of Ios, where sustainability and luxury live in harmony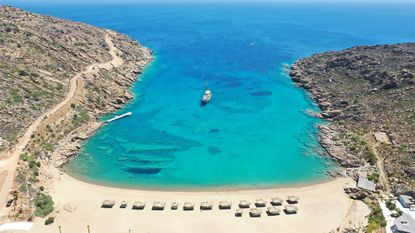 (Image credit: Calilo)
Sustainable travel is all the rage. For most people, the idea of sustainable travel conjures up images of yoga retreats and camping in forests, drinking nothing but water and eating a "clean" diet. And this is the problem with the notion of travelling sustainably. We all need to be more careful about how we use the world's valuable resources, but for many, sacrificing the creature comforts we've become used to is a step too far.
It's this idea that underpins the work of Angelos Michalopoulos and his family on the unspoilt Greek island of Ios (also known as Io or Nio).
One of the Cyclades group of islands in the Aegean Sea, about an hour away by ferry from Santorini, Ios has managed to escape the overdevelopment that's swamped other Greek islands such as Santorini, Mykonos and Corfu.
Subscribe to MoneyWeek
Subscribe to MoneyWeek today and get your first six magazine issues absolutely FREE
Get 6 issues free
Sign up to Money Morning
Don't miss the latest investment and personal finances news, market analysis, plus money-saving tips with our free twice-daily newsletter
Don't miss the latest investment and personal finances news, market analysis, plus money-saving tips with our free twice-daily newsletter
Towards the end of the tourist season in September, I visited the family's main project on the island, called Calilo, which is a hotel located about a 40-minute drive from the main port. Even at this time of year, the hotel was hosting its first wedding, and there was a notable buzz as guests gradually arrived.
Michalopoulos made his money on Wall Street. While he keeps his business relatively secret, he tells me his firm trades stocks, bonds and commodities, using algorithms. "I make money because people don't understand themselves," he says. "People place too much emphasis on rewards and not enough on the risks both in business and life." The Calilo Group is planning to invest a total of €200m on the island.
The projects are designed around the principle of protecting the environment and nurturing the local community. But they're also financially sustainable, and that, as Michalopoulos tells me, is just as important.
Turbulent times in the Greek islands
I met Michalopoulos at his home on Ios at a particularly poignant time for Greece and its economy. In the weeks before I arrived, the country had been devastated first by wildfires and then by floods, distorting lives and livelihoods.
Greece was only just starting to recover from its 2010 debt crisis when the coronavirus pandemic hit. Its tourism industry, which accounts for around a quarter of GDP, was devastated by two years of the most severe lockdowns in the Western world, handicapping an already fragile economy.
Luckily, consumers emerged from the pandemic with money to spend and many rushed to Greece. However, a changing climate is now threatening to throw the country into more turmoil if extreme weather pushes tourists away.
There's a school of thought that the only way to stop the climate from changing further is to stop driving, flying, eating meat, buying smartphones and having children. That's not a future many people would choose if asked and it shows. Despite all the climate warnings, we're still driving, flying and consuming more than ever.
So, the Calilo Group led by Michalopoulos has taken a different approach. They have acquired around a third of the land on Ios and have made a legal commitment to restrict development to less than 1% of the land. This is a long-term commitment and it's designed to be sustainable – both in the environmental and business sense, the group says.
Calilo is a family enterprise with two generations running the business. As Michalopoulos explains to me, the goal was always to get the next generation interested at an early stage and thinking about the future.
This brings me to the business side of the operation. "There are three ways" to approach sustainability in business, says Michalopoulos. There's "zero development", which means buying the land and doing nothing, which might seem appealing, but is unsustainable in the long run. "If we do nothing, then someone else will come in and develop the land," Michalopoulos explains.
The other two approaches are "overdevelopment" (see the other Greek islands Santorini, Mykonos and Corfu) and the approach Calilo has adopted, which is sensible and financially sustainable development on a small scale.
"We live in a world where everything has to be binary. Why should everything either be capitalism or environmentalism?," asks Michalopoulos. There is a middle ground and it's one that's often overlooked. "Success leads to overdevelopment, which leads to destruction," he says. "If you do nothing, you are only trying to escape the problem."
And there's a bigger issue with these destinations. Going on holiday in an overdeveloped location isn't relaxing. "What do we want on holiday?" he asks. We want "more open space, a carefree experience and no worries" – something hard to find in a place like Santorini.
A resort for wellbeing and escape
The resorts Calilo has created on Ios are designed to "create beautiful emotions in people". The architecture stresses "freedom and innocence", while the locations are designed to give guests as much space as possible.
My room exemplified this philosophy. All rooms have their own enclosed outside area for privacy. Each room has its own pool and mine had direct access to the sea – perfect for a pre-breakfast swim in the bay. All the rooms look out across the bay, taking in the stunning sunrises and sunsets that bathe the horizon in a warm glow every morning and evening.
While there are plans to grow the resort, the number of rooms is going to be capped. "If we had 1,000 rooms rather than 70, you would have more noise, more negativity," Michalopoulos explains.
Sensitive development is another arm of the Calilo mentality. Construction on the main hotel began in 2004 but only opened its doors in 2019. It was built using as much reclaimed stone as possible from the island, and other reusable materials, while ancient olive trees have been saved from destruction elsewhere in Greece to help with the landscaping.
The well-being of staff is just as important to the owners as anything else – something that shows in the level of service.
As part of the ambition to keep the island's economy humming year-round, rather than the famine or feast of the holiday season, the family firm is building a school of hospitality. It's "important the island does not die in the winter and then only wakes up in the summer".
Thanks to its location and layout, Calilo feels a world away from, well, the world. It's easy to get lost in your own paradise, watching the sunset on the beach with a cocktail, or spending the afternoon lounging by the pool bar.
I spent my first day doing just that, tasting Greek delights, washed down with the occasional margarita. In the evening, I was tempted out to the season-closing party of the Pathos Club & Restaurant, the clifftop nightclub owned by the Calilo Group, which has "the best sunset on the island". I could not disagree with that statement.
The next day was spent exploring the island of Ios, including visiting the tomb of Homer, the Greek poet credited as the author of the Iliad and Odyssey. On a clifftop surrounded by miles and miles of open sea and mountains, the tomb was an oasis of calm, and worth the hike to visit it in the midday heat.
After my trip around the island, I found myself in Calilo's spa, a brand-new section of the hotel comprising a two-storey gym and spa overlooking the rest of the hotel and the bay beyond. Then it was back to the pool bar, to enjoy more Greek delights and a few drinks while watching the sunset in yet another spectacular display of light and colour.
My trip to Ios was a short one, but it has left a lasting impression on me as to what the words "holiday" and "sustainability" should really mean. Calilo shows why we can't ignore one if we want to enjoy the other.
Rupert was a guest of Calilo. From £620, including breakfast, calilo.com
---
This article was first published in MoneyWeek's magazine. Enjoy exclusive early access to news, opinion and analysis from our team of financial experts with a MoneyWeek subscription.
Rupert is the Deputy Digital Editor of MoneyWeek. He has been an active investor since leaving school and has always been fascinated by the world of business and investing.
His style has been heavily influenced by US investors Warren Buffett and Philip Carret. He is always looking for high-quality growth opportunities trading at a reasonable price, preferring cash generative businesses with strong balance sheets over blue-sky growth stocks.
Rupert was a freelance financial journalist for 10 years before moving to MoneyWeek, writing for several UK and international publications aimed at a range of readers, from the first timer to experienced high net wealth individuals and fund managers. During this time he had developed a deep understanding of the financial markets and the factors that influence them.
He has written for the Motley Fool, Gurufocus and ValueWalk among others. Rupert has also founded and managed several businesses, including New York-based hedge fund newsletter, Hidden Value Stocks, written over 20 ebooks and appeared as an expert commentator on the BBC World Service.
He has achieved the CFA UK Certificate in Investment Management, Chartered Institute for Securities & Investment Investment Advice Diploma and Chartered Institute for Securities & Investment Private Client Investment Advice & Management (PCIAM) qualification.