Why now is the perfect time to visit Kenya for a safari holiday
African safaris are as wonderful as they've always been, except now you get them all to yourself. Book one now, says Merryn Somerset Webb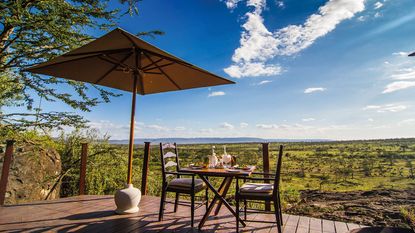 (Image credit: © A&K)
We almost didn't make it to Kenya. Until the very last minute it looked like it might be just too hard. I booked the flights last winter (when BA were practically giving them away) on the basis that surely, come October, the pandemic would be all but over. So much for that.
In September Kenya was still on the "red list" – and, even if it hadn't been, everyone was obliged to quarantine on arrival. When those obstacles disappeared, new ones arrived. BA cancelled our outgoing flight, but didn't get around to telling us (I only found out when I rang to check seating arrangements). And then there was the admin.
Travel in the age of Covid-19
Oh god, the admin. You'll need to apply for visas online. The forms are long and boring and ask you to do things such as list your e-visa numbers for your last visit. There is no guidance as to what you might do if your last visit was 25 years ago (or in the case of my mother, who was brought up in Nairobi and joining us on the trip, 50 years ago), long before e-visas were a thing.
Subscribe to MoneyWeek
Subscribe to MoneyWeek today and get your first six magazine issues absolutely FREE
Get 6 issues free
Sign up to Money Morning
Don't miss the latest investment and personal finances news, market analysis, plus money-saving tips with our free twice-daily newsletter
Don't miss the latest investment and personal finances news, market analysis, plus money-saving tips with our free twice-daily newsletter
Then there is the Covid-19 performance admin. You will need your vaccine certificate. You will need your PCR test certificate, which you will need to upload to the Trusted Travel Initiative and print out again. And you will need a Jitenge QR code – this is something to do with a health surveillance system that should be active the entire time you are in Kenya, but you will never have to engage with again after arrival. You will then need to take all these bits of paper to the airport with you. Our party of five had 30 bits of paper between us – and such was the intense level of we-will-never-make-it paranoia that my husband and I ended up each carrying duplicate files of the lot just in case. Nightmare. Still, on the day we made it on to the plane. Phew.
Then as we taxied to the runway (where we sat for an hour) one of the stewards announced that the Kenyan immigration officials wanted more. We were all to fill out one of the forms again – on paper. There was a plane-wide shortage of pens – and some tears. The next hurdle was food. BA have been cost cutting. So there was almost nothing to eat: supper pre-arrival in Nairobi was half a sandwich each.
Suffice it to say that a party that included one diabetic, one coeliac and two large teenagers didn't hit immigration (at 10pm) in the best of shape. We left the airport at 11pm – a shame as Nairobi was under a 10.30pm curfew. That meant that when we arrived at the Muthaiga Country Club (our first stop) after a bumpy drive in the rain (the main route in from the airport is very much still under construction); it was, apart from the man who opened the door, completely closed. We fought over the macadamia nuts in the mini bar and fell into bed, everyone else to sleep – me, to wonder what on earth I had been thinking, travelling long haul in an age of Covid-19.
All worth it in the end
The answer was clear the next morning. I had been thinking exactly the right thing. The sun was out, there was breakfast – and Kenya is, in almost every way, glorious. We spent a day in Nairobi, first eating (a lot) and then heading, with the first of many charming Abercrombie & Kent guides, to a forest story-telling event in Karen (open fire, great tales, much dancing, great fun). The next day, everyone fully back on form, we flew to the Mara in a tiny plane (smaller, to the children's amazement, than the one we usually make them go on to their summer holidays in Shetland).
I had memories of staying at Sanctuary Olonana in my twenties – so this was our first stop. It sits on the edge of the 1,500 sq km reserve, and offers about as much luxury (huge beds, free standing baths, fabulous food) as it is possible to get in such a remote spot. The rooms and the communal areas hang over the Mara River where several families of hippos live (noisily). You can watch them – and flocks of bright yellow weaver birds popping in and out of intricate nests – from the terrace as you have breakfast.
But the key thing here is game drives. The Mara might be all but empty of tourists, but it is jammed with everything else. We could see giraffes and elephants from the plane as we landed – and our guide, Benson, on picking us up at the Kichwa Tembo airstrip, reckoned we might as well go straight out on a drive. By teatime the kids had seen most of the "Big Five", including a lioness protecting her kill under a tree.
Over the next few days they saw a lot more lions, a cheetah heading out on a hunt with her cubs, the tail end of the great migration (herds of 2,000 plus wildebeest on their way to the Serengeti), hundreds of zebra and antelope, various baboons, hyenas, mongooses, warthogs (warthog babies are the cutest thing in the Mara) and jackals, too many crocodiles (for my liking), a serval cat and a leopard shimmying down a tree.
The price of sheep
It was hard to leave the Olonana. But leave we did – for the Ol Seki Hemingways Mara, on the other side of the Mara. The drive there took us around the edge of the reserve, past many Maasai villages and their attendant herds of cows. This shifted the conversation between Benson and my husband, from who really saw the leopard first to the price of a good heifer relative to that of a sheep. Farming readers will be interested to hear that a cow in Kenya costs much the same per kilo as a cow in Scotland, but that sheep command a significant premium thanks to their ability to survive drought.
Our new guide, Patrick (there was a children-of-divorcees-style handover of our little group on the road between the two camps) was as keen as Benson on game drives, to which he added his own twist in the form of a cool box of beer to celebrate sunset on the go. Before we reached the Ol Seki we had seen what I think was the highlight of the trip for me: a herd of 20-odd elephants – including a ludicrously enthusiastic baby – washing themselves in a small waterhole. Perfection.
As, for that matter, was the Ol Seki, a ten-tent camp perched on the edge of an escarpment looking out over the private Naboisho Conservancy area. Our family "tent" came with two giant bedrooms, two bathrooms, a kitchen (plus chef…) and a vast sitting/dining area, all with completely breathtaking views out over the plain. More gorgeous drives followed where we saw a martial eagle stalking a tiny Thomson's gazelle fawn and – at dusk from our Land Cruiser with a Tusker beer in hand – a leopard having a stand off with a hyena.
However, the most extraordinary thing about all of this was not just that we saw it, but that we mostly saw it entirely alone. Tourism to Kenya is very severely depressed. Some of the hotels and camps claim to be up to 50%-60% occupancy. I'd be amazed if it was 20%-30%. Everywhere was empty. Stop to look at a lion and only a few years ago you would have seen a lion... and 15 other Land Cruisers full of people looking at said lion; this year you just see the lion and miles and miles of plains behind it.
That's why we went, why I did all that admin and dragged my family half way around the world. I wanted them to see the Mara empty of people. It's also why you should do the same.
Back to reality
From the Ol Seki we flew to Malindi for the half hour drive to the Hemingway's Watamu beach hotel – where we had the Indian Ocean to ourselves for a few days. A bit of swimming (warm water slightly freaks Scottish kids out), a bit of snorkelling (there is a healthy coral reef here), a bit of souvenir buying (no, you can't have too many kikois) and suddenly reality bit: it was the last night of the holiday and we had to fill in our UK passenger locator forms. Frantic buying of tests online and code inputting followed.
Admin tension then lasted until we were on the plane home – there were five security checks before BA allowed us to board and the man in front of us was rejected at the last hurdle (something to do with his vaccine passport being in the wrong format). That bit was trying – and I hope for all our sakes that the admin burden will soon ease.
But even if it doesn't, I would do it all again. It was worth every single QR code. So here is my advice: go now. You'll be doing your bit for the Kenyan economy at the same time – and you will have the experience of a lifetime.
• Merryn was a guest of Sanctuary Olonana. Abercrombie & Kent (www.abercrombiekent.co.uk; 01242 547 760) offers a ten-night trip to Kenya from £6,799pp based on two people sharing. Includes safari at Sanctuary Olonana, Hemmingway's OL Seki and a beach break at Hemmingway's Watamu. Includes flights, transfers to safari, full board accommodation when on safari and accommodation on a B&B basis when on the coast. Comes under A&K's flexible booking policy. Available over the phone or visit the A&K boutique in Harrods.
Merryn Somerset Webb started her career in Tokyo at public broadcaster NHK before becoming a Japanese equity broker at what was then Warburgs. She went on to work at SBC and UBS without moving from her desk in Kamiyacho (it was the age of mergers).
After five years in Japan she returned to work in the UK at Paribas. This soon became BNP Paribas. Again, no desk move was required. On leaving the City, Merryn helped The Week magazine with its City pages before becoming the launch editor of MoneyWeek in 2000 and taking on columns first in the Sunday Times and then in 2009 in the Financial Times
Twenty years on, MoneyWeek is the best-selling financial magazine in the UK. Merryn was its Editor in Chief until 2022. She is now a senior columnist at Bloomberg and host of the Merryn Talks Money podcast - but still writes for Moneyweek monthly.
Merryn is also is a non executive director of two investment trusts – BlackRock Throgmorton, and the Murray Income Investment Trust.