Should you head abroad or stay in the UK for your summer holiday?
If you go abroad there will be trouble, says Chris Carter. But you should be safer with a holiday nearer home.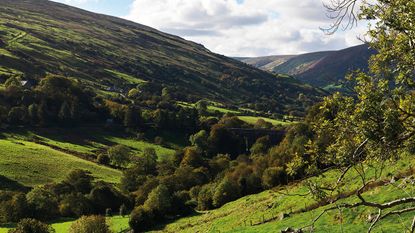 (Image credit: © Alamy Stock Photo)
"European destinations insist that they will be open come summer. Tour operators promise that there will be flights," say Chris Haslam, James Stewart and Susan d'Arcy in The Sunday Times. "But confusion and uncertainty over self-isolation, tests, vaccinations and now quarantine hotels is discouraging all but the most determined travellers." And yet, most of us are by now yearning to get away – even if that means staying in Britain.
After all, going through the rigmarole of booking a foreign holiday only to see it cancelled again like last year will feel too much like Groundhog Day. And if it goes ahead and you come home to a fortnight banged up in a Travelodge, it will feel too much like Papillon. In Hounslow. A better plan is to star in your own The Great Escape and book a British summer holiday now. Yes, peak periods will be "irritatingly busy". And you might have to navigate the "latent hostility from a shrill minority of locals". But the nation's beauty spots are "there for the enjoyment of all".
The government has "made it clear that they think it is too early to be thinking about summer holidays abroad", says Nick Trend in The Daily Telegraph. On the plus side, things "would have to take a very wrong turn for the domestic tourism industry to remain closed for the whole of the summer". Rather, your biggest headache is likely to be higher demand, making accommodation "so heavily booked that decent options will be hard to find".
Subscribe to MoneyWeek
Subscribe to MoneyWeek today and get your first six magazine issues absolutely FREE
Get 6 issues free
Sign up to Money Morning
Don't miss the latest investment and personal finances news, market analysis, plus money-saving tips with our free twice-daily newsletter
Don't miss the latest investment and personal finances news, market analysis, plus money-saving tips with our free twice-daily newsletter
Then again, that will depend on where you set your sights. Booking for Easter is still "touch and go". May, and "certainly June", offer better prospects, although some restrictions will possibly still be in place, including the "rule of six". So bear that in mind if you're hoping to go away with friends or family. And choose your activities wisely. Happily, nature and the wilderness will always be open for business.
Two havens for wildlife
"If last year was the one where people started to notice the beauty of the wildlife right on the doorstep during lockdown, this should be the one where we start to get to know some of the best wild places in our own country, rather than presuming that all that is rare and interesting can only be found abroad," says Isabel Hardman in The Spectator. Take, for example, Silverdale. "This really is a lovely Lancashire village on the sea, with so many different spots for... rare and exciting wildlife." Starling murmurations can be seen at the RSPB Leighton Moss Nature Reserve as the sun sets, and there are "the amusingly named bearded tits hopping about in the reed beds", as well as ospreys fishing. "It's a rare day when you don't see a marsh harrier swooping over the reserve and there are also otters, kingfishers and wading birds such as avocets."
When in search of tranquillity, "my first instinct is to head for the hills, somewhere like Glendun near Cushendun on the Northern Irish coast", says Kevin Rushby in The Guardian. "Essentials of peace like woods, streams, the sea, and birdsong are found in abundance on Ronan's Way, a trail created in tribute to local farmer Ronan MacAuley in this north-eastern corner of the country, 50 miles north of Belfast." There are some fine views at the top of this three-and-a-half-mile route, over the Mull of Kintyre on a good day. Your enjoyment will be accompanied by the sound of birdcall: "merlin, hen harrier and curlew if you're lucky".
Get cosy in an Eagle's nest
Twitchers of a rather different kind might prefer a stay at Windsor's Oakley Court hotel (oakleycourt.co.uk, from £250), says Maria Shollenbarger in the Financial Times. "Even casual followers of fashion will likely be familiar with the name" of Alex Eagle, the "multi-talented style arbiter". The hotel features "fine art of Eagle's selection; important 20th-century furniture; and hits of bohemia cohering in all the right ways". There are Pierre Jeanneret chairs under antique sconces, Eastern rugs rubbing shoulders with British chintz, and "gorgeous" line paintings by Tanya Ling against ornate late-Victorian panelling. "And, this being an Eagle endeavour, much of what you'll live with when in residence is quietly available for purchase."
Chris Carter spent three glorious years reading English literature on the beautiful Welsh coast at Aberystwyth University. Graduating in 2005, he left for the University of York to specialise in Renaissance literature for his MA, before returning to his native Twickenham, in southwest London. He joined a Richmond-based recruitment company, where he worked with several clients, including the Queen's bank, Coutts, as well as the super luxury, Dorchester-owned Coworth Park country house hotel, near Ascot in Berkshire.
Then, in 2011, Chris joined MoneyWeek. Initially working as part of the website production team, Chris soon rose to the lofty heights of wealth editor, overseeing MoneyWeek's Spending It lifestyle section. Chris travels the globe in pursuit of his work, soaking up the local culture and sampling the very finest in cuisine, hotels and resorts for the magazine's discerning readership. He also enjoys writing his fortnightly page on collectables, delving into the fascinating world of auctions and art, classic cars, coins, watches, wine and whisky investing.
You can follow Chris on Instagram.