Revive your weary spirits in a spa
When the current crisis has passed, we'll need to take the waters. Chris Carter recommends a spa in Bath.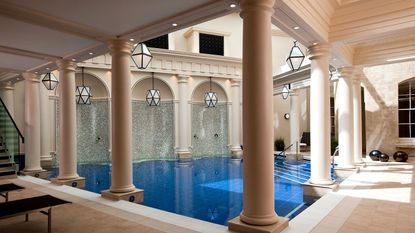 When in Bath, do as the Romans did – bathe. People have been coming "to take the waters" for centuries – long before the Romans made Aquae Sulis, as they called Bath, fashionable. Some came to relax, others to be "cured" of their ailments. These days you can't actually go in the water at the world-heritage Roman Baths (which, by the way, are definitely worth a visit if you've never been). The water is pond-green and none too inviting. Happily, The Gainsborough Bath Spa hotel draws the water for its Spa Village Bath from the same springs. It is the only one to do this – and trust me, this water you do want to get into.
Sitting under one of the pressure spouts in the main pool, the warm water pummelling your shoulders, its all too easy to slip into a trance. While you're at it, you might as well contemplate where all this water comes from. Surprisingly, the source is still a mystery. It's thought the water fell as rain 10,000 years ago. It seeped into the earth to a depth of two kilometres to be warmed and returned to the surface in the form of three springs. One of these is Hetling Spring and it provides the three thermal pools with mineral-rich water. There are also two saunas, one of which is infrared, and a steam room. There's also the "ice alcove" for hardcore spa-goers. Whether out of survival instinct or just raw cowardice, I found myself slinging the ice over my shoulder. I think one piece might have touched me.
My 90-minute Magnesium Remineraliser treatment was much easier to get onboard with. I hadn't realised that I needed to be "remineralised" – my focus being more on animal and vegetable (read on – that came later). But magnesium is apparently responsible for "promoting energy levels, sleep, circulation, metabolism and muscle movement". I can vouch for the sleep part. The scrub, massage and warm wrap is terribly relaxing. Muscle movement? I think I did turn over once. As for metabolism, I defy anybody to come up with a better way of preparing for dinner than with a good massage… followed by a cocktail in the bar, naturally, with The Gainsborough's convivial general manager, Marc MacCloskey. He explained to me the history of the building.
Subscribe to MoneyWeek
Subscribe to MoneyWeek today and get your first six magazine issues absolutely FREE
Get 6 issues free
Sign up to Money Morning
Don't miss the latest investment and personal finances news, market analysis, plus money-saving tips with our free twice-daily newsletter
Don't miss the latest investment and personal finances news, market analysis, plus money-saving tips with our free twice-daily newsletter
Salus per aquam
The Gainsborough opened five years ago. As you may have guessed, it's named after Thomas Gainsborough, who lived in Bath from 1759. But the artist was never actually resident at the site, which was just as well as the two buildings that make up the present-day hotel were former hospitals. The current buildings, with their Georgian and Victorian façades, date from 1826 and 1860, but the Hospital of Thomas Bellott, which served the sick and needy, had occupied the site since 1609. "Do not leave dormant in your store that would relieve the poor. If the poor sleep soundly, so will you," reads the Latin inscription etched in stone. That The Gainsborough today occupies former hospitals is somewhat fitting for a hotel that is built around a spa, albeit a luxury one. And you won't have any trouble sleeping soundly in the cosy bedrooms. Ours was a corner room with views of the Abbey and the rooftop pool at the modern Thermae Bath Spa next door.
But to dinner! If The Gainsborough is named after an artist, then so is its restaurant – Dan Moon. The only difference is West Country native Dan Moon is alive and to be found in the kitchen, using local ingredients to whip up works worthy of his three AA rosettes for our seven-course tasting menu. The smoked rabbit with ethical "foie gras", Parma ham and tomato was served beneath a teeny, tiny glass cloche that, when lifted, unleashed a puff of smoke. All of the dishes from the cream of mushroom velouté to the chocolate marquise were excellent, while the roast duck in a plum sauce, served with a homemade spring roll, was my particular favourite. Each dish was paired with a different wine.
These waters will be empty for some weeks to come – but everyone's going to need a long stint in the pool when this crisis ends, and this is the place to look forward to visiting. Salus per aquam, as those Romans might have said – "health through water". Or simply, "Spa".
Chris was a guest of The Gainsborough. From £290 on a room-only basis, see thegainsboroughbathspa.co.uk
Chris Carter spent three glorious years reading English literature on the beautiful Welsh coast at Aberystwyth University. Graduating in 2005, he left for the University of York to specialise in Renaissance literature for his MA, before returning to his native Twickenham, in southwest London. He joined a Richmond-based recruitment company, where he worked with several clients, including the Queen's bank, Coutts, as well as the super luxury, Dorchester-owned Coworth Park country house hotel, near Ascot in Berkshire.
Then, in 2011, Chris joined MoneyWeek. Initially working as part of the website production team, Chris soon rose to the lofty heights of wealth editor, overseeing MoneyWeek's Spending It lifestyle section. Chris travels the globe in pursuit of his work, soaking up the local culture and sampling the very finest in cuisine, hotels and resorts for the magazine's discerning readership. He also enjoys writing his fortnightly page on collectables, delving into the fascinating world of auctions and art, classic cars, coins, watches, wine and whisky investing.
You can follow Chris on Instagram.