The surprising joys of a Club Med ski holiday
It's fun at Club Med – and everything is taken care of for you. What's not to like?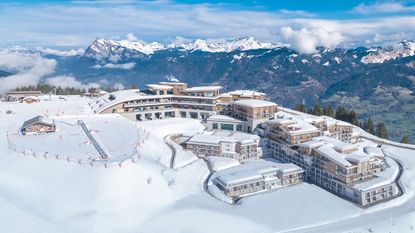 When I told my sister I was going on an all-inclusive skiing holiday and that what's more I was doing it with Club Med, she was horrified. That was last year. We liked it so much we went again this year.
Club Med offered its first all-inclusive holiday in 1950 – in tents by the beach. The philosophy of its founder was simple and rather lovely: "The aim in life is to be happy. The place to be happy is here. And the time to be happy is now". The idea that you could join a group of people in a money-free environment jammed with good will and sunshine took off. That first summer 10,000 requests to join the first camp in the Balearics had to be refused and within a few decades there were clubs everywhere.
Today Club Med is owned by Chinese private-equity firm Fosun and it has moved firmly upmarket. But somehow the original ethos remains. You will feel your first and only twinge of concern on your arrival at the Grand Massif Samoëns as your luggage is labelled and removed from you. In peak season 1,000 people check out and 1,000 people check in every Sunday. Somehow all suitcases make it from the vast lobby to the correct rooms: think of it like a luggage version of Mumbai's Dabbawala system. It shouldn't work. But it does.
Subscribe to MoneyWeek
Subscribe to MoneyWeek today and get your first six magazine issues absolutely FREE
Get 6 issues free
Sign up to Money Morning
Don't miss the latest investment and personal finances news, market analysis, plus money-saving tips with our free twice-daily newsletter
Don't miss the latest investment and personal finances news, market analysis, plus money-saving tips with our free twice-daily newsletter
Intensely organised skiing
While you wait for this to happen you take yourself to the ski room. And here, any doubters among you will suddenly get the point of intensely organised skiing. The joy of finding that you have been pre-allocated a (heated) locker that opens with your bracelet (there's still no money at Club Med – your coloured bracelet does everything for you) and that, crucially, the locker already has your skis and boots in it, is quite something. It is soon matched by the discovery that the locker room opens, via vast glass sliding doors, directly onto the piste. A short ski down and you are at the bottom of the Chariande Express chair lift – the key to accessing the 265km of runs in the Grand Massif area.
This brings us to who you will be accessing those runs with. My family contains a variety of different attitudes to skiing. Some of us like to be always black or off-piste. Some (the more sensible ones to my mind) simply can't see why anyone would ever advance above red. Club Med solves this problem by including group skiing in the deal. Join a group of your ability and you are off – guided skill-appropriate skiing and usually a few nice new friends to boot. You can choose your groups in advance or sign up on the first day. I put myself in a calm middling group, the kids with other kids and my husband in the French-speaking off-piste group. I think he enjoyed the avalanche training.
Now imagine the joy of the all-inclusive extended to eating. No need to queue with your kids for substandard, overpriced chips half way up the mountain. Ski in to Club Med and lunch is all laid out. Ski out again afterward… and then in again for drinks and snacks (oysters or barbecued steak on good days, cheese and salami every day) in the snow outside the locker room on the terrace of the Skyline Gourmet Lounge if the sun is out (good views), or inside if not. Then there is swimming, saunas and meandering about before a mass drift towards the restaurants at 7pm.
The food is fantastic – if I am honest, memories of the brilliance of the buffet might even have been the final prompt for our second visit. Have the raclette, the fondue and maybe everything else on offer from the many chef stations too.
After supper there are some fairly unique cultural experiences on offer. Your teens are invited to Passworld, an adult-free club where they can slump around in video-game heaven, or club in a contained environment with other teenagers. But come 9pm the fun really starts: the long-suffering GOs (gentils organisateurs) who will have spent the day until then working as baggage handlers, mini club managers, reception staff and ski-boot fitters suddenly become singers, dancers and trapeze artists. Some good, some awful. All ridiculously enthusiastic and good natured – and enhanced in the eyes of much of the audience by the constantly flowing, all-inclusive cocktails.
Each to their own
You might think this sounds awful (my sister does). It's actually rather fun. And here's another thought for you. I bet you want your older children to learn the virtues of hard work, patience, the basics of a few languages and perhaps a little trapeze in their year off. You do? Club Med is always hiring (at least until the coronavirus appeared). I have one word of caution. This place is perfect for kids. So it is overrun with kids. OVERRUN. If you have children under 12, that's going to suit you very well indeed. If you do not, steer clear of the main bar. Or maybe try the Club Med Val Thorens Sensations resort instead (no kids' club here!)
Merryn was a guest of Club Med. From £1,328 per person (clubmed.co.uk)
Merryn Somerset Webb started her career in Tokyo at public broadcaster NHK before becoming a Japanese equity broker at what was then Warburgs. She went on to work at SBC and UBS without moving from her desk in Kamiyacho (it was the age of mergers).
After five years in Japan she returned to work in the UK at Paribas. This soon became BNP Paribas. Again, no desk move was required. On leaving the City, Merryn helped The Week magazine with its City pages before becoming the launch editor of MoneyWeek in 2000 and taking on columns first in the Sunday Times and then in 2009 in the Financial Times
Twenty years on, MoneyWeek is the best-selling financial magazine in the UK. Merryn was its Editor in Chief until 2022. She is now a senior columnist at Bloomberg and host of the Merryn Talks Money podcast - but still writes for Moneyweek monthly.
Merryn is also is a non executive director of two investment trusts – BlackRock Throgmorton, and the Murray Income Investment Trust.