Nikon Z50: an affordable, professional-quality camera
Nikon has expanded its range to appeal to more casual users. Matthew Partridge is impressed.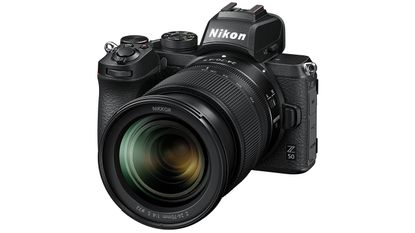 Until recently, if you wanted to buy a serious camera, you'd get a Nikon or a Canon, brands that dominated the market with a wide range of options for every budget. Competition from Fuji and Sony, however, as well as the fact that many people are now abandoning dedicated cameras in favour of smartphones, has forced Nikon to revamp its lineup. The result is its Z range of mirrorless cameras. The first two models, the Z6 and Z7, both released in 2018, were aimed at professionals; this Z50 is a budget version priced to appeal to more casual users.
The Z50 has many advantages over the previous generation of models (known as DSLRs). The biggest is that you can now shoot silently, which is useful if you're in an environment where you're not allowed to make a noise. Another is the autofocus system, which is much improved and can track moving objects and even automatically focus on the eyes of your subjects. Video quality has also been improved and there are special settings that allow you to make videos in a professional-quality format that can be further tweaked.
Nice pictures in all conditions
Nikon cameras are well known for producing quality photographs, even in low-light conditions, and the Z50 is no exception. I tested it in three different settings: the Canary Wharf Winter Lights festival, a Blackheath rugby match, and a comedy night. In each case I was impressed with the quality of the images produced. Even when I had to increase the ISO (light sensitivity) to compensate for the outside conditions, it still produced nice pictures.
Subscribe to MoneyWeek
Subscribe to MoneyWeek today and get your first six magazine issues absolutely FREE
Get 6 issues free
Sign up to Money Morning
Don't miss the latest investment and personal finances news, market analysis, plus money-saving tips with our free twice-daily newsletter
Don't miss the latest investment and personal finances news, market analysis, plus money-saving tips with our free twice-daily newsletter
The only major negative is Nikon's decision to use a new lens mount, rather than stick with the one that it used for its DSLRs. At the moment there are only a handful of lenses that will work directly with the new system, though it will hopefully release more in the near future. If you want to take advantage of the vast range of older Nikon lenses, which can be bought cheaply second hand, you'll have to use a special FTZ adaptor. This isn't that expensive and the adapted lenses work reasonably well, but it's a bit fiddly to use and makes the whole system somewhat heavier.
If you are looking to buy an up-to-date camera that will enable you to take professional-quality photographs without spending too much money, then I'd definitely recommend the Z50. If there were more lenses in the range, and the video time limit were longer, then in the Z50, Nikon would have an unbeatable camera.
Price: body only, £849; with FTZ adaptor, £989, with 16-50 and 50-250 lenses, £1,199
Matthew graduated from the University of Durham in 2004; he then gained an MSc, followed by a PhD at the London School of Economics.
He has previously written for a wide range of publications, including the Guardian and the Economist, and also helped to run a newsletter on terrorism. He has spent time at Lehman Brothers, Citigroup and the consultancy Lombard Street Research.
Matthew is the author of Superinvestors: Lessons from the greatest investors in history, published by Harriman House, which has been translated into several languages. His second book, Investing Explained: The Accessible Guide to Building an Investment Portfolio, is published by Kogan Page.
As senior writer, he writes the shares and politics & economics pages, as well as weekly Blowing It and Great Frauds in History columns He also writes a fortnightly reviews page and trading tips, as well as regular cover stories and multi-page investment focus features.
Follow Matthew on Twitter: @DrMatthewPartri