Pagani Huayra Roadster BC: a simply incredible supercar
Italian brand Pagani's latest roadster is a motoring masterpiece. Jasper Spires reports.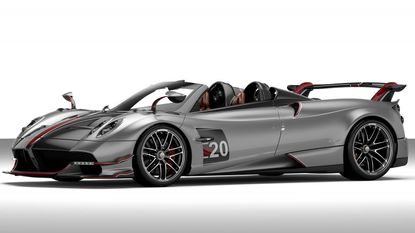 (Image credit: )
For a car enthusiast, "seeing a $4m Pagani Huayra Roadster BC in the wild is akin to laying eyes on the Mona Lisa," says Tony Quiroga in Car and Driver. The supercar is the pinnacle of motoring artistry, with bodywork that has been sculpted with more skill and dedication than anything you'd find in an art gallery nowadays and, like all great works, there is a strict limit to supply, with only 40 cars being built.
Tarmac-melting performance
The machine is also atom-splittingly fast, with a top speed of 257mph and a 0-60mph sprint time of just 3.3 seconds. "Once those 12 cylinders all start pushing in the same direction, well, let me tell you, Newton's laws of physics really don't stand a chance," says David Booth on driving.ca. "Punching the throttle of a Pagani, I think, is as close as a road-based vehicle gets to the relentlessness of a Space-X booster rocket. The thing just doesn't ever let up." Churning 791 horsepower through a paltry 1,250kg body, the Roadster BC is powered by a Mercedes-AMG V12 which can hit 6,500rpm and generates "tarmac-melting torque".
It handles well too. Even at high speeds, the steering remains stable as 500kg of aerodynamic downforce presses the tyres into the earth, and computer-controlled suspension keeps it from lifting off around corners. If you're going fast enough, it can even hit 1.9Gs on a hairpin bend; the engineers having tuned the ride to perfection.
Subscribe to MoneyWeek
Subscribe to MoneyWeek today and get your first six magazine issues absolutely FREE
Get 6 issues free
Sign up to Money Morning
Don't miss the latest investment and personal finances news, market analysis, plus money-saving tips with our free twice-daily newsletter
Don't miss the latest investment and personal finances news, market analysis, plus money-saving tips with our free twice-daily newsletter
It is all maybe a tad too much for the street, says Jonny Lieberman in Motor Trend. "I was a touch scared and alarmed. I was also eyes-wide smiling while shouting something to the effect of mio Dio while simultaneously swearing profusely."
A tasteful, futuristic look
The car's design is space age and futuristically insectoid in appearance, with arcane silver curves and aerodynamic grooves along the bodywork. "The colour combination of the interior is also tasteful," says Motor Authority, "the look is warm and inviting thanks to brown leather with tartan inserts on the seats in combination with exposed carbon fibre and grey Alcantara on other surfaces."
For the price of nearly £3m, you could instead pick out a sizeable Tuscan villa, a small island somewhere in the South Pacific, or a Velázquez masterpiece. But none of those will raise your hairs on end, throw your heart into your mouth at 250mph, and make every motorist within earshot drool over your engine rattle.
Jasper is a former writer for the MoneyWeek and he wrote on an array of topics including travel, investing in crypto and bitcoin, as well as cars. Previous to that he freelanced at The Art Newspaper, PORT Magazine and The Spectator. Jasper is currently a freelance writer at FAD magazine and he has an English literature degree from the University of Exeter, and a Master's degree from UCL.