Asian economies must adjust to Covid-19
Asian countries have kept tight restrictions, and are only slowly rolling out vaccines. Markets are subdued, but better times may be coming.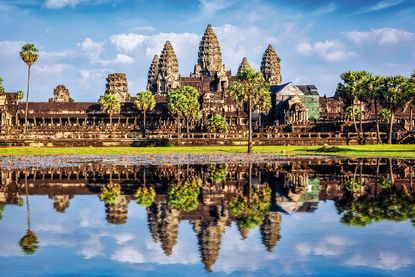 (Image credit: © Getty Images/iStockphoto)
We're in the third year of the pandemic and travel in Asia is still "heavily restricted", says Chad de Guzman in Time. Most Asian countries have done an excellent job fighting the pandemic: South Korea has recorded 12 deaths per 100,000 people, compared to 259 per 100,000 in America. But the arrival of Omicron has triggered a return to 2020-style measures.
Japan has banned most foreigners from visiting. Hong Kong "which once boasted one of the world's ten busiest airports… banned all flights from eight countries including the US and the UK" earlier this month. Yet as cases of Omicron spike across the region, "experts question whether continuing to stay closed to tourists, students and business travellers" is still "an effective strategy".
Southeast Asia in recovery
Tight restrictions and slow vaccine rollouts have weighed on stocks. The MSCI Asia Pacific index underperformed European and American shares in 2021, finishing the year down 2.5%. Southeast Asian markets have been particularly dull. The regional MSCI Asean benchmark has been flat over the last three years, even as the wider emerging markets index delivered gains of 11% a year. Vietnam's VNI, which soared 35% last year, has been the only bright spot as other markets lagged global averages.
Subscribe to MoneyWeek
Subscribe to MoneyWeek today and get your first six magazine issues absolutely FREE
Get 6 issues free
Sign up to Money Morning
Don't miss the latest investment and personal finances news, market analysis, plus money-saving tips with our free twice-daily newsletter
Don't miss the latest investment and personal finances news, market analysis, plus money-saving tips with our free twice-daily newsletter
Delta wreaked havoc last summer, says Trinh Nguyen of the Carnegie Endowment for International Peace. Lockdowns disrupted Malaysian semiconductor production and Vietnamese textile manufacturing. GDP in the latter country tumbled 6% year-on-year in the third quarter.
However, better times may be coming. Vaccination rates in most countries in the region (with the exception of Indonesia and the Philippines) are now comparable to those in the UK. Southeast Asia is also a potential winner from worsening US-China relations. Companies are diversifying their supply chains, which is bringing more inward investment. Trans-Pacific "jockeying for power" has "allowed Vietnam to escape the United States' currency-manipulator list".
Commodities, not tourism
"The nexus of Asia-Pacific economic growth is shifting to Southeast Asia amid maturing recoveries in northeast Asia," says RBC Capital Markets. "The retreating pandemic and higher commodity prices have catalysed a brightening growth outlook for Malaysia and Indonesia". The latter is a significant coal and oil exporter.
The outlook for tourism is less encouraging, says The Economist. The sector "accounted for over 12% of the region's GDP before the pandemic". In 2019, Chinese tourists "made up 12 million of Thailand's 39 million international arrivals", but Beijing's zero-Covid policies mean few Chinese visitors are travelling overseas anymore. "In Cambodia the temples of Angkor Wat are eerily empty."