Shell's fast track to a green-energy future
Shell, the oil major, has had to accelerate plans to go green, and may now ditch highly profitable assets in America. Matthew Partridge reports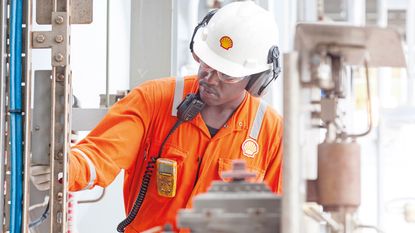 (Image credit: © Royal Dutch Shell)
After losing a "damning" court case last month, Royal Dutch Shell's CEO Ben van Beurden promised last week that the company will "rise to the challenge" of hitting "ambitious climate targets", says Francesca Washtell on This is Money. While the company had already vowed to cut its net carbon emission to zero by 2050, a Dutch court ruled last month that by 2030 it must also reduce them by 45% from 2019 levels. While the company will appeal, the ruling still applies immediately, so it has vowed to fast-track plans for the energy transition and cut emissions "in a way that remains purposeful and profitable".
It looks as though part of the "bold action" Shell has promised will include selling at least part of its interest in America's Permian Basin. The region, located in Texas, has been deemed "the world's most important oil and gas site" as well as Shell's "sleeping beauty", with the company producing 193,000 barrels of oil there a day. However, the increased pressure from both courts and investors means that it is reportedly thinking about disposing of its wells, a move that could also raise up to $10bn.
Top-dollar assets
Speculation that Shell will sell its Permian holdings is a tad "premature", says Lex in the Financial Times. After all, such a move would send an "inconsistent message", given that the company recently boasted about the region's importance to the group; the Permian is one of nine "core" oil and gas-producing areas around the world for the company. Indeed, profitability there has improved as commodity prices have risen, with returns on invested capital exceeding 10%. In any case, Shell's legal appeals on the emissions ruling will require "several years". However, Shell should "never say never" to such a move, especially "if the price is right".
Subscribe to MoneyWeek
Subscribe to MoneyWeek today and get your first six magazine issues absolutely FREE
Get 6 issues free
Sign up to Money Morning
Don't miss the latest investment and personal finances news, market analysis, plus money-saving tips with our free twice-daily newsletter
Don't miss the latest investment and personal finances news, market analysis, plus money-saving tips with our free twice-daily newsletter
If the company does decide to sell it should receive a very good price, possibly even more
than $10bn, says George Hay on Breakingviews. This is because Shell's Permian assets are extremely profitable and thus ideal for private-equity bidders "less beholden to environmentally conscious investors". The proceeds of a sale could be used for a range of purposes, including cutting leverage or pivoting into "less carbon-intensive pursuits" such as ongoing investments in Qatar. The group could also "bulk up" its renewable-energy portfolio.
If Shell does choose to sell some of its assets, environmentalists shouldn't pop open the organic champagne, says Bloomberg. Even though the oil majors are selling their assets due to mounting pressure to pay down debt while cutting greenhouse-gas emissions, demand for fossil fuels "holds strong". As a result, Chinese competitors or national oil companies in the Middle East are willing to buy those assets. Saudi Aramco and Abu Dhabi National Oil Company, for instance, are spending "billions" to boost their output capacities by a million barrels per day each.
Matthew graduated from the University of Durham in 2004; he then gained an MSc, followed by a PhD at the London School of Economics.
He has previously written for a wide range of publications, including the Guardian and the Economist, and also helped to run a newsletter on terrorism. He has spent time at Lehman Brothers, Citigroup and the consultancy Lombard Street Research.
Matthew is the author of Superinvestors: Lessons from the greatest investors in history, published by Harriman House, which has been translated into several languages. His second book, Investing Explained: The Accessible Guide to Building an Investment Portfolio, is published by Kogan Page.
As senior writer, he writes the shares and politics & economics pages, as well as weekly Blowing It and Great Frauds in History columns He also writes a fortnightly reviews page and trading tips, as well as regular cover stories and multi-page investment focus features.
Follow Matthew on Twitter: @DrMatthewPartri