The curtain comes down at Cineworld as it shuts all its cinemas
Cinema chain Cineworld is closing its operations in Britain and America. But this crisis is not due to Covid-19 – it is largely self-induced. Matthew Partridge reports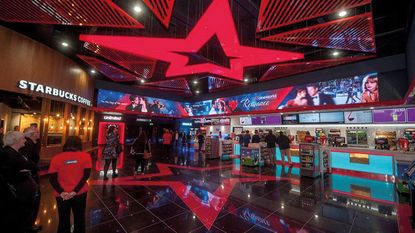 (Image credit: © Cineworld)
The show's over. Cineworld's (LSE: CINE) share price halved this week after it confirmed that it was closing all of its UK and US cinemas, with the loss of 45,000 jobs, says Dominic Walsh in The Times. It has now fallen by 90% this year. The closures follow the announcement that the new James Bond firm, No Time to Die, has been postponed until Easter. Cineworld claims this shows that studios "are reluctant to release new blockbusters without guarantees of suitable audiences" and without such films audiences will be unwilling to "consider coming back to theatres against the backdrop of Covid-19".
Studio bosses should stop being so myopic, says Jim Armitage in the Evening Standard. It's true that cinemas are closed in New York and Los Angeles, where most film moguls have their "swanky pads". But in the rest of the world, which accounts for 80% of the global box office, as well as in many US states, "cinemas have been open for months". While some people may be reluctant to venture out, others "would love to go if there was anything worth watching". Studios' "ignorant trampling of decent cinema businesses" could also end up hurting them since studies show that cinema takings "massively outperform" streaming revenues.
The real culprit
There's certainly something ironic about a film called No Time to Die "bringing down the curtain" on one of the country's top cinema operators, says Ben Marlow in The Daily Telegraph. Still, Cineworld's CEO, Mooky Greidinger, has hardly helped his company's chances of survival: the chain's debt-fuelled expansion has left it "buckling under an $8bn (£6bn) debt mountain". It wasn't until June that he finally abandoned the "fantasy" that he could pull off a £1.8bn takeover of Canada's Cineplex. Overall, Cineworld needs to raise more money quickly, or it could find itself in a jam that "Bond himself would struggle to escape from".
Subscribe to MoneyWeek
Subscribe to MoneyWeek today and get your first six magazine issues absolutely FREE
Get 6 issues free
Sign up to Money Morning
Don't miss the latest investment and personal finances news, market analysis, plus money-saving tips with our free twice-daily newsletter
Don't miss the latest investment and personal finances news, market analysis, plus money-saving tips with our free twice-daily newsletter
If Cineworld wants to borrow any more money from lenders, it will have to pay a "high price", says Kate Burgess in the Financial Times. With the company "almost certain" to breach its loan covenants by the end of the year, it was forced to offer an interest rate of 11% on its latest tranche of debt, issued last month. Credit-ratings agency Moody's has downgraded the group again.
With lenders wanting "nose-bleed" interest rates and UK state support "impossible", the only other option is a rights issue, says Nils Pratley in The Guardian. However, with the company now valued at a mere £346m, it would "require the participation of... Greidinger and his trust", which owns 20% of the shares, to raise enough money. Their capacity and inclination to inject additional funds are "unknown". While Cineworld could benefit from a "bumper" 2021 amid the "pent-up supply" of potential blockbusters, its "path to survival in recognisable form" now seems "more uncertain than ever".
Matthew graduated from the University of Durham in 2004; he then gained an MSc, followed by a PhD at the London School of Economics.
He has previously written for a wide range of publications, including the Guardian and the Economist, and also helped to run a newsletter on terrorism. He has spent time at Lehman Brothers, Citigroup and the consultancy Lombard Street Research.
Matthew is the author of Superinvestors: Lessons from the greatest investors in history, published by Harriman House, which has been translated into several languages. His second book, Investing Explained: The Accessible Guide to Building an Investment Portfolio, is published by Kogan Page.
As senior writer, he writes the shares and politics & economics pages, as well as weekly Blowing It and Great Frauds in History columns He also writes a fortnightly reviews page and trading tips, as well as regular cover stories and multi-page investment focus features.
Follow Matthew on Twitter: @DrMatthewPartri