US-China trade truce boosts stockmarkets – for now
Markets brightened up after China agreed to import more from the US and America greed to lower some tariffs on Chinese goods. But the trade war is far from over.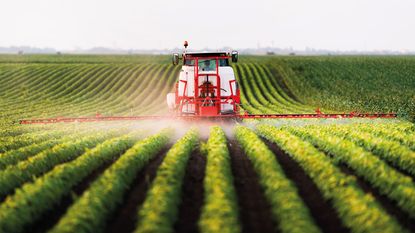 (Image credit: Getty Images/iStockphoto)
Don't get too excited about the new "phase one" US-China trade deal, says James Palmer in Foreign Policy. Donald Trump heralded a "momentous step" after formally signing the accord with the Chinese vice premier, Liu He, last week, but this limited agreement will only "forestall further escalation" rather than unwind the damage already done to global trade.
Trade truce, not trade peace
Markets saw the sunny side. The S&P 500, Nasdaq Composite and Dow Jones Industrial Average all posted their biggest weekly percentage gains since August last week, note Chris Matthews and Mark DeCambre for MarketWatch. "The Nasdaq has climbed for six straight weeks, with a year-to-date return of 4.6%". The pan-European Stoxx Europe 600 hit a new record high on Friday and the FTSE 100 regained a six-month peak.
Beijing has pledged to increase its imports from the US by $200bn, roughly double the current level. Washington will suspend some planned tariffs and halve the tariff rate applied to $120bn-worth of goods.
Subscribe to MoneyWeek
Subscribe to MoneyWeek today and get your first six magazine issues absolutely FREE
Get 6 issues free
Sign up to Money Morning
Don't miss the latest investment and personal finances news, market analysis, plus money-saving tips with our free twice-daily newsletter
Don't miss the latest investment and personal finances news, market analysis, plus money-saving tips with our free twice-daily newsletter
The fact that "tariffs on hundreds of billions of dollars' worth" of other goods will remain in place on both sides even after this deal shows "how much the status quo has changed", says The Economist. "A truly grand pact between the two countries is some way off."
Key commodity markets remain sceptical, notes Jon Hilsenrath for The Wall Street Journal. The price of soybeans, "by far the largest component of US-China agricultural trade", has actually fallen since the deal was announced, while wheat, pork and dairy products have barely moved. That is a sign of serious doubts about whether the paper promises will have any "real economic impact".
Carry on decoupling
It would help if America knew what it wanted, writes Martin Wolf in the Financial Times. Welcome provisions in the agreement covering intellectual property, currency manipulation and financial services should encourage China to operate more like a normal market economy. Yet, incoherently, the $200bn import deal will only promote more state intervention. Meanwhile, in areas such as technology and investment in the US, Washington's aim is clearly to "decouple".
Even as negotiators signed off the deal, federal agencies were considering new restrictions on Chinese telecoms champion Huawei, which they deem a security threat, says Nathaniel Taplin in The Wall Street Journal. Top US officials speak of a "clash of civilisations". So this agreement is unlikely to herald an era of calm. Over the next decade it may be Asia, not the Middle East, that proves the world's biggest "hotspot for political risk".
"Investors betting on a quick conclusion to this... trade row are set to be disappointed", agrees Liam Halligan in The Daily Telegraph. China-US quarrels about manufacturing, services and, above all, technology, will be with us "for decades". That's not good for global trade or growth, but it's "now a fact of life".