Zoopla: House prices fall across 80% of UK
The downturn in house prices now affects at least 80% of the UK, with London Commuter towns, South and East of England hardest hit, latest Zoopla data shows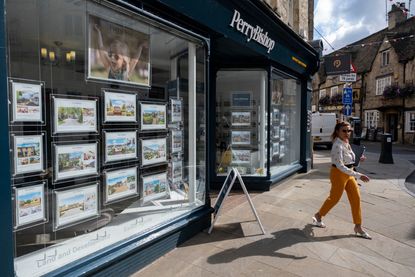 (Image credit: Getty Images)
House prices have been sliding in 2023, with the slump now impacting house prices in more than 80% of all markets in the UK.
Latest data from Zoopla shows fewer properties are being purchased as a result of higher mortgage costs and the cost of living denting household budgets.
The average UK house price fell -1.1% or £2,830 in the 12 months to October 2023 and now costs £264,900 - £200 less than last month.
Subscribe to MoneyWeek
Subscribe to MoneyWeek today and get your first six magazine issues absolutely FREE
Get 6 issues free
Sign up to Money Morning
Don't miss the latest investment and personal finances news, market analysis, plus money-saving tips with our free twice-daily newsletter
Don't miss the latest investment and personal finances news, market analysis, plus money-saving tips with our free twice-daily newsletter
Zoopla cited higher mortgage costs and the costs of living contributing to the fall, with fewer property purchases made in 2023. Buyer demand is now a fifth lower than this time last year and 25% below the five-year average for October, says Zoopla.
Other house prices indexes have also shown consistent house price falls. Earlier this year, the Nationwide house price index revealed that house prices had fallen by 5.3% in the year to September, the fastest pace since 2009. The latest data from the Office for National Statistics' index put house price growth at +0.2% in July.
Where are house prices falling the most?
All markets in London and the south and east of England registered price falls, as did more than half of those in the rest of England and Wales. Just under two-fifths of markets in Scotland registered price falls.
Colchester has seen the biggest fall in its average house price this year - down 3.5%. It's followed by London commuter areas Canterbury, Luton and Brighton.
Meanwhile, bucking the trend are Halifax and Motherwell. The average house prices were 3.6% higher than a year ago and it was 2.4% higher in Motherwell.
Edinburgh, Glasgow, Belfast, Newcastle,Leeds, Birmingham, Liverpool and Manchester all saw modest gains ranging from 0.1% to 1.2%.
Is it a cash buyer's market?
While a rise in mortgage rates has dampened the demand on property purchases, the number of cash-buyers who have the money immediately available to purchase a property, and do not need to take out a mortgage, has swelled this year.
And according to Zoopla, cash buyers now look set to be the largest buyer groups respectively for the year.
Cash buyers have accounted for about a third of all housing sales this year, up from a fifth over the last five years. Around 60,000 more properties bought with cash this year than throughout 2022.
Will house prices fall in 2024?
While house prices have been sliding in 2023, it is widely expected that the decline will continue into 2024.
Zoopla predicts that UK house prices will fall 2% during 2024, assuming mortgage rates fall to 4.5% by the end of 2024 and remain there into 2025.
Zoopla adds that rising incomes will improve affordability. It also estimates there will be a million sales in 2024, but this could be higher if mortgage rates fall back towards 4%. As it stands, the average mortgage rate is still just below 6% mark - and while providers have been cutting mortgage rates amid slowing inflation which is at 6.7%, they are still higher than seen in the past decade.
Richard Donnell, executive director at Zoopla says: "House prices have proven more resilient than many expected over the last year in response to higher mortgage rates. However, almost a quarter fewer people will move home due to greater uncertainty and less buying power.
"Modest house price falls over 2023 mean it's going to take longer for housing affordability to reset to a level where more people start to move home again. Income growth is finally increasing faster than inflation but mortgage rates remain stuck around 5% or higher. We believe that house prices will post further small falls, averaging 2%, over 2024 with 1m home moves.
"Slow house price growth and rising incomes over the next 12-18 months will improve affordability to levels last seen a decade ago, creating the potential for a rebound in home moves as consumer confidence returns."
With more than 25 years as a journalist and Editor, Angela's work has appeared in outlets across the globe and at one stage she was the only female and youngest Financial Correspondent in the UK. Her articles have appeared in The Huffington Post, most UK and Irish nationals including the Daily Telegraph, Sunday Times, Mail on Sunday, Scotland on Sunday and Business Post as well as a myriad of trade publications such as FT Adviser, MandateWire, Funds Europe, Global Legal Post, Smart Cities World and ESG Clarity US.
She also served as Group Editor and General Manager for 13 titles across the island of Ireland and was a regular TV media commentator. While serving as Manhattan-based America Correspondent she spent six weeks in Huntsville, Texas, becoming the first person to research the economics of the infamous prison which included interviewing prisoners just two weeks before their execution. Able to get under the bonnet of any subject, Angela has also helped start-ups, the world's largest companies, governments and economic development agencies tell their stories.