What's behind Britain's looming energy crisis
Global natural gas prices have soared as resurgent demand collides with supply disruptions. The UK is especially vulnerable and could be heading for a very tough winter.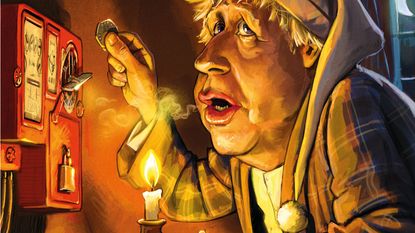 (Image credit: )
What's happening?
Everybody in Britain will be relieved to know that there is "absolutely no question of the lights going out or people being unable to heat their homes". Nor will there be any "three-day working weeks or a throwback to the 1970s". However, the fact that Kwasi Kwarteng, the business and energy secretary, had to make those pledges in the House of Commons on Monday shows that something has gone badly wrong with the UK's energy supplies. The country faces a growing crisis that is already beginning to have major knock-on effects on the economy and the situation could well get worse as winter approaches.
What's going wrong?
To take one example, four retail suppliers of gas and electricity have collapsed this month because they were unable to supply energy at the prices they've agreed (see page 22). Or to take another, two big industrial fertiliser plants shut down last week, as they can't be operated economically at current gas prices. That means that supplies of carbon dioxide (a by-product of the ammonia production process) have dried up, in turn causing disruption in a range of crucial sectors including the production, packaging and supply of meat, other fresh produce and drinks. It is also needed by hospitals and the nuclear power industry. This week a government subsidy (in the tens of millions) persuaded CF Industries, owner of the plants supplying 60% of the UK's CO2, to restart production of the gas at one plant. But both sides made clear this was a temporary fix (a three-week deal for now) to a long-term problem.
Why have gas prices surged?
Sharply rising global demand and severely constrained supply have seen wholesale gas prices surge sixfold over the past year, and they have doubled in the past two months. On Monday this week, they jumped 16% in a day. This is partly to do with Covid-19: demand fell last year, but has bounced back as countries emerge from the pandemic, creating a demand spike. Countries are also trying to cut their use of coal, and switching to less polluting gas. Weather patterns have played a role too. Global demand was high during the cold and prolonged northern hemisphere winter, especially towards the end of the season – causing storage levels to fall. In a normal year, stocks would be replenished through the summer. But this year, the heatwaves across the northern hemisphere (but not in the UK) kept energy demand high as supply problems worsened.
Subscribe to MoneyWeek
Subscribe to MoneyWeek today and get your first six magazine issues absolutely FREE
Get 6 issues free
Sign up to Money Morning
Don't miss the latest investment and personal finances news, market analysis, plus money-saving tips with our free twice-daily newsletter
Don't miss the latest investment and personal finances news, market analysis, plus money-saving tips with our free twice-daily newsletter
What supply problems?
Supplies in Europe were already low due to pandemic disruption, meaning that European markets are now competing with Asian countries for scarce cargoes of liquefied natural gas. Norway has suffered several production outages, including at the giant Troll field, a major source of gas for Britain. Flows of gas from Russia have also fallen in recent months. Part of the reason for that, said Kathryn Porter of energy analysts Watt-Logic, is Russia's own need to replenish domestic storage after last winter, as well as some reduced production levels, and maintenance on both the Yamal-Europe and Nord Stream pipelines. There was also a fire at one of Gazprom's condensate treatment plants in western Siberia in August.
Is that the whole story?
Maybe not. There are strong suspicions that Moscow is using the market conditions to ramp up pressure on the EU, and Germany in particular, to approve the politically sensitive Nord Stream 2 pipeline – connecting Russia to western Europe via the Baltic, rather than via Ukraine. Russia only sends Britain a tiny amount of gas directly (about 1%) but any shortages in European markets will affect the UK, which is exceptionally vulnerable to gas-market disruption.
Why is Britain so vulnerable?
Several reasons. First, it uses a lot of gas (about 40% of its energy mix), including for electricity generation. So the gas price rise affects the whole energy sector. Second, domestic gas production has slumped 28% this year due to pandemic project delays and maintenance, according to consultancy Wood Mackenzie. Third, Britain's strength in renewables (accounting for 25% of consumption) has played against it over past few months, which has seen one of the least windy period across Europe for decades. That means gas-fired power plants have taken up the slack, accounting for up to 60% of electricity generation. And fourth, the UK's uniquely low gas storage capacity has left it exposed if the supply crunch lasts through the winter and into next year.
How big is the UK's storage capacity?
Tiny. Since the closure of its Rough facility off the Yorkshire coast in 2017, the UK has operated a "just-in-time" approach to gas procurement – in effect "subcontracting" its storage needs to Germany and the Netherlands, said Ambrose Evans-Pritchard in The Daily Telegraph. Data from Gas Infrastructure Europe shows that the UK currently has less than nine terawatt hours of stored gas reserves, compared to 75 in the Netherlands (with a quarter of the population), 113 in France, 148 in Germany and 166 in Italy.
Will the lights go off?
The government is betting that Britain is unlikely to run out of gas, given half is still produced domestically, and another 20% comes by pipeline from Norway, a reliable ally. But if a harsh winter and supply crunch leads to blackouts and stoppages in mainland Europe, the threat of similar chaos will be high in Britain, which could be dangerously reliant on the cross-channel electricity interconnectors for power. "It is potentially catastrophic", said Andrew Large of the Energy Intensive Users Group. "We're already seeing plant closures… when the weather is still warm and domestic heating is low. Fast forward two months and this could be an acute crisis."
Simon Wilson's first career was in book publishing, as an economics editor at Routledge, and as a publisher of non-fiction at Random House, specialising in popular business and management books. While there, he published Customers.com, a bestselling classic of the early days of e-commerce, and The Money or Your Life: Reuniting Work and Joy, an inspirational book that helped inspire its publisher towards a post-corporate, portfolio life.
Since 2001, he has been a writer for MoneyWeek, a financial copywriter, and a long-time contributing editor at The Week. Simon also works as an actor and corporate trainer; current and past clients include investment banks, the Bank of England, the UK government, several Magic Circle law firms and all of the Big Four accountancy firms. He has a degree in languages (German and Spanish) and social and political sciences from the University of Cambridge.