We may be at the start of a new commodities supercycle
For the past ten years raw materials prices have languished in a bear market. But we could be about to see a new commodities supercycle that could rival those of the 1970s and 2000s.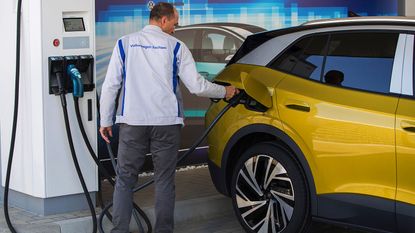 (Image credit: © Krisztian Bocsi/Bloomberg via Getty Images)
Are commodities heading back to the 1970s? For the past ten years raw materials such as oil, industrial metals and foodstuffs have languished in a bear market, says Andrew Bary in Barron's. Yet the Bloomberg Commodity index jumped by 10% during the final quarter of 2020 and analysts at Goldman Sachs think there could be much more to come. They reckon we are heading for "a much longer structural bull market" that looks poised to "rival" the commodity supercycles of the 1970s and 2000s. The previous decade of disappointment has led to "structural underinvestment" in new mines and energy capacity. That could trigger big price spikes in the decade ahead.
More than a Reddit rally
The S&P GSCI commodity index plunged by more than 60% between early 2011 and last April, but it has since soared by 65%. Commodities are back in fashion. Anglo-Australian mining giant BHP recently surpassed Unilever to become the most valuable company on the FTSE 100, says Emily Gosden in The Times. The shares have "more than doubled" since last March, thanks to rallies in copper and iron ore, with the latter hitting its highest price in almost ten years last month due to strong Chinese demand.
First GameStop, now silver. The metal, which is used in industry as well as to store wealth, recently made headlines as the latest target of organised retail investors, says James O'Rourke of Capital Economics. Silver rallied above $29 an ounce at the start of the month before falling back. The metal was doing perfectly well without any assistance from Reddit's hordes: it was one of last year's top performers, gaining 50% thanks to strong industrial demand and its role as a (highly volatile) inflation hedge.
Subscribe to MoneyWeek
Subscribe to MoneyWeek today and get your first six magazine issues absolutely FREE
Get 6 issues free
Sign up to Money Morning
Don't miss the latest investment and personal finances news, market analysis, plus money-saving tips with our free twice-daily newsletter
Don't miss the latest investment and personal finances news, market analysis, plus money-saving tips with our free twice-daily newsletter
Keep a close eye on copper
The new bull market's standout champion, however, will be copper, says Eoin Treacy on fullertreacymoney.com. The post-millennium bull market was driven by oil and steel; the hallmark of this one will be the drive towards greener energy. Vehicle electrification will bring "massive investments" in new electricity production and charging capacity, and will require correspondingly vast amounts of the rust-coloured metal for all the wiring. Copper will also get a boost from President Biden, says Amrith Ramkumar in The Wall Street Journal. He wants to encourage a quicker shift over to electric vehicles. Yet a structural undersupply of the metal has been exacerbated by Covid-19, which has shut down mines in key producers such as Chile. The shortage will only become more prominent when economies reopen later this year. Analysts at Jefferies warn that there is a "real risk of genuine shortages" in some of the key metals markets.
From a "vaccine-led recovery" to a weakening US dollar (see page 5), everything looks set for 2021 to deliver a roaring commodities bull market, says Ole Hansen of Saxo Bank. Commodity supercycles are rare: there have been just six in the last 227 years. The evidence is mounting that we are now at "the beginning of the seventh".