How to build an investor's wine cellar
Key considerations when collecting wine as an investment and a luxurious indulgence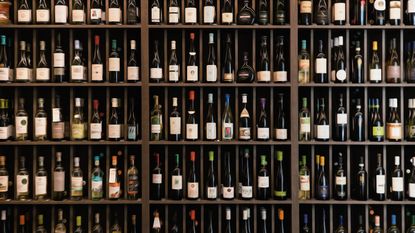 Building a wine cellar can be a wonderful luxury hobby, and for many people (especially those who want to drink all of their wine) that's enough. But for those who want to combine their passion for wine with potential financial returns, fine wine can also be an exciting and rewarding alternative investment prospect.
After the volatility of the last 18 months, many people are turning to alternative investments to balance out the unpredictability of their stock-heavy portfolios. While there are signs of the markets calming down as we enter a more stable era of the pandemic with vaccine rollouts across the globe, looking at other areas of investment to diversify your portfolio can be a wise and more interesting choice.
Fine wine has often been an attractive option for investors as it has almost no correlation to the stock market, so it can be a smart addition to your portfolio when there's market uncertainty. Of course that doesn't mean wine investment is without risk – it's important to get to grips with the history of the market, where it is now and where it's predicted to go. Being a commodity, it is also subject to fluctuations based on the state of the industry and trends.
Subscribe to MoneyWeek
Subscribe to MoneyWeek today and get your first six magazine issues absolutely FREE
Get 6 issues free
Sign up to Money Morning
Don't miss the latest investment and personal finances news, market analysis, plus money-saving tips with our free twice-daily newsletter
Don't miss the latest investment and personal finances news, market analysis, plus money-saving tips with our free twice-daily newsletter
The value of fine wine is a simple matter of supply and demand. Not only is the production of the most expensive wines labour intensive and precise, meaning there is limited supply, but it is made to be consumed – so with every rare bottle opened, the other wines in that vintage (the year the grapes were harvested) become more valuable. Meanwhile, demand for fine wine is growing as the pool of fine wine connoisseurs and consumers expands across the globe. It's even thought that the lockdowns have had an effect on this as, faced with a lack of restaurant and dining experiences, more people have been inclined to splash out on expensive wines at home.
So, with fine wine collecting having some promising financial benefits, how best to go about building your cellar? As with many alternative investments, the return on your investment should be as much about the enjoyment of collecting (and occasionally drinking when it's wine involved!), as much as it is about making a profit. While wine is one alternative investment you can't freely enjoy consuming without losing value, you should start with a passion and select wines that particularly interest you.
Of course, if you really want to make the biggest returns on your investment, you shouldn't drink any of it. But to make wine investment a more enjoyable luxury experience, many people choose to collect from a favourite region or producer. This also means that, should you have any issues selling your bottles, you have a collection you can enjoy drinking yourself.
To retain its value, you must ensure you store your wine correctly. While you might be tempted to keep your wines somewhere you can admire them, investment bottles should be kept in the right conditions, otherwise you risk damage to the bottle or wine and devaluation to your collection. Generally speaking, wine should be stored at a consistent temperature between 11-14˚C, in the dark, and on its side. Heat can really spoil your wine and sunlight can prematurely age it. Storing wine on its side is both space efficient and helps stop the cork from drying out.
Collectors will also want to be mindful to preserve the labels, so this is another reason to be wary of sunlight and to ensure your storage room isn't too damp. If you don't have a convenient cool, dark room, you might want to invest in a wine cooler. And if you start to get serious about your collection, it might be safer to invest in specialist wine storage. There are many wine investment storage services that will store your bottles for a fee and deliver any to you that you decide to open.
You should also be aware that wine collection can be a waiting game, and that you can't build up a premium collection overnight. Not only might you have to wait for the right wines to become available to add to your collection, but wines can also take a while to appreciate in value. Especially if you're collecting from a specific region, you may have to wait for a good vintage.
With that in mind, it's important to do your research. It can be tempting to dive in and start buying bottles that you like the look of or have some sentimental meaning to them, but make sure you've thoroughly looked at your options first. For example, while Bordeaux wine has historically been the most popular choice for collectors, there is now increasing competition from other regions. It's also important to do your research into the vintage, as not all years are created equal. And make sure to buy from reputable suppliers, to ensure you are getting a genuine wine from that producer and vintage.
What makes a great bottle of wine is subject to a lot of factors (including personal taste). It comes down to variables such as the region, the producer and the process, the grape, and the weather. That last factor is what largely determines the quality of the vintage – the weather conditions of a particular year can make or break the quality and therefore value of a batch of wine.
One of the biggest pleasures of starting a wine collection can be getting to grips with all the subtleties of different regions and their wines, and understanding a fascinating and complex market. So choose wisely, enjoy the odd indulgence, and make sure you're starting your collection as much for the love of it as for any potential financial returns.
Spend for the future
The Platinum Card from American Express allows you to save as you spend, earning you a Membership Rewards® point for every £1 you spend on your Card. Your points can be used to pay for almost any item on your Card Statement – including a bottle of your favourite wine – and they never expire, so you can save them up and spend them when the time is right.
What's more, The Platinum Card also offers over 30 travel and lifestyle benefits, including airport lounge access, worldwide travel insurance, as well as a 24/7 Concierge service that can book you dinner out at a restaurant with an outstanding wine list or an action-packed holiday away.
For more information and to apply for The Platinum Card, click here.
Annual fee: £575. Terms and conditions apply.
Important information
If you'd prefer a Card without any rewards, other features or a Cardmembership fee, an alternative is available – the Basic Card. Go to americanexpress.com/uk/basic-card for more information. Applicants must be 18 or over. Approval is subject to status, and Terms and Conditions apply.
Membership Rewards points are not earned on balance transfers, cash advances, American Express travellers cheque purchases, foreign exchange, fees and interest charges for returned payments, finance charges, late payment and referral charges, fees/charges including joining, annual and Membership Rewards fees. Membership Rewards Terms and Conditions apply to all Membership Rewards points redemptions. Visit americanexpress.com/uk/mr-terms.
For full Terms and Conditions of The Platinum Card, please visit americanexpress.co.uk/platinum
Promoter: American Express Services Europe Limited is authorised and regulated by the Financial Conduct Authority.
This article does not constitute personal advice and is not a personal recommendation on the specific products mentioned. If you're not sure whether an investment of this type is right for you, please seek advice from suitable financial advisers who will be able to advise based on your personal circumstances. If you choose to invest, the value of your investment could be at risk and fall, so you could get back less than the amount you put in originally.
Investing in books is not regulated by the Financial Conduct Authority.