Bitcoin price jumps as Amazon mulls accepting cryptocurrencies
Bitcoin and other cryptocurrencies jumped in price on Monday after a report suggested Amazon will begin accepting bitcoin payments.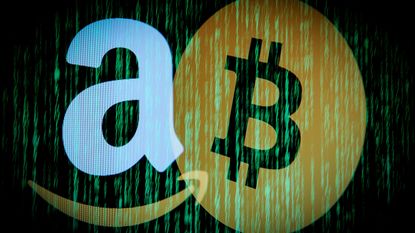 (Image credit: © Jaap Arriens/NurPhoto via Getty Images)
Bitcoin and other cryptocurrencies jumped on Monday after a report suggested big tech giant Amazon will get involved in cryptocurrencies.
The report, published by London's City AM newspaper, cites an insider who told the paper Amazon is looking to accept bitcoin payments "by the end of the year".
Bitcoin soared and hit a high just shy of $40,000. The world's most popular cryptocurrency rose as much as 12% from its open on Monday and is currently hovering around $38,000.
Subscribe to MoneyWeek
Subscribe to MoneyWeek today and get your first six magazine issues absolutely FREE
Get 6 issues free
Sign up to Money Morning
Don't miss the latest investment and personal finances news, market analysis, plus money-saving tips with our free twice-daily newsletter
Don't miss the latest investment and personal finances news, market analysis, plus money-saving tips with our free twice-daily newsletter
So what was in Amazon's report?
Cryptocurrencies jump after Amazon posted a crypto-related job vacancy
What triggered the speculation was a job advert posted by Amazon, looking for a "cryptocurrency and blockchain lead".
The vacancy, which signals which direction Amazon is going in on the virtual currency front, requires somebody who can "leverage domain expertise in blockchain, distributed ledger, central bank digital currencies and cryptocurrency".
"This isn't just going through the motions to set up cryptocurrency payment solutions at some point in the future – this is a full-on, well-discussed, integral part of the future mechanism of how Amazon will work," the insider told City AM.
Amazon's drive to get involved with cryptocurrencies is reportedly "coming from the very top", from the company's billionaire CEO Jeff Bezos himself.
And it is not confined to just bitcoin. "Ethereum, cardano and bitcoin cash will be next in line before they bring about eight of the most popular cryptocurrencies online," the insider says. Once "all these crypto ducks are lined up," Amazon may look to develop a native token.
The bullish sentiment spread to other cryptocurrencies, too: cardano and bitcoin cash both rose by around 8%, ether rose 6%, and joke cryptocurrency dogecoin rose 10%.
Crypto's volatile few months
Amazon's announcement adds to the positive news surrounding cryptocurrencies in recent days.
Calling the last few months in the crypto world volatile would be an understatement. The bull market ran out of steam and bitcoin fell below the key support level of $30,000 last week after crackdowns by regulators, including China's ban on cryptocurrency mining, played a key part.
In May, Tesla's Elon Musk also backtracked on his love for cryptocurrency when he said his company would no longer accept bitcoin as payment for its cars because of concerns over the environmental impact of cryptocurrency mining.
All of these factors had helped bitcoin tank from a high of around $65,000 in May, when Musk gave a number of endorsements for bitcoin and Wall Street started becoming more involved, to current levels. But last week things started to look a bit more optimistic when Musk – in yet another U-turn – said his company may now start accepting bitcoin as payment again.
And now the rumours surrounding Amazon, combined with other positive developments such as JPMorgan becoming the first big bank to offer its retail clients access to investing in cryptocurrencies, as Business Insider reported last week, means things may be looking a little brighter for cryptocurrencies.
But beware: cryptocurrencies still remain volatile, says Jeffrey Halley, senior market analyst at OANDA. "I still believe the entire sector and un-stable coins are complete nonsense that will lose small investors billions, but the people have spoken, and the digital Dutch tulips look ripe for a large rally in the short term."
And as Susannah Street, investment and markets analyst at Hargreaves Lansdown puts it: "when a simple job ad appears to spark resurgence in the value of bitcoin, it shows how the crypto world is salivating for every nugget of news about the future use case for digital currencies."
So while this may be a gamechanger for the industry and has given the market a short-term boost, just be wary. It doesn't mean cryptocurrencies have become any less volatile.
Saloni is a web writer for MoneyWeek focusing on personal finance and global financial markets. Her work has appeared in FTAdviser (part of the Financial Times), Business Insider and City A.M, among other publications. She holds a masters in international journalism from City, University of London.
Follow her on Twitter at @sardana_saloni