Federal Reserve hikes interest rates to 4%
The Federal Reserve continues its battle with inflation with another bumper interest rate hike.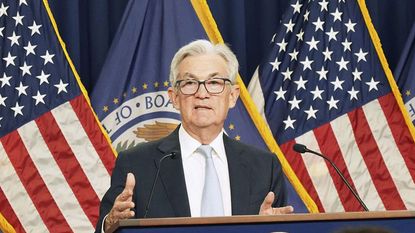 (Image credit: © Kyodo News via Getty Images)
The US Federal Reserve hiked interest rates by 0.75% for the fourth time in a row on Wednesday as the central bank continues its fight against inflation.
Following the hike, the federal funds rate, which sets the borrowing benchmark for everything from credit cards to trillions of dollars of financial derivatives that underpin the global financial system, stands at 3.75% to 4%.
However, it looks as if the central bank is going to adopt a more cautious approach when it comes to rate hikes going forward.
Subscribe to MoneyWeek
Subscribe to MoneyWeek today and get your first six magazine issues absolutely FREE
Get 6 issues free
Sign up to Money Morning
Don't miss the latest investment and personal finances news, market analysis, plus money-saving tips with our free twice-daily newsletter
Don't miss the latest investment and personal finances news, market analysis, plus money-saving tips with our free twice-daily newsletter
The Federal Reserve warns rate rises may slow
According to the central bank's commentary published alongside the rate decision, it will now be taking into account how far rates have already risen this year, as well as taking into account the time it'll take for increases to filter through into the real economy when setting rates in future.
Wall Street initially interpreted this statement as meaning that the bank will ease off on increasing rates going forward, but that view was soon squashed.
In a press conference after the rate change was announced, Federal Reserve chairman Jay Powell warned that the so-called "terminal" interest rate (the rate the Fed believes will be needed to tame inflation) will be higher than expected.
In other words, it looks as if the bank is prepared to push rates a lot higher to tame inflation.
Bringing inflation back down to target
The US central bank is aiming to get inflation down to its target of 2%.
By hiking interest rates, the theory is that consumers will look to save more money and businesses will slow spending. This should drive companies to lower prices as they fight over customers' reduced spending power.
As of yet, it does not look as if higher rates are having the desired effect.
The US inflation rate hit 8.2% in the 12 months to the end of September, higher than forecast, although it was lower than the 8.3% recorded in August.
More importantly the measure of inflation that strips out the volatile food and energy components jumped to 6.6%, the fastest rate since 1982.
It's this rate that's worrying the Fed and economists. It means housing and medical costs are still rising and inflation is becoming entrenched in the economy.
That'll make it harder to control as workers demand higher wages to compensate for increased costs.
What does the Federal Reserve's war against inflation mean for you?
As the Fed hikes rates further, the cost of credit is rising. The most obvious market where this is having an impact is the mortgage market. The 30-year mortgage rate reached 7.08% last week. That's the highest level since 2002.
The impact this will have on house buyers' purchasing power, and as a result, the housing market, cannot be understated.
In December last year, when an average 30-year mortgage cost 3.11% the monthly repayments on a $300,000 would have been around $1,283. Today, the cost to buyers is $2,012 a month.
This suggests either house prices are going to fall, or those with mortgages are going to have to cut back on spending in other areas.
Elsewhere consumers are going to face higher borrowing costs and higher costs in general as companies will likely pass their higher interest costs onto consumers. These price hikes could only add fuel to the inflation fire.
On the other hand, as rates move higher the value of the dollar is surging. This will reduce the cost of imported goods and services and make it cheaper for American consumers travelling overseas.
Remember to get your tickets for the MoneyWeek Wealth Summit hosted by Merryn Somerset Webb, on 25 November 2022! – we've got some brilliant speakers lined up and, given everything that's going on, we'll have an awful lot to talk about.
Book your place now at moneyweekwealthsummit.co.uk
Rupert is the Deputy Digital Editor of MoneyWeek. He has been an active investor since leaving school and has always been fascinated by the world of business and investing.
His style has been heavily influenced by US investors Warren Buffett and Philip Carret. He is always looking for high-quality growth opportunities trading at a reasonable price, preferring cash generative businesses with strong balance sheets over blue-sky growth stocks.
Rupert was a freelance financial journalist for 10 years before moving to MoneyWeek, writing for several UK and international publications aimed at a range of readers, from the first timer to experienced high net wealth individuals and fund managers. During this time he had developed a deep understanding of the financial markets and the factors that influence them.
He has written for the Motley Fool, Gurufocus and ValueWalk among others. Rupert has also founded and managed several businesses, including New York-based hedge fund newsletter, Hidden Value Stocks, written over 20 ebooks and appeared as an expert commentator on the BBC World Service.
He has achieved the CFA UK Certificate in Investment Management, Chartered Institute for Securities & Investment Investment Advice Diploma and Chartered Institute for Securities & Investment Private Client Investment Advice & Management (PCIAM) qualification.