Why companies should stay out of the residential lettings market
Companies, such as Lloyds Bank and John Lewis, who are looking to muscle in on the residential lettings market should think twice, says Matthew Lynn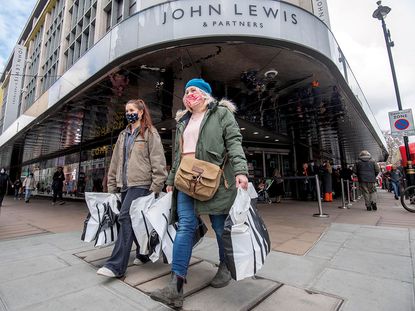 (Image credit: © John Lewis)
The rental market is suddenly very fashionable among some of the UK's largest companies.
Last week, Lloyds made its formal debut in the market, buying a block of 45 flats in Peterborough set to be made available to tenants. The bank has plans to make 400 homes available by the end of the year, with that number potentially doubling by the end of 2022.
It is not alone. John Lewis, the retail chain that also owns Waitrose, plans to build 10,000 homes over the next decade, with the majority of those set to be made available for renting.
Subscribe to MoneyWeek
Subscribe to MoneyWeek today and get your first six magazine issues absolutely FREE
Get 6 issues free
Sign up to Money Morning
Don't miss the latest investment and personal finances news, market analysis, plus money-saving tips with our free twice-daily newsletter
Don't miss the latest investment and personal finances news, market analysis, plus money-saving tips with our free twice-daily newsletter
A potentially huge new market
You can make a case for that as a diversification strategy for both companies. Renting out residential property is a vast industry in the UK. There are 4.5 million private rented homes in this country, up from 2.7 million in 1997, according to the Office for National Statistics. Few other industries have grown as fast as that. And with a median national rent of £700 a month (rising to £1,425 in London), it is generating a huge amount of cash.
The industry could do with some professionalism too. The vast majority of rented properties are supplied by part-time buy-to-let landlords with no real expertise. Most of them are simply supplementing their pension, and don't even think of themselves as running a business. For many tenants, the standards are not very high. Repairs are not carried out and deposits don't get returned properly. Big companies could bring some expertise to the industry.
At the same time, it is a potentially huge new market, especially for a company like Lloyds, where the margins on financial products are getting squeezed, or for John Lewis, stuck with department stores that are in decline. And with the right planning permission, it could be a great way to redevelop commercial space. Lots of old high street bank branches that no one visits anymore could be converted into two or three flats; plenty of department stores have already looked at turning one or two floors into places where people can live.
There are, though, three big problems. First, rental yields, despite the hype about landlords ripping off tenants, are mostly pitiful. The average rental yield in the UK is just 3.5%. In London they are even worse at just 2.58%. Even in the best-performing regions, such as north west England, they climb no higher than 4.5%. The cost of capital would have to be very low to make any kind of return if that is the potential yield.
Second, the only real profits come from capital appreciation. In the buy-to-let market, not many private investors manage to make much from the rental yield. Where they do make money is from essentially making a highly leveraged bet on the property market. As it happens, the returns on that have been spectacular over the last 20 years. The catch is, it ties the owner to a very volatile housing market. With immigration likely to fall now we are out of the EU, and with planning regulations being loosened, prices may well not rise nearly as much over the next 20 years, and even if they do it is likely to be a very bumpy ride.
Beware the backlash
Finally, it will create a political backlash. Home ownership is a very controversial issue in the UK. The percentage of people who own their own home has been falling steadily for a decade. Prices are sky-high, many people struggle to get onto the property ladder and, despite the miserable yields, the price of housing means that rents can still consume far too high a percentage of people's disposable incomes.
Private buy-to-let landlords ended up getting so much flak for distorting the market that the chancellor ended up changing the tax rules to drive them out of the market. Why wouldn't the same happen to corporate landlords? If big companies start making huge profits from renting out homes there will be campaigns for one-off taxes, rent controls, or even nationalisation.
The market might look a tempting diversification for some big companies, but it is full of risks that could blow up at any moment. Shareholders should be very cautious about backing that strategy.
Matthew Lynn is a columnist for Bloomberg, and writes weekly commentary syndicated in papers such as the Daily Telegraph, Die Welt, the Sydney Morning Herald, the South China Morning Post and the Miami Herald. He is also an associate editor of Spectator Business, and a regular contributor to The Spectator. Before that, he worked for the business section of the Sunday Times for ten years.
He has written books on finance and financial topics, including Bust: Greece, The Euro and The Sovereign Debt Crisis and The Long Depression: The Slump of 2008 to 2031. Matthew is also the author of the Death Force series of military thrillers and the founder of Lume Books, an independent publisher.