The government says it wants to build more houses – but will it?
As PM, Boris Johnson is pushing through reforms that should make it easier to build more houses. As a local MP, he opposes such plans. Which of these tendencies will win out?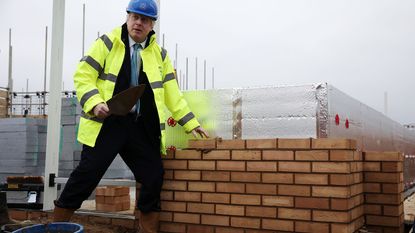 (Image credit: © Dan Kitwood - Pool/Getty Images)
What's the government planning?
In a bill trailed in a white paper last summer, and now announced in last month's Queen's Speech, the government is proposing the most radical shake-up of planning laws since 1947. Under legislation to be brought forward in the autumn, local councils will no longer have the power to accept or reject planning applications case-by-case. Instead, all land in England will be classified into one of three planning categories. In "protected" areas (areas of natural beauty, places at risk of flooding, the green belt) development will remain restricted. In "renewal" areas (largely urban and brownfield sites) there'll be a presumption in favour of development. And in "growth" areas permission will be automatically granted, providing plans conform to pre-agreed local guidelines. In addition, the system whereby developers contribute to affordable housing and community amenities would be replaced by more straightforward levies.
What's the purpose of the reform?
The idea, according to the government, is to "create a simpler, faster and more modern planning system to replace the current one that dates back to 1947, and [ensure] we no longer remain tied to procedures designed for the last century". The bill contains reforms that will digitise the whole process, aiming to slash the average five-year timescale from drawing board to shovel. And with house prices once again surging (up more than 10% in the past year on average) there's clearly a case for increased supply. More controversial is the three-way zoning proposal.
Why is that so contentious?
Critics see it as a power grab by central government that will undermine local controls and despoil the countryside. Many Tories are especially angry about taking away the right of local people to prevent developments in areas earmarked for growth. "I fear that… what we will see is not more homes, but we will potentially see the wrong homes being built in the wrong places," Theresa May told the Commons last month. The white paper's proposed substitute for the planning process in growth zones is greater community input into the local plan that sets the general approach. "But that is simply not an adequate replacement," says Theresa Villiers in The Times. It would "require people to anticipate, potentially years in advance, proposals that might affect them in the future". Some senior Tories think an overhauled planning system will be key to maintaining the party's recent gains in the northern Red Wall of traditionally Labour constituencies. But many Tory MPs in southern seats are fearful of a backlash from angry constituents.
Subscribe to MoneyWeek
Subscribe to MoneyWeek today and get your first six magazine issues absolutely FREE
Get 6 issues free
Sign up to Money Morning
Don't miss the latest investment and personal finances news, market analysis, plus money-saving tips with our free twice-daily newsletter
Don't miss the latest investment and personal finances news, market analysis, plus money-saving tips with our free twice-daily newsletter
Nimbys, in other words?
One person's Nimby ("not-in-my-backyard") is another's public-spirited resident. "The boundary between landscape conservation and Nimbyism has always been hard to draw, but it is vividly illustrated in the catalogue of ministerial hypocrisy on planning," says Simon Jenkins in The Guardian. In his role as prime minister, Boris Johnson last year in effect told his own constituency it needs 446 new houses (the total for his area under the widely criticised algorithm that calculated local targets under the initial planning white paper). Yet in his role as local MP, Johnson formally objected to a scheme for 514 – and now intends to remove his own MPs' right to object. Similarly, Priti Patel has objected to 225 houses in her constituency, defence secretary Ben Wallace to 210 in his, and Michael Gove to 44 in his. Are they Nimbys – or democrats defending local interests? "Once upon a time," says Tory MP Bob Seely on CapX, "Conservatives referred to 'Nimbys' by their other name: 'Conservative voters'. I'd suggest we should start to do so again."
So why are the Tories doing this?
There's a very basic political driver behind the planning bill, says Will Heaven in The Spectator. "When you build a house, someone buys it – and when they do, they tend to start voting Conservative. The Bill's aim is to get more houses built, 300,000 a year by the mid 2020s, helping to create millions more homeowners over the next decade and bringing long-term dividends to the Conservative party." Currently, we do build fewer than we used to, but numbers are picking up. During the postwar building boom, Britain built on average 325,000 new homes a year (between 1950 and 1970). But in recent decades from 1990 to 2019, this average has fallen to just over 180,000, despite the growth in population. Supply of social housing has collapsed, with much of the stock sold off under the "right to buy" scheme of the 1980s. However, in 2019, there were 241,000 housing completions, the best for 30 years, so it's not clear that a radical overhaul is needed to get the overall figure up to the government's target.
Will the reforms get more houses built?
One statistic that suggests they won't have much effect is that 90% of developments are already granted planning permission. So it's hard to see how the reforms will lead to a splurge in housebuilding – especially as the big developers are sitting on one million unused planning permissions. The big builders have long used "landbanking" to restrict supply and protect their pricing power. So rather than making it easier for them to build where they want, a priority could be to make them build where they already have permission. In 2018 the May government's Letwin review found that the main driver of lack of supply and slow construction rates isn't the planning system, but the "market absorption rate" – that is, the rate at which new houses can be built and sold without bringing down local prices, and thus reducing the incentive for builders to build. "Housebuilders build homes at the rate they can sell them," housing analyst Neal Hudson told the Financial Times. "There doesn't appear to be anything in these proposals that breaks that relationship."
Simon Wilson's first career was in book publishing, as an economics editor at Routledge, and as a publisher of non-fiction at Random House, specialising in popular business and management books. While there, he published Customers.com, a bestselling classic of the early days of e-commerce, and The Money or Your Life: Reuniting Work and Joy, an inspirational book that helped inspire its publisher towards a post-corporate, portfolio life.
Since 2001, he has been a writer for MoneyWeek, a financial copywriter, and a long-time contributing editor at The Week. Simon also works as an actor and corporate trainer; current and past clients include investment banks, the Bank of England, the UK government, several Magic Circle law firms and all of the Big Four accountancy firms. He has a degree in languages (German and Spanish) and social and political sciences from the University of Cambridge.