Trevor Milton: big dreamer wakes to a hard reality
Trevor Milton wanted to be the next Elon Musk, and planned to revolutionise transport with hydrogen-powered trucks. His dreams are unravelling amid allegations of fraud.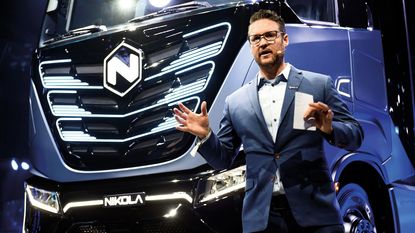 (Image credit: © Alamy)
"An electric-vehicle entrepreneur with a bad Twitter addiction, dangerous propensity towards grandiose promises… and a knack for raising the eyebrows and blood pressures of short sellers and regulators has been forced from his pedestal by a burgeoning fraud scandal," reports DealBreaker. No, not that one. It's Nikola founder Trevor Milton – the man who once vowed "to out-Elon" Elon Musk – who has quit the hydrogen truck-maker after the US Securities and Exchange Commission and Justice Department launched investigations into whether his company misled investors.
A bombshell explodes
Nikola, which like Musk's creation is named after the inventor Nikola Tesla, is accused of making exaggerated claims about its core fuel cell and battery technology, says Cnet. The trigger was a "bombshell" report by the "forensic" short-seller, Hindenberg Research, which effectively accused the emperor of having no clothes. As well as flagging up concerns about Milton's own colourful background, Hindenberg pointed out that a promotional video – set to a triumphant orchestral theme and purportedly showing a Nikola One lorry operating under its own power – was disingenuous at best: the vehicle, it seems, was simply "rolling" down a slope.
When the "pre-revenue" company floated in June, its value quickly eclipsed that of Ford, buoyed by partnerships with blue-chips including General Motors, Bosch and Anheuser-Busch. Milton, 39, became an instant billionaire via his 25% stake. Shares have since halved, notes The Sunday Times, and they lost another fifth this week. Suddenly, the company "is fighting suggestions that it is the Theranos of the auto industry – like the blood-testing company, an 'intricate fraud' spun by a charismatic founder with a knack for drawing in big-money backers". Some investors and former and current employees paint a picture of a founder who "will say almost anything in pursuit of his dream of 'revolutionising transport'", says the Financial Times.
Subscribe to MoneyWeek
Subscribe to MoneyWeek today and get your first six magazine issues absolutely FREE
Get 6 issues free
Sign up to Money Morning
Don't miss the latest investment and personal finances news, market analysis, plus money-saving tips with our free twice-daily newsletter
Don't miss the latest investment and personal finances news, market analysis, plus money-saving tips with our free twice-daily newsletter
"An incredible success"
Milton grew up in Utah, one of five children in a Mormon family, and "showed an early entrepreneurial spirit, buying sweets and reselling them at a mark-up to fellow pupils", says The Sunday Times. "Never self-effacing", Milton described his first business, which he set up after dropping out of university, as "an incredible success", although it failed, notes Trucks.com. Indeed, Nikola is his sixth business.
"Three were good successes, three were not so great, but a 500 batting average in baseball is the best player in the world," he later observed of his record. Although untrained as an engineer, he says he dreamed of building electric trucks from childhood. The forerunner to Nikola, which he founded in 2015, was a company called dHybrid which aimed to convert diesel engines to run on natural gas, but which collapsed amid a welter of legal claims.
Last year, Milton observed that Nikola would be his "last business". Those words may turn out to be more prophetic than he thought, says DealBreaker. But don't rule out this "dime store Elon Musk's" future ambitions for "serial innovating". Milton recently bought a ranch in Utah, setting "a new price record" for farmland in the state, says The Wall Street Journal. The plan is to "revolutionise vertical farming".
Jane writes profiles for MoneyWeek and is city editor of The Week. A former British Society of Magazine Editors editor of the year, she cut her teeth in journalism editing The Daily Telegraph's Letters page and writing gossip for the London Evening Standard – while contributing to a kaleidoscopic range of business magazines including Personnel Today, Edge, Microscope, Computing, PC Business World, and Business & Finance.
She has edited corporate publications for accountants BDO, business psychologists YSC Consulting, and the law firm Stephenson Harwood – also enjoying a stint as a researcher for the due diligence department of a global risk advisory firm.
Her sole book to date, Stay or Go? (2016), rehearsed the arguments on both sides of the EU referendum.
She lives in north London, has a degree in modern history from Trinity College, Oxford, and is currently learning to play the drums.