Doing more with less as inflation stalks construction
Soaring inflation has dramatically driven up the cost of construction. But there are reasons to be optimistic, says Simon Rawlinson, head of strategic research at Arcadis.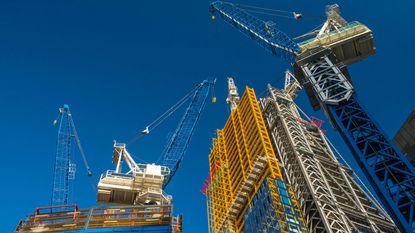 Soaring inflation has led to dramatic fluctuations in the cost of construction in leading cities around the world, new research from Arcadis reveals. A combination of supply chain disruption, higher commodity prices and labour shortages has seen construction costs increase significantly in most locations, Arcadis warns, with inflation in the sector now at levels not seen for many years.
While the construction industry has a good record on adapting to the changing marketplace, the company advises it will now need to redouble its efforts in areas such as increased use of technology and modern methods of building. That will also support the industry's efforts to become more sustainable, says Arcadis, which provides sustainable design, engineering, and consultancy solutions for natural and built assets in more than 70 countries, improving quality of life for people around the world.
Costs soar in Europe and North America
Arcadis International Construction Costs 2022 report identifies London as the most expensive city in the world in which to build, with Geneva in second place; these two locations were also in first and second place 12 months ago, though London has now overtaken the Swiss city. The top five is completed by Oslo, New York City and Copenhagen.
Subscribe to MoneyWeek
Subscribe to MoneyWeek today and get your first six magazine issues absolutely FREE
Get 6 issues free
Sign up to Money Morning
Don't miss the latest investment and personal finances news, market analysis, plus money-saving tips with our free twice-daily newsletter
Don't miss the latest investment and personal finances news, market analysis, plus money-saving tips with our free twice-daily newsletter
In fact, London is now one of no fewer than 10 cities in the UK and Ireland included in the top 40 most expensive locations for construction, with Bristol, Dublin, Manchester, Liverpool, Edinburgh and Cardiff all ranking close to the top.
The rising cost of construction in the UK mirrors a similar phenomenon across Europe and North America, with many cities on both sides of the Atlantic recording double-digit cost increases over the past 12 months. In the US, the appreciation of the dollar against most other currencies added to cost inflation.
In Asia, meanwhile, costs were more stable, though labour shortages in Singapore drove much higher levels of inflation. Australia, by contrast, saw more modest cost increases; the same was true of the Middle East.
Overall, however, the construction industry has faced a tough environment, with the cost of timber more than tripling at times over the past year, and copper and aluminium prices rising by up to 70% and 40% respectively. The Covid-19 pandemic's effect on labour markets has added to the pressure, particularly as migrant workers have moved home, creating shortages in the countries they have left behind.
Confronting the sustainability challenge
Nevertheless, Simon Rawlinson, Head of Strategic Research at Arcadis, says there are reasons to be optimistic. The problems that the sector faces are forcing construction companies to focus on efficiency and productivity, he points out, just as governments are pushing for the industry to confront pressing sustainability challenges.
"While on the surface the looming market conditions sound unfavourable, we believe these challenges more than ever present our industry with a great opportunity to drive forward innovation," Rawlinson argues. "In order to reduce our impact on the environment and our reliance on resources, we need to adopt a mentality of doing more with less."
Pressure on the industry to engage with these imperatives continues to mount. The construction and operation of built assets accounts for 38% of global greenhouse gas emissions, according to the UN Environment and International Energy Agency's 2019 Global Status Report. The COP26 climate change summit in Glasgow last year urged the construction sector to look at reducing emissions associated with construction materials and site operations.
More with less
And the good news in this respect is there are now multiple routes towards increased sustainability for an industry that has a long track record of adaptability. Making every effort to manage costs, remove waste and increase productivity will simultaneously help construction companies deal with inflation and sustainability. Arcadis is taking steps to automate design and reporting processes as well as optimising material use in project designs, in line with the less is more philosophy.
Building a more detailed understanding of the supply chain will be crucial, Arcadis says, potentially unlocking innovation and untapped capabilities of supply chain partners, as well as supporting resilience. Making the move towards more modern methods of construction will also be increasing important, such as bathroom pods and prefabricated plant rooms. Technological advances in data analytics will also play an important role, helping construction companies to understand the performance and energy usage of buildings – and to reduce the long-term carbon footprints of these buildings by designing and building them accordingly.
In addition, the construction sector and its clients will now need to be pragmatic. In many countries, leading construction companies are now planning projects and agreeing timescales to more realistically reflect the availability of workers and materials. There is also an increasing focus on risk sharing, with suppliers, construction companies and clients collaborating more closely to mitigate the effects of price volatility.
The bottom line, argues Arcadis' Simon Rawlinson, is that construction companies must see the current market environment as an opportunity; by working with expert advisers, they will be able to plot a path through inflation and build businesses better equipped to deal with the challenges of sustainability and supply chain volatility.
"Flexible, pragmatic decision-making can allow businesses to adapt to fluctuating and unpredictable conditions and put themselves in a market-leading position to secure opportunities in a challenging market," Rawlinson says.
Download your copy of the report from Arcadis' website at https://bit.ly/3tnZZKF