MoneyWeek book review: 27 October 2023
The latest book reviews and news from the expert team here at MoneyWeek.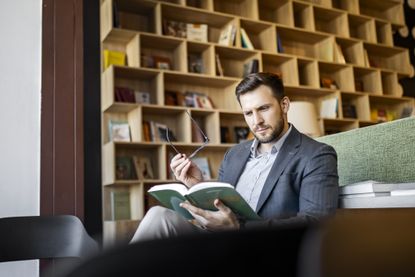 (Image credit: Getty Images)
Each edition MoneyWeek takes a look at the books that are hitting the top of the finance and business charts.
Book of the Week: Elon Musk, £14
Elon Musk, £14
Walter Isaacson
With the possible exception of Donald Trump, there is no more divisive figure in the Western world than Elon Musk.
Subscribe to MoneyWeek
Subscribe to MoneyWeek today and get your first six magazine issues absolutely FREE
Get 6 issues free
Sign up to Money Morning
Don't miss the latest investment and personal finances news, market analysis, plus money-saving tips with our free twice-daily newsletter
Don't miss the latest investment and personal finances news, market analysis, plus money-saving tips with our free twice-daily newsletter
To some, he is the business leader of our generation, a visionary with his sights set on solving some of humanity's biggest problems. His critics see him as a dangerous gadfly, who is putting democracy (he is the boss of X, the social media site formerly known as Twitter) and even the survival of humanity itself (he has launched an artificial intelligence start-up) at risk. Others think that both views are nothing more than the product of Musk's unsurpassed talent for self-promotion.
Walter Isaacson's biography is an attempt to unravel the truth. The book is divided into no less than 95 short chapters. These begin with his family and childhood and time as a student, then take us through his early career in Silicon Valley, where he had his first early success with the online directory Zip and then web-based payments service PayPal. He was removed as CEO from the latter but still walked away with $175m.
The book then looks in detail at how Musk set up electric-car maker Tesla and rocketry company SpaceX, both of which came close to failure at several points, but have since revolutionised their industries. Interspersed with these entrepreneurial ventures is an account of Musk's personal life, and the final third of the book takes us through a series of episodes over the past few years, including Musk's controversial takeover of Twitter.
Musk allowed Isaacson to follow him around for two years as he went about his business and this may be a factor in why the author generally comes down on the side of those who see Musk as a hero rather than a villain. This access has, however, been balanced by extensive research, including interviews with those who feel much less positively about his subject. Neither does Isaacson hold back from discussing the less appealing aspects of Musk's personality, including his often-troubled relationships with his family, employees and investors.
The picture of Musk we end up with from the book is of an impulsive and hyperactive man with a distaste for social norms and even rules and regulations. Yet at the same time, we see that these personality traits, combined with a hard-riding management style, have produced incredible results. Isaacson's account of Musk's engineering philosophy, which involves stripping out as many stages and components as possible and only adding them back in if they prove to be needed, is also required reading. Whether you're a Musk fan or a Musk sceptic, this is a well-written biography that will make you think twice about the man with a mission to get to Mars.
The Crypto Handbook
The Crypto Handbook: The Ultimate Guide to Understanding and Investing in DIGITAL ASSETS, WEB3, the METAVERSE and More, £24
Sam Volkering
The cryptocurrency revolution began in 2009 with the launch of Bitcoin. It's been quite a journey in the 15 years since then. The digital tokens, once confined to the fringes of the internet and a cult "alternative" investment, are now on the brink of going mainstream as central banks around the world scramble to launch their own. The price of bitcoin is now displayed on TV news shows alongside the value of stock markets.
The opening section of this book gives a basic overview, starting with digital currencies and then moving on to more recent innovations, such as the metaverse, non-fungible tokens (NFTs) and Web3. The middle part looks at the practical aspects of investing, with some tips on how to build a portfolio of digital currencies. The final third consists of interviews with various figures in the sector, including a section where Volkering answers some frequently asked questions.
Volkering is bullish and predicts that we're on the cusp of a new boom that will make digital "bigger and better than any cycle that's come previously". Even if true, it's not certain whether this will be to the benefit of any of the assets currently available to investors. Still, the book is a useful introduction and has some good practical advice. As a victim of the 2014 Mt Gox implosion, where investors lost their bitcoins overnight, Volkering is particularly insightful on the issue of security.

Book in the news
The 100 Trillion Dollar Wealth Transfer: How the Handover from Boomers to Gen Z Will Revolutionize Capitalism, £15.32
Ken Costa
Older people complaining about the younger generations (and vice versa) isn't exactly a new phenomenon, but the generational divide has never been so stark as it is today, argues banker and philanthropist Ken Costa in his book, The Hundred Trillion Dollar Wealth Transfer.
With respect to everything from our relationship with technology to politics and the role of business, there is a large and growing gap between the "boomers", who were born between 1946 and 1964, and the "Zennials", Costa's collective name for the Millenials (born after 1981) and generation Z (born after 1996). That matters because, as the subtitle to Costa's book suggests, a massive and unprecedented transfer of wealth, and hence of power, is about to take place.
The boomers are now retiring or shuffling off this mortal coil and hence are starting to hand their assets to their heirs. That wealth, says Costa, could end up being squandered if the generations don't start to learn to appreciate each other's strengths and qualities.
The Zennials are turning away from capitalism and the market economy, which is a mistake as these are the engines of growth that lift countries out of poverty and deliver prosperity. But the creativity and idealism of the younger generation is something to be appreciated and harnessed if it can be tempered by the realism and experience of the boomers.
Like many business writers, Costa tends to rely too much on snappy acronyms, which can be annoying. But he makes a convincing case for the need for a change in attitudes and working practices and has some practical advice for how business leaders can adapt their management style and organisations, all backed up with a wealth of data and anecdotes.
The arguments considered in this book need to be taken seriously by business leaders, executives and managers who are having problems understanding their younger workers.
---
This article was first published in MoneyWeek's magazine. Enjoy exclusive early access to news, opinion and analysis from our team of financial experts with a MoneyWeek subscription.
Matthew graduated from the University of Durham in 2004; he then gained an MSc, followed by a PhD at the London School of Economics.
He has previously written for a wide range of publications, including the Guardian and the Economist, and also helped to run a newsletter on terrorism. He has spent time at Lehman Brothers, Citigroup and the consultancy Lombard Street Research.
Matthew is the author of Superinvestors: Lessons from the greatest investors in history, published by Harriman House, which has been translated into several languages. His second book, Investing Explained: The Accessible Guide to Building an Investment Portfolio, is published by Kogan Page.
As senior writer, he writes the shares and politics & economics pages, as well as weekly Blowing It and Great Frauds in History columns He also writes a fortnightly reviews page and trading tips, as well as regular cover stories and multi-page investment focus features.
Follow Matthew on Twitter: @DrMatthewPartri