How to profit as tobacco stocks go up in smoke
Philip Morris International is the most vulnerable stock in the embattled tobacco sector. Matthew Partridge explains the best way to play it.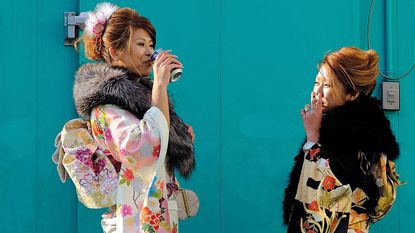 (Image credit: Credit: Robert Gilhooly / Alamy Stock Photo)
Tobacco is bad for your health, but it has been good for investors' portfolios. For decades, companies have been able to offset the gradual decline of smoking in Europe and North America with rising sales in emerging markets and price hikes in developed markets. The advent of e-cigarettes, meanwhile, has provided a new revenue stream and fuelled optimism over the future for cigarette companies after tobacco use dies out.
The final straw?
However, it now looks as though the cumulative impact of increased regulation such as indoor smoking bans and plain packaging has caused the decline in smoking in established markets to accelerate. There are also plenty more such changes set to buffet the industry, notably the recent increase in the minimum smoking age to 21 in the United States and the ban on menthol cigarettes in the EU. At the same time, there also has been a backlash against e-cigarettes owing to concerns that they are more dangerous than they first appeared; many fear that they are also encouraging teenagers who wouldn't have normally smoked to take up the habit.
A tobacco company that looks particularly vulnerable is Philip Morris International (NYSE: PM). Although PMI's share price has fallen by a quarter since its peak in 2017, it still trades at 15 times 2020 earnings. This is far more than rival tobacco companies. For example, Altria trades on a 2020 price/earnings (p/e) multiple of 11.2. British American Tobacco is on a p/e of 9.8 while Imperial Brands trades at a lowly 7.1 with a yield of 10.7% (double PMI's). PMI's supporters argue that the company deserves to be more highly valued because it sells a large chunk of its conventional cigarettes to emerging markets, where demand is still growing, while it doesn't sell any in the declining US market.
Subscribe to MoneyWeek
Subscribe to MoneyWeek today and get your first six magazine issues absolutely FREE
Get 6 issues free
Sign up to Money Morning
Don't miss the latest investment and personal finances news, market analysis, plus money-saving tips with our free twice-daily newsletter
Don't miss the latest investment and personal finances news, market analysis, plus money-saving tips with our free twice-daily newsletter
However, it still gets 60% of its revenue from developed countries, where sales are falling by 3% a year. At the same time regulators in emerging markets, even Russia and China, are starting to implement many of the anti-smoking measures that have been pioneered in Europe and North America, suggesting that growth should slow and start to fall.
While PMI is heavily investing in the so-called IQOS system of heated tobacco, which is supposed to be safer than vaping, this is likely to suffer from any backlash against e-cigarettes, while consumers in large markets such as Japan are proving reluctant to switch to it. Even the most optimistic projections suggest that it will be over a decade until IQOS becomes as important as conventional cigarettes. I suggest you short PMI at the current price of $85 at £40 per $1 (compared with IG Index's minimum of $16). Cover your position if it goes above $110. This will give you a potential downside of £1,000.
Trading techniques: four trading resolutions
Last year I was much more successful than in 2018. While this was partly a result of selecting strong performers, some it was due to following the rules I had set myself – especially taking losses and letting winners run. Still, there is always room for improvement, so here are four New Year's resolutions for 2020.
1.Balance shorts and longs
Last year, I tipped more longs than shorts. But with valuations now at record levels and the bull market more than a decade old, it's likely there will be a market correction before too long, so I should ensure that the number of open short and long tips don't get out of balance.
2. Adjust stop-losses more often
Letting my winning tips run has proved lucrative since my profits came largely from a few key trades. Still, it's a good idea to prevent the portfolio from getting too stale by locking in some profits with a rise in stop-losses on long positions and decreases on shorts.
3. Pay more attention to charts
My trading tips are driven by fundamental factors, such as the quality of the business and valuation. Still, waiting until the price has stopped falling before buying (or rising in the case of shorts) is generally a good idea – and one which would have saved me from losses in the case of tips such as construction group Kier and Superdry, the clothing retailer.
4. Avoid revisiting failures
Last year I tipped shorting Tesla for a third time even though the previous two Tesla tips both lost money. I also tipped shorting Just Eat twice. I'll now avoid the temptation to revisit former failures.
How my tips have fared
This has been a mixed month. Five of the seven longs, including all the UK companies, appreciated, with homebuilder Bellway now at 3,894p (from 3,439p).
Storage space company Safestore rose from 777p to 785p; International Consolidated Airlines Group from 553p to 615p; builder Taylor Wimpey from 177p to 194p; and packaging and recycling firm DS Smith from 370p to 380p.
However, the two foreign tips didn't do so well, with carmaker Volkswagen treading water at €176 while drug firm Bausch Health Companies fell from $29.21 to $28.86. Overall, my long positions are making profits of £5,060.
The bad news is that all my five short tips lost some ground thanks to the relentless rise in the US stockmarket over the past month.
Streaming giant Netflix rose from $308 to $336, ride-hailing app Uber went from $28.26 to $32.26, online retailer Wayfair increased from $87.53 to $95, while social network Twitter went from $30.57 to $31.64.
Even the price of the digital currency bitcoin went up from $7,434 to $7,869. As a result the profits on my short positions have dwindled to £694.
We now have three tips – Bellway, Safestore and bitcoin – that are more than six months old. Since all three are making profits, I don't think you should close them down right now.
Instead I recommend that you lock in some profits by increasing the stop-losses on Safestore to 750p (from 700p) and Bellway to 3,600p (from 3,225p).
I'm also going to increase the stop loss on Bausch to $26 (from $25). As for Netflix, I have decided to give it another fortnight to move into the black before recommending that you close the position.
Matthew graduated from the University of Durham in 2004; he then gained an MSc, followed by a PhD at the London School of Economics.
He has previously written for a wide range of publications, including the Guardian and the Economist, and also helped to run a newsletter on terrorism. He has spent time at Lehman Brothers, Citigroup and the consultancy Lombard Street Research.
Matthew is the author of Superinvestors: Lessons from the greatest investors in history, published by Harriman House, which has been translated into several languages. His second book, Investing Explained: The Accessible Guide to Building an Investment Portfolio, is published by Kogan Page.
As senior writer, he writes the shares and politics & economics pages, as well as weekly Blowing It and Great Frauds in History columns He also writes a fortnightly reviews page and trading tips, as well as regular cover stories and multi-page investment focus features.
Follow Matthew on Twitter: @DrMatthewPartri