The art market endures after a jittery 2019
Wealthy Americans stepped up to help calm the art market's jitters in 2019. Chris Carter reports.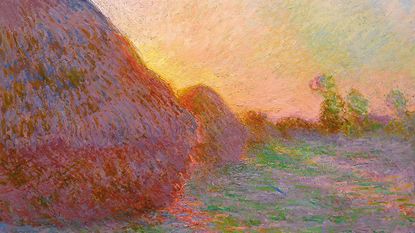 There were some big art sales in 2019, but much of the action came within a month. Claude Monet's Meules (1890) sold for $110.7m in New York with Sotheby's in May, raising the nominal price bar for an Impressionist painting. That price was far in excess of the estimated $55m – a valuation that was 22 times higher than its previous auction sale price in 1986, but one that was justified in the eyes of Sotheby's Impressionist department head August Uribe. It was, he said, "the best one" of the 25 paintings in the Haystacks series, still in private hands.
So maybe it wasn't all that surprising that it made nine figures. After all, pre-sale estimates tend to be conservative and another painting from the series had sold for $81.4m in 2016 with Christie's. The problem is, it was the only art work to make nine figures in 2019. And it only made nine figures once the fees had been added (the "hammer price" was $97m). Nonetheless, May also saw Jeff Koons's Rabbit (1986) fetch a record price for a work by a living artist – $91.1m at Christie's, again in New York. Robert Rauschenberg's Buffalo II (1964) sold for $88.8m and Andy Warhol's Double Elvis [Ferus Type] (1963) fetched $53m. That same month, Sotheby's in New York sold a Pablo Picasso (Femme au chien, 1962), a Francis Bacon (Study for a head, 1952) and a Mark Rothko (Untitled, 1960), each for over $50m. All in all, not bad. "Wealthy Americans showed their backbone," as Melanie Gerlis put it in the Financial Times.
Thank goodness they did. Trade wars, the threat of recession and uncertainty over Brexit had looked at one point to have scared away the guarantors, as Abby Schultz noted in Barron's Penta. These are the people who agree to stump up the money to buy a lot if it otherwise fails to sell at auction. Their presence injects confidence into the market. When they're not there, the market gets rattled, but the auctioneers pulled through in the end. "Amid a challenging global environment, demand for art remains strong and is reflected in our 2019 results, especially for modern and contemporary art," says Guillaume Cerutti, CEO at Christie's. Yet at the start of 2020, those uncertainties haven't gone away. Whether that demand remains strong will be the main question for this year.
Subscribe to MoneyWeek
Subscribe to MoneyWeek today and get your first six magazine issues absolutely FREE
Get 6 issues free
Sign up to Money Morning
Don't miss the latest investment and personal finances news, market analysis, plus money-saving tips with our free twice-daily newsletter
Don't miss the latest investment and personal finances news, market analysis, plus money-saving tips with our free twice-daily newsletter
Whisky breaks records
Rare whisky, on the other hand, went from strength to strength in 2019. Sotheby's in London raised £7.6m from the sale of a single-owner collection in October, which also saw a new record set for a single bottle – another 1926 Macallan, this time costing £1.5m (different bottles of the 1926 have broken the record three times over the past two years). From 7-17 February, Whisky Auctioneer (whiskyauctioneer.com) is hosting a sale of 3,900 rare bottles of whisky. "Expect it to far exceed its lowball £7m-£8m estimate," says whisky expert Fiona Shoop in The Daily Telegraph. It contains yet another 1926 Macallan.
The year art went bananas
Italian artist Maurizio Cattelan made headlines (most with puns) last month when he duct-taped a banana to a wall and then sold that "art installation" for $120,000. People queued up at the Perrotin gallery at Art Basel Miami Beach to take their picture with Comedian (as the banana was called). When it came to the turn of New York-based artist David Datuna, he peeled it off the wall and ate it. "Art performance by me. I love Maurizio Cattelan artwork and I really love this installation. It's very delicious," Datuna declared on Instagram. Luckily, Datuna "did not destroy the art work", Lucien Terras, a director at the gallery, told the Miami Herald. "The banana is the idea."
That's right, says Jonathan Jones in The Guardian. In the tradition of Marcel Duchamp (the artist who put a urinal in a gallery and called it Fountain), Cattelan is mocking the art world. "Nowadays, art can't get away from money," says Jones. "That's all anyone wants to know about it, and Dada gestures are part of the capitalist miracle." Still, it's no laughing matter for performance artist Rod Webber. After Perrotin removed the (restored) Comedian, Webber wrote on the blank wall in red lipstick: "Epstein didn't kill himself". He was arrested for vandalism. Artnet News reports he will appear in court next month. Webber has appealed to Datuna for help lest "a jury may be put in a position to legally decide what is and isn't art".
Auctions
Going…
Former Australian cricketer Shane Warne (on the left in our picture) put his beloved "baggy green cap" up for auction this week to raise money for those affected by the bushfires in Australia. The proceeds from the sale will be donated to the Red Cross's disaster relief fund. Interest in the sale was so great that the Pickles auction website crashed soon after Warne announced the sale on Monday via Twitter, says Sky News. Bidders had until Thursday night to make their offer, with former England captain Michael Vaughan offering A$25,000 (£13,200). Warne wore the cap throughout his international test career from 1992 to 2007. The spin bowler hoped it would raise "some significant funds to help all those people that are in desperate need".
Gone…
The Olympic Manifesto, the transcript of a speech made by Pierre de Coubertin in 1892, has become the most expensive item of sport memorabilia to be sold at auction. It fetched $8.8m at Sotheby's in New York last month. In the handwritten transcript Coubertin spelled out his vision to see the Olympic Games of ancient Greece revived at the annual meeting of the Union des Sociétés Françaises de Sports Athlétiques. "Let us export rowers, runners and fencers; this is the free trade of the future, and the day that it is introduced into the everyday existence of old Europe, the cause of peace will receive new and powerful support," he said. The first International Olympic Committee was set up 18 months later.
Chris Carter spent three glorious years reading English literature on the beautiful Welsh coast at Aberystwyth University. Graduating in 2005, he left for the University of York to specialise in Renaissance literature for his MA, before returning to his native Twickenham, in southwest London. He joined a Richmond-based recruitment company, where he worked with several clients, including the Queen's bank, Coutts, as well as the super luxury, Dorchester-owned Coworth Park country house hotel, near Ascot in Berkshire.
Then, in 2011, Chris joined MoneyWeek. Initially working as part of the website production team, Chris soon rose to the lofty heights of wealth editor, overseeing MoneyWeek's Spending It lifestyle section. Chris travels the globe in pursuit of his work, soaking up the local culture and sampling the very finest in cuisine, hotels and resorts for the magazine's discerning readership. He also enjoys writing his fortnightly page on collectables, delving into the fascinating world of auctions and art, classic cars, coins, watches, wine and whisky investing.
You can follow Chris on Instagram.