Bill Winters: downfall of a banking hero
Bill Winters, chief executive of Standard Chartered, was once hailed as a paragon among moneymen. But now he is under fire for a tin-eared defence of his bloated pay packet. Can he hang on to his position?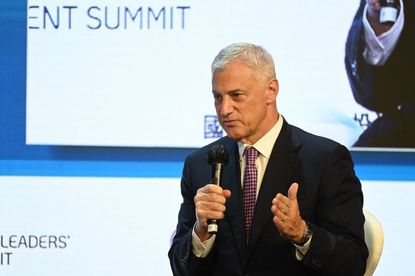 (Image credit: PETER PARKS / Contributor)
Bill Winters has always seemed the antithesis of the stereotypical banker. In the aftermath of the financial crisis, the former co-head of JP Morgan's investment bank lambasted the "greedy bankers" who sowed the seeds of catastrophe, and colleagues speak warmly of his humour, humility and graciousness. So it is surprising, says the Financial Times, that this paragon of moneymen is now "at the centre of one of the biggest rows over bankers' pay in the UK in years". In his latest guise as head of emerging-markets specialist Standard Chartered, Winters last week attacked "immature and unhelpful" shareholders for protesting about his pay package taking issue specifically with complaints about his £474,000 pension allowance (equivalent to 40% of his cash salary and larger than that of any other banking chief). Cue a firestorm.
A talent for communication
Winters arrived in London with JP Morgan in 1992 and rose to head the bank's investment-banking arm. He was hailed as a great reformer when tapped to revive the ailing Standard Chartered in 2015, and seemed to possess all the credentials, says The Guardian. As a member of the influential independent commission on banking, set up in 2011 to identify and root out bad practice, he was "one of the architects of UK banking reform" and rated highly by the commission's chairman, John Vickers. "He wore his tremendous expertise very lightly," the latter later observed. "He was quite humble in the face of the large questions we had to address." What's more, Winters has hitherto demonstrated a talent for communication and unstuffiness. In 2013, he famously "shed his shirt" and sang a "decent" falsetto solo in a fundraiser for the Young Vic theatre.
Born in Connecticut, Winters, 57, "initially wanted to pursue a career in the diplomatic service", says the FT. He took a degree in international relations followed by an MBA, but "was unable to afford further study and became a banker instead". His 25-year career at JP Morgan began in 1983 and quickly took off: Winters was considered not only "smart", but also an "excellent" risk manager. "His wariness of the exotic financial instruments that proved so disastrous for rivals helped cement the bank's status as the undisputed, strong survivor of the crash." Seen as a strong contender to eventually replace Jamie Dimon as JP Morgan supremo, Winters abruptly quit the US bank in 2009 after the two men fell out. In 2011 the same year he joined the UK banking commission he started a new career, teaming up with Jacob Rothschild and South African billionaire Johann Rupert to set up asset manager Renshaw Bay.
Subscribe to MoneyWeek
Subscribe to MoneyWeek today and get your first six magazine issues absolutely FREE
Get 6 issues free
Sign up to Money Morning
Don't miss the latest investment and personal finances news, market analysis, plus money-saving tips with our free twice-daily newsletter
Don't miss the latest investment and personal finances news, market analysis, plus money-saving tips with our free twice-daily newsletter
An uncharacteristic loss of cool
If Winters has a flaw, some suggest it is too thin a skin, which might explain his uncharacteristic loss of cool in recent weeks, says The Sunday Times. He may also feel under pressure. He has "an epic task" in turning Standard Chartered around and his performance hasn't been great. After missing key targets, the bank's shares are down almost 20% since 2015. According to one City headhunter, Winters "will almost certainly call it a day next year" if shareholders continue to "make his life difficult". Yet even allies suggest his approach to the row has been foolish. "He's broken two cardinal rules: never comment on your own pay, and don't criticise shareholders in public," says one. Time, perhaps for some quiet reflection. You get the impression that the summer break can't arrive fast enough for Bill Winters.
Jane writes profiles for MoneyWeek and is city editor of The Week. A former British Society of Magazine Editors editor of the year, she cut her teeth in journalism editing The Daily Telegraph's Letters page and writing gossip for the London Evening Standard – while contributing to a kaleidoscopic range of business magazines including Personnel Today, Edge, Microscope, Computing, PC Business World, and Business & Finance.
She has edited corporate publications for accountants BDO, business psychologists YSC Consulting, and the law firm Stephenson Harwood – also enjoying a stint as a researcher for the due diligence department of a global risk advisory firm.
Her sole book to date, Stay or Go? (2016), rehearsed the arguments on both sides of the EU referendum.
She lives in north London, has a degree in modern history from Trinity College, Oxford, and is currently learning to play the drums.