Rail nationalisation would be a disaster
Those who want to bring back British Rail have forgotten how much of a disaster it was, says Max King.
"Bring back British Rail", read the bumper sticker in a car I walked past along our road recently. I know that people soon became disillusioned with rail privatisation and that a majority say they support renationalisation, oblivious of the reality that Network Rail is already nationalised, but have they really forgotten how awful British Rail was? From the outside, BR was bad enough, but from the inside it was much worse. In the early 1980s, while qualifying as a chartered accountant at what is now KPMG, I spent some time as a junior member of the audit team assigned to British Rail.
"Audit" was a euphemism for what we did because our partners didn't actually sign an audit report; it was recognised that neither we nor any other firm would be able to sign off the accounts as "true and fair". Instead, we merely assisted the internal team to conduct an internal report.
Much of this involved trying to pick our way through the vast clerical bureaucracy that shuffled pieces of paper around dilapidated buildings until they finally made a mark on the financial records. However, the origination of this paperwork was highly erratic so "management" had only a limited idea of what was going on. For example, many customers chose to avoid the interminable queues at ticket offices by buying their tickets on the train, often for cash. There was no system to ensure this cash actually ended up in BR's coffers and we strongly suspected that management turned a blind eye to the reality that the conductors pocketed this money for themselves.
Subscribe to MoneyWeek
Subscribe to MoneyWeek today and get your first six magazine issues absolutely FREE
Get 6 issues free
Sign up to Money Morning
Don't miss the latest investment and personal finances news, market analysis, plus money-saving tips with our free twice-daily newsletter
Don't miss the latest investment and personal finances news, market analysis, plus money-saving tips with our free twice-daily newsletter
A much more dangerous example of this was the system of stock control. The stock control offices were only open during the day while the repair gangs worked at night. If the foreman was particularly conscientious, he might slip a note under the office door to say that he had taken sections of new rail for repairs, but most didn't bother. When the stock clerks arrived in the morning and found the rail gone, they might or might not report it as missing.
The regional office of British Rail thought it had new rail to spare in its yards so didn't order more. Then what the repair gangs did was to swap the worn section of track with a section from a less used line or siding, or they ferreted around in the undergrowth beside the track (where replaced track was generally discarded) for previously replaced but less worn sections of track.
British Rail replaced about 1% of its track each year, which meant that it was assuming an asset life of 100 years. This was reckless at a time when passenger traffic was in decline, but was to prove disastrous when the railways were privatised and traffic started to grow again. Railtrack did not have the financial resources to make up for decades of under-investment and soon found that the inevitable accidents, which had been taken for granted in the days of British Rail, now caused a national outcry. Railtrack paid the price for British Rail's casual attitude to safety.
In the 15 years since privatisation, there has undoubtedly been plenty of investment, but at a significant cost. In 2014, the government was forced to assume responsibility for more than £40bn of debt. Network Rail's cost over-runs have been passed onto the franchise operators to finance through higher prices while the franchise operators also get the blame when services have to be cancelled because work overruns.
It took decades for nationalisation to wreck Britain's railways and it is taking decades to recover. Undoubtedly, there is significant scope for improvement in the infrastructure, in the operation of the franchise companies and in the accountability of Network Rail, but recreating a monolithic nationalised business would be a long-term disaster.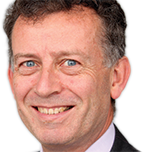 Max has an Economics degree from the University of Cambridge and is a chartered accountant. He worked at Investec Asset Management for 12 years, managing multi-asset funds investing in internally and externally managed funds, including investment trusts. This included a fund of investment trusts which grew to £120m+. Max has managed ten investment trusts (winning many awards) and sat on the boards of three trusts – two directorships are still active.
After 39 years in financial services, including 30 as a professional fund manager, Max took semi-retirement in 2017. Max has been a MoneyWeek columnist since 2016 writing about investment funds and more generally on markets online, plus occasional opinion pieces. He also writes for the Investment Trust Handbook each year and has contributed to The Daily Telegraph and other publications. See here for details of current investments held by Max.