30 October 1975: Spanish dictator General Franco cedes power to King Juan Carlos
With his health deteriorating, General Francisco Franco, 'caudillo' of Spain, relinquished power to the future King Juan Carlos, on this day in 1975.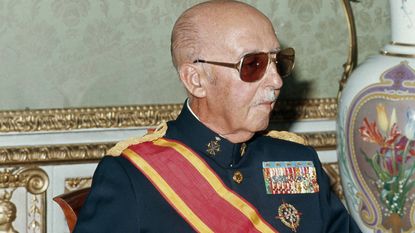 (Image credit: © Bettmann Archive/ Getty Images)
The 1936 Spanish election resulted in victory for a left-wing coalition, but both the population and the army were bitterly divided. After initially staying out of the conflict, General Francisco Franco, the chief of general staff, decided to support an anti-government uprising in July 1936, leading to the Spanish Civil War.
Supported by Hitler, Franco's forces defeated the Soviet-supported government, at the cost of half a million lives, and Franco became caudillo (military leader) of Spain.
During World War II, Spain aided Germany, but officially stayed neutral, which enabled Franco's regime to survive after the end of the war. For the next 30 years, Franco ran a highly authoritarian regime, jailing dissidents and imposing political censorship. From the late 1960s, he focused his efforts on establishing Juan Carlos, grandson of Spain's former king, as his successor.
Subscribe to MoneyWeek
Subscribe to MoneyWeek today and get your first six magazine issues absolutely FREE
Get 6 issues free
Sign up to Money Morning
Don't miss the latest investment and personal finances news, market analysis, plus money-saving tips with our free twice-daily newsletter
Don't miss the latest investment and personal finances news, market analysis, plus money-saving tips with our free twice-daily newsletter
By October 1975, Franco's health deteriorated and he was forced to relinquish his power, although Juan Carlos was not crowned until Franco's death in November.
Instead of maintaining the Francoist regime, Juan Carlos moved to democratise Spain, removing pro-Franco ministers and allowing free elections in 1977. An attempted military coup in February 1981 was foiled in part by the king's dramatic TV broadcast denouncing the plot.
This strengthened support for the monarchy and Juan Carlos enjoyed high public approval for most of the next three decades. But a decision to go on a $60,000 hunting trip in 2012, at a time of high unemployment, badly damaged his popularity. He abdicated in favour of his son two years later.
Matthew graduated from the University of Durham in 2004; he then gained an MSc, followed by a PhD at the London School of Economics.
He has previously written for a wide range of publications, including the Guardian and the Economist, and also helped to run a newsletter on terrorism. He has spent time at Lehman Brothers, Citigroup and the consultancy Lombard Street Research.
Matthew is the author of Superinvestors: Lessons from the greatest investors in history, published by Harriman House, which has been translated into several languages. His second book, Investing Explained: The Accessible Guide to Building an Investment Portfolio, is published by Kogan Page.
As senior writer, he writes the shares and politics & economics pages, as well as weekly Blowing It and Great Frauds in History columns He also writes a fortnightly reviews page and trading tips, as well as regular cover stories and multi-page investment focus features.
Follow Matthew on Twitter: @DrMatthewPartri