Sahar Hashemi: The reluctant barista who made a million
Despite being a complete entrepreneurial novice, Sahar Hashemi built one of Britain's biggest chains of coffee shops.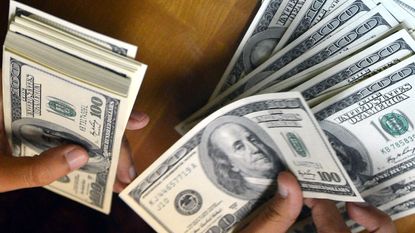 (Image credit: © BAY ISMOYO/AFP via Getty Images)
Are entrepreneurs born or are they made? Sahar Hashemi, 47, thinks they must be made: she "never wanted to be an entrepreneur". However, shortly after qualifying as a lawyer in 1994 she realised that, in her own words, "I wasn't very good at the law". With expected job offers failing to materialise, she went to visit her brother, Bobby, in New York. While she was there she fell in love with the low-fat coffee widely sold there what we all now know as a "skinny latte". Yet when she returned to the UK, she found to her disappointment that they were hard to track down.
So she took matters into her own hands. She and Bobby set up their own chain of coffee bars, called Coffee Republic. They raised the money via a bank loan from NatWest, underwritten by the Small Business Loan Guarantee Scheme. Along with money from an angel investor, this funded Coffee Republic's first site, which opened in 1995. Hashemi admits now that at first she was "clueless" about the complexities of running a firm in the catering industry she was forced to learn everything from scratch.
Her first major challenge was finding the right people to staff her coffee shops. Another problem was raising brand awareness among a mainly tea-drinking public. So she focused on "cheap but effective" marketing deals, such as "two for one" offers and loyalty cards. This helped Coffee Republic build an audience quickly. She remembers with pride walking on the street one day and seeing someone drinking from a Coffee Republic branded paper cup.
Subscribe to MoneyWeek
Subscribe to MoneyWeek today and get your first six magazine issues absolutely FREE
Get 6 issues free
Sign up to Money Morning
Don't miss the latest investment and personal finances news, market analysis, plus money-saving tips with our free twice-daily newsletter
Don't miss the latest investment and personal finances news, market analysis, plus money-saving tips with our free twice-daily newsletter
By 1998 Coffee Republic had grown to seven stores. Hashemi wanted to raise more funds for expansion, and decided that the time was right to list the firm on the Alternative Investment Market. This enabled the firm to keep growing, and by 2000 it had moved to the main market of the London Stock Exchange. A year later it had 110 stores across the UK. It was then that Hashemi made the decision to sell up and hand over to professional managers. It made her a very wealthy woman.
However, she says that she regrets not staying involved. The firm itself was hit badly by the financial crisis and went bust in 2009.Since then, Hashemi has written several books, including the hit guide to entrepreneurship, Anyone Can Do It: Building Coffee Republic from Our Kitchen Table. She also made a return to entrepreneurship with a new company called Skinny Candy. This one came about when she decided to give up sugar to improve her health and found that the only remaining sweets she could still enjoy were those targeted at diabetics. This led her to produce sugar-free sweets for the mass market. After setting up the business in 2005, she successfully sold it just two years later.
Hashemi currently makes a living advising established firms on how to be more entrepreneurial and innovative. She's adamant that the traditional model of experienced managers replacing a firm's founder after it reaches a certain size is outdated. However, this cuts both ways those looking to set up a company have to be disciplined and detail-orientated from the start. Indeed, her key tip for aspiring entrepreneurs is that "you have to focus on the details, because the detail is the thing that the customer sees".
Matthew graduated from the University of Durham in 2004; he then gained an MSc, followed by a PhD at the London School of Economics.
He has previously written for a wide range of publications, including the Guardian and the Economist, and also helped to run a newsletter on terrorism. He has spent time at Lehman Brothers, Citigroup and the consultancy Lombard Street Research.
Matthew is the author of Superinvestors: Lessons from the greatest investors in history, published by Harriman House, which has been translated into several languages. His second book, Investing Explained: The Accessible Guide to Building an Investment Portfolio, is published by Kogan Page.
As senior writer, he writes the shares and politics & economics pages, as well as weekly Blowing It and Great Frauds in History columns He also writes a fortnightly reviews page and trading tips, as well as regular cover stories and multi-page investment focus features.
Follow Matthew on Twitter: @DrMatthewPartri