Dar Zemora: a tour of magical Marrakech
Jon Connell explores from this charming boutique hotel just outside the medina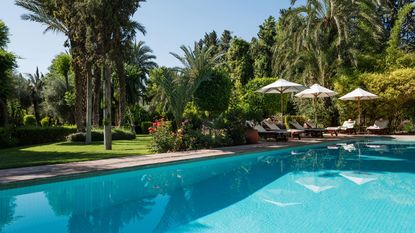 (Image credit: ©Dar Zemora)
I'm not much of a tourist. Give me a sunny Caribbean beach and a good book and I'm happy. But just for a change (and because my eldest daughter is getting married, meaning we had but little time), we thought we'd go somewhere closer at hand and escaped to Marrakech in Morocco.
It's an extraordinary, rather bewildering place, right on the edge of the Sahara desert and refreshingly warm after England, yet majestically framed, in the distance, by the snow-covered Atlas mountains glowing in the sun. Sweeping through the wide avenues, you're struck by how strikingly pink it is, this "Red City". The pink stone is all around you in the interminable high walls which stretch round the city, and in its many lustrous palaces.
We visited one of these palaces on our first morning, the Bahia: vast, elaborately decorated, it is a maze of little gardens and courtyards, including the beautiful central square, which the palace's first owner, the slave-turned-vizier Abu "Bou" Ahmed, reserved for his harem.
Subscribe to MoneyWeek
Subscribe to MoneyWeek today and get your first six magazine issues absolutely FREE
Get 6 issues free
Sign up to Money Morning
Don't miss the latest investment and personal finances news, market analysis, plus money-saving tips with our free twice-daily newsletter
Don't miss the latest investment and personal finances news, market analysis, plus money-saving tips with our free twice-daily newsletter
But Marrakech is a city of contrasts, and cheek by jowl with this elegant palace and its gardens is the teeming life of the famous souks. We strolled from stall to stall, inspecting jewellery and ceramics, bargaining over rugs, and even buying exotic powders from a persuasive pharmacist who assured us, with a toothy grin, that what he had to offer could cure every ailment.
We returned to the tranquillity of our charming boutique hotel, the Dar Zemora, which, with its six suites, is set in three acres of beautifully manicured gardens just outside the medina. It's my kind of place: friendly staff, not too many people, a lush world of palms and roses and bougainvillea, with cool shaded terraces and a long azure blue-tiled pool, around which we spent much of our time. Our own quarters, the Pavillion Pool suite, is really a cottage, 100 yards or so from the main hotel, and with two bedrooms, its own terrace and even its own pool.
Delightful gardens
The days are warm in March, but the evenings are cool, and as dusk falls one of the hotel's unobtrusively helpful staff arrives to light our log fire, a ritual we looked forward to each evening before dinner. The fare is gentle, tasty Moroccan food – delicious salads at lunch, dinner in the charming inside/outside dining area overlooking a line of three small ponds. And I mustn't forget – it was a highlight of the day – at 4pm, as you sit round the pool, you're brought afternoon tea with a delicious slice of chocolate cake.
We decided not to overdo the sightseeing. We were here for a rest, after all. But over the next few days we visited two beautiful gardens – Le Jardin Secret, my favourite, a leafy space bursting with exotic plants, figs, olives and dates, and with pools full of carp and terrapins. The other – and this one you have to book to get into, as you do for the adjoining museum – is Yves Saint Laurent's Le Jardin Majorelle.
When the great French designer first set eyes on Marrakech in 1964, he fell in love with it, buying what became Le Jardin Majorelle with his partner, Pierre Bergé, and settling on a bold shade of aquamarine for the house, which sits in the midst of it. It's disconcerting when you first see it, striking among all the greenery, giant cacti, bougainvillea, palms and bamboo. But somehow – perhaps it's the contrast – it works.
Marrakech is also brimful of delicious restaurants. One evening, we battled our way through a crowded souk before climbing the stairs to the balcony that houses Le Café des Épices. It's tasty and fun, though not easy to find. It also requires, as do so many of Marrakech's hidden places, a dicing with death unavoidable any time you venture down one of Marrakech's myriad of narrow streets and alleys.
Walk down any ally and you will find yourself being nearly knocked down a dozen times by a dizzying procession of motorbikes, scooters, donkey carts, cars, vans and other pedestrians, all jostling past each other in a surprisingly jolly and unaggressive manner. Somehow, though, they always miss you. Don't ask me how.
There were two restaurants we fell for. The first was the amazing roof terrace of Vanessa Branson's sprawling but elegant El Fenn, right in the heart of town, where you are brought delicious salads, slightly spicy lamb chops and barbecued chicken. It's stylish and fun, a secluded haven amidst the chaos. We were entranced by it.
The other place we loved is more surprising. It was suggested by Lindsay Kentish. Lindsay and her husband are the enterprising English couple who, 20-odd years ago, created Dar Zemora. Plus61 is an Australian restaurant right in the heart of the medina. We loved it. The cuisine is Australian, but it feels Moroccan too, with a friendly atmosphere. And how nice it was each evening to return to the cosy atmosphere of the Dar Zemora and just hang out and have tea, watching a tortoise stroll along the edge of the pool, lapping the water at the edge. I'm already looking forward to going back.
Jon paid a reduced rate at the Dar Zemora. Four nights from £1,695, darzemora.com