Land Rover Defender: last chance to savour that V8 burble
The new Land Rover Defender V8 put a smile on the face of petrolheads. Enjoy it while you can, says Nicole Garcia Merida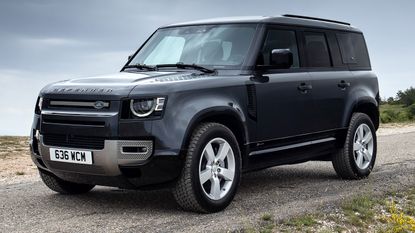 (Image credit: © Land Rover)
"When it comes to horsepower, too much is often just about right," says Mike Duff on Car and Driver. The new Land Rover Defender V8 proves the rule – that a car can only get better "with more cylinders under its hood". The new Land Rover has a slightly chunkier body than its predecessors and treats you to the "deep burble" characteristic of V8 engines at startup. That gives "by far the strongest clue that this isn't a regular Defender". The chassis handles the engine's full power impressively and the acceleration is "heady". The steering also gives better feel than with "lesser Defenders", with more weight and "meaningful communication" with the driver. The brakes too are reassuring, boasting good stopping power "with a pleasingly solid pedal feel". And as you would expect from a Land Rover, it performs excellently off-road: around Land Rover's Eastnor Castle test site, "it conquered pretty much every type of terrain without breaking a sweat".
This Land Rover is actually quite a few "characters" rolled into one, says Matt Prior in AutoCar. At low speeds on slippery bits, "it mooches with generous wheel movement, easy, long throttle travel and a great-sounding steady rumble". When pushed further, it becomes more responsive, doing a "passable impression of a rally-raid car" on grassy fields. On the road, it's "smooth, refined and still very, very fast". This new supercharged variant boasts 518bhp and a 0-60mph speed of just 5.2 seconds. True, it will set you back at least £98,575, so it might not be the most sensible choice. "But it is a pretty lovely one."
It's far more than just a "full-bore performance version of the brand's off-roader" though, says James Brodie on Auto Express. "It's an option for those demanding a bit more presence and a small sense of luxury from their Defender." The near-six-figure price tag takes the Defender into "proper luxury vehicle territory", but it's no limited-edition toy, "just the top end of the regular line-up".
Subscribe to MoneyWeek
Subscribe to MoneyWeek today and get your first six magazine issues absolutely FREE
Get 6 issues free
Sign up to Money Morning
Don't miss the latest investment and personal finances news, market analysis, plus money-saving tips with our free twice-daily newsletter
Don't miss the latest investment and personal finances news, market analysis, plus money-saving tips with our free twice-daily newsletter
Just starting the car "is enough to prompt a wry smile", says Jake Groves in Car magazine. There are "no thunderclap theatrics… you simply hear the engine briefly harrumph to life before settling down". Land Rover has tried to "choke the engine as best it can to maintain the very latest emissions standards", allowing the engine to continue in service until 2027 – but it won't be long before you can no longer buy one of these new on the market. Cars are changing fast as governments put plans in place to make them ever greener. So make the most of it now, says Greg Potts on Top Gear – "if you can park the feeling that everyone else on the road thinks you're a bit of a pillock".
Nic studied for a BA in journalism at Cardiff University, and has an MA in magazine journalism from City University. She joined MoneyWeek in 2019.