How to capitalise on the secondhand car boom
A new-car shortage is forcing car buyers to turn to the used market. Alex Rankine breaks down why.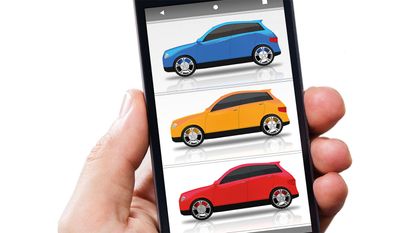 (Image credit: © Getty Images/iStockphoto)
Getting your hands on a new car today is "about as difficult as trying to buy a four-pack of toilet paper a week into the coronavirus pandemic last year", says Rob Hull for This Is Money.
]The global computer chip shortage means that the waiting time for some new models now runs from five months to over a year. Now that pressure is carrying over to the secondhand market, with average prices for used cars rising 14% year-on-year in July, according to Auto Trader.
Buying a used car can feel like a minefield", says Will Kirkman in The Daily Telegraph. Legally, cars sold by a dealer must be "of satisfactory quality" and "fit for purpose". Private sellers, by contrast, are merely obliged to sell a vehicle that is "roadworthy". A car with outstanding finance or that has been written off in Category A (scrap only) or B (body shell must be scrapped) cannot be legally sold. Keep a copy of the original advert in case you need to later prove that the vehicle is not as described.
Subscribe to MoneyWeek
Subscribe to MoneyWeek today and get your first six magazine issues absolutely FREE
Get 6 issues free
Sign up to Money Morning
Don't miss the latest investment and personal finances news, market analysis, plus money-saving tips with our free twice-daily newsletter
Don't miss the latest investment and personal finances news, market analysis, plus money-saving tips with our free twice-daily newsletter
However, going to court is an expensive hassle, so do your research to avoid any problems. Verify the car's MOT history at gov.uk/check-mot-history and consider paying for a check from a company such as HPI that will tell you about outstanding loans or whether the vehicle has been stolen or written off.
Pre-pandemic, less than 1% of used cars were sold online but that is changing fast. From online listing sites to a new generation of retailers that let you order a vehicle to your door much as you would an Amazon package, digital disruption is finally coming for cars.
Traditional dealerships are also changing, Umesh Samani of the Independent Motor Dealers Association tells The Times. "With the internet everyone can see the price of each model so dealers have to offer a competitive price in the first place... Haggling is disappearing because everything is so transparent."
How to sell
If you want to sell, the quickest approach is to use an online car buying service, such as We Buy Any Car or Cazoo. By entering a few details into a website a seller can quickly get a valuation for their vehicle. But you pay for that convenience. "Our undercover research... found that five out of six of our mystery shoppers would have been better off selling to a dealer – in one case, by over £2,000," says Adrian Porter of Which.
A private sale is "almost certain" to net more for the seller. And be aware that online valuations from car buying services can be cut once the vehicle has been inspected, says Andrew Charman for The Car Expert.
Private sales have come a long way from the days when you would "park the car outside your house with a 'for sale' notice in the windscreen and hope for a buyer to magically appear".
Many sales now take place through the online marketplaces, most of which leave buyers and sellers to sort out the details between themselves. "Online bank transfers are the best way to get paid, and these can be done quickly via the Faster Payments or CHAPS systems," says Auto Trader.
If you don't want to hand out bank details then "cash is an alternative, but... arrange for the handover to happen at a bank", where the staff can count the notes and make sure they are genuine before you hand over the keys.