Elvira Nabiullina: Putin's central bank chief blindsided by Russia's war on Ukraine
Putin's central bank chief was reportedly blindsided by the launch of the invasion of Ukraine and forced to stay in her job. Managing the crisis looks like a deeply unappealing task, says Jane Lewis.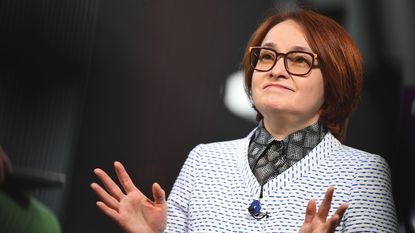 (Image credit: © Getty )
Elvira Nabiullina, known for her symbolic outfits, fittingly wore "funereal black" as she warned, ashen-faced, a month ago, of the devastating hit to the Russian economy from Western sanctions. The Russian centralbank governor left it open to speculation what she really thought about the war. But now we have a better picture, says Bloomberg.
Reports suggest that Nabiullina sought to resign in the chaotic days after the invasion, "but was told to stay" by Vladimir Putin – reinforcing the narrative that the conflict was orchestrated by a relatively small cadre of Kremlin officials. Despite her reported closeness to the president, Nabiullina was apparently blindsided. She had conscientiously run through "every kind of stress test", a senior former official told the Financial Times. "But not a war."
Building Fortress Russia
Nominated this month for a new five-year term, Nabiullina, 58, is now left "to manage the fallout from a war that's quickly undone much of what she accomplished in the nine years since she took office", says Al-Jazeera. It looks a deeply unappealing task for a central banker who, until this year, had pulled off the tricky feat of becoming highly respected in the international community while retaining Putin's trust.
Subscribe to MoneyWeek
Subscribe to MoneyWeek today and get your first six magazine issues absolutely FREE
Get 6 issues free
Sign up to Money Morning
Don't miss the latest investment and personal finances news, market analysis, plus money-saving tips with our free twice-daily newsletter
Don't miss the latest investment and personal finances news, market analysis, plus money-saving tips with our free twice-daily newsletter
Nabiullina had her mettle tested early by the sanctions following Putin's 2014 annexation of Crimea. Defying sceptics (and, reportedly, death threats), "she fought against capital controls and set the rouble free" – later succeeding in getting inflation down to the lowest in Russia's post-Soviet history. It was a brave call to hike interest rates to 17.5% and plunge the country into recession, says the FT. But Nabiullina – one of Russia's few senior female officials – showed "steely determination" and stuck to her ultraconservative monetary policy".
It paid off big time. Under her stewardship, the central bank amassed one of the world's biggest stockpiles of foreign currency and gold – a $643bn war chest that underpinned Putin's "Fortress Russia" strategy. But Nabiullina also wooed the West – taking what steps she could to open up the economy, while waging an effective crackdown on corrupt Russian banks.
Publications including Euromoney and The Banker hailed her as one of the world's best policymakers. Having started her career at the USSR Science and Industry Union, Nabiullina moved to the Ministry for Economic Development and Trade before going into private banking; by the turn of the millennium she was CEO of Sberbank.
Putin appointed her as minister for economic development and trade in 2007. In 2013, she was installed at the central bank. "She brought the central bank up to absolutely international standards," says one economist. In 2018, European Central Bank chief Christine Lagarde – a fellow opera-lover then at the IMF – likened her qualities to those of "a great conductor".
Brooching the question
Apparently "soft-spoken" in person, Nabiullina communicates not just through words but through her clothing, says The Observer. She's particularly keen on using brooches to drop hints about her policy thinking. In May 2020, as the government urged people to stay at home to combat Covid-19, she wore a houseshaped brooch. A month later, after cutting rates, she chose a dove.
Amid increasing hardship at home, Russians will be studying Nabiullina's "rotating collection of brooches" even more closely than usual, says the FT. She has let it be known that her priority is protecting Russian citizens. But tension is mounting, says The Daily Telegraph. "With cracks emerging" in Putin's "inner circle", Nabiullina is coming under increasing pressure from the West "to change sides" and defect. That would be a huge blow to Putin's war efforts. But it's frankly a dangerous position to be in.
Jane writes profiles for MoneyWeek and is city editor of The Week. A former British Society of Magazine Editors editor of the year, she cut her teeth in journalism editing The Daily Telegraph's Letters page and writing gossip for the London Evening Standard – while contributing to a kaleidoscopic range of business magazines including Personnel Today, Edge, Microscope, Computing, PC Business World, and Business & Finance.
She has edited corporate publications for accountants BDO, business psychologists YSC Consulting, and the law firm Stephenson Harwood – also enjoying a stint as a researcher for the due diligence department of a global risk advisory firm.
Her sole book to date, Stay or Go? (2016), rehearsed the arguments on both sides of the EU referendum.
She lives in north London, has a degree in modern history from Trinity College, Oxford, and is currently learning to play the drums.