10 ways to improve your home and interiors you may not have thought of
From shepherd huts, to pool tables, smart technology to high-tech security, here are some great ideas for home improvements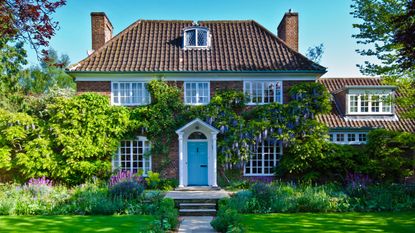 Our homes are our castles, and never more so than right now. As the days start getting shorter and colder, it's likely we'll all be spending more time indoors than ever before. Add to that all the coronavirus-related adjustments we're having to make, it makes sense for our homes to really become the ultimate sanctuaries.
Power your home with sustainable electricity
Solar panels offer a sustainable and cost-effective way to generate electricity to power your home, but what happens if you generate more than you need? Usually, it's sent to the grid, and then when solar generation ends for the day, energy will need to be re-purchased from the grid – often at a higher price. One way to sidestep this is with a Moixa Battery, which can store excess solar energy to power your home, day and night. If you have a time-of-use tariff, you can also store low-cost grid energy, enabling you to reduce your carbon footprint by using cleaner and cheaper energy. Moixa offers a range of batteries and solar panels to suit every home's energy needs – reach out to one of the company's Solar Storage Specialists to find the best solar energy and storage option for you. Visit moixa.com/solar-battery.
Enjoy your outside spaces no matter the season
As the seasons change and the days get shorter, we all want to continue to make the most of our gardens and outdoor spaces. Enclosed glass verandas and winter gardens are great ways of achieving this, letting you enjoy your garden no matter the season. Crocodile specialises in creating bespoke glass and aluminium systems for the home. Its verandas and winter gardens are designed specifically to suit your home, while its automatic garage doors, retractable awnings, security shutters, blinds and screens are ideal for insulation and security. For more information on how to improve your home, visit crocodile.co.uk.
Subscribe to MoneyWeek
Subscribe to MoneyWeek today and get your first six magazine issues absolutely FREE
Get 6 issues free
Sign up to Money Morning
Don't miss the latest investment and personal finances news, market analysis, plus money-saving tips with our free twice-daily newsletter
Don't miss the latest investment and personal finances news, market analysis, plus money-saving tips with our free twice-daily newsletter
Play a game of pool or snooker in your own home
This year has taught many of us the value of staying indoors and making our own entertainment and a pool or snooker table is a sure-fire way of providing hours of fun. Not only will it guarantee hours of entertainment for your family and guests alike, but they can also be objects of beauty in themselves. Sir William Bentley Billiards has more than 40 years' experience in the restoration, design and creation of bespoke snooker, pool and dual-purpose dining tables. The team works with each client to create unique pieces that are individually specified in terms of design, materials, size, detail and finish. Many tables are dual-purpose, rolling over or winding up to transform a dining or conference table into a stylish pool, snooker or table tennis table. Enjoy a 10% discount code by using the code MW-NOV-20. Valid until 30 November 2020. Visit billiards.co.uk.
Build your own shepherd hut – a home office with a difference
If you can't travel the world, then bring a little of the travel world home to you, all the while maximising your home space at the same time. Greendown Shepherd Huts offers handcrafted huts that can be used as additional bedrooms, home offices or playrooms. They can be fully fitted with kitchenettes, bathrooms, double beds and a wood burning stove to provide a year-round retreat. Alongside the bespoke design-and-build huts, Greendown Shepherd Huts offers two turn-key 20ft B&B options that come ready to use. Truly a home office or a guest room with a difference. Visit greendownshepherdhuts.co.uk for more information.
A work of art in your kitchen – the original handmade kettle
Kitchen essentials don't need to be purely practical – they can also be objects of beauty. Newey & Bloomer offers handmade stove-top kettles made from the highest grade of copper and to the same exacting standards as when the company was founded in 1903. Kettles come in a number of beguiling shapes and styles: the 1950s Beehive is robust and elegant, with a whistle on the spout, while the traditional Buckingham model is a showstopper with its gorgeous quick-boil base, melodic whistling lid and patented birdsmouth spout for the perfect pour. Enjoy an exclusive saving of 20% with discount code MW20 at neweybloomer.co.uk. Offer valid from October 2020 until December 2020.
Filter coffee made beautifully
A good cup of coffee can set the right tone for your entire day, from the moment the first whiff hits your nose to the last satisfying sip. Moccamaster filter coffee makers offer a stylish and convenient way to get your coffee fix. The company's machines are beautifully sleek and have been handmade in the Netherlands for more than 50 years, and each comes with a five-year warranty. The latest model, the Moccamaster KBG Select, enables you to brew either half or a full pot of coffee at the optimal brewing time and temperature – and is also available in 21 colours. Visit moccamaster.eu.
Turn your home into a smarter home
We're living in a brave new world of smart technology, where we now have access to the kind of tech that used to be science fiction, but is now readily available for your home. LUXORliving is the simple but comprehensive Smart Home solution from German home tech experts Theben that enables you to dim and turn lights on and off, regulate heating and control shutters in multiple rooms by switch, tablet, phone or voice control. By working with existing proven technology and devices, it eliminates the need for multiple gadgets and apps. This system works online and off via a secure cloud with remote access available to switch on lights to make it look as though you're home for extra security, or turn up the heating so it's nice and cosy for your return. Explore the system in detail at luxorliving.co.uk.
Keep your prized wines safe and secure
You've made the investment and taken the time to create a wine collection of rare vintages and heritage bottles worth hundreds – or even thousands – of pounds, but how do you store this safely at home? The Wine Cellar Company delivers smart, below-ground, intelligent wine cellaring solutions, making it easy for wine lovers to build and manage their collections. The company offers high-end style and peak technical performance, with capacity for up to 1,700 bottles, bespoke interior styling and SMART entry pad access. You'll also be able to monitor and protect your wines with the Wine Cellar Company's bespoke track-and-trace technology. Book your free wine cellar consultation at thewinecellarcompany.co.uk/contact-us/.
Furniture designed just for your comfort and support
Tailor-made furniture designed with added comfort and support can be a game-changer. New Life Mobility specialises in bespoke rise-and-recline chairs and profiling beds. These eye-catching pieces are designed with conditions such as poor circulation, arthritis and osteoporosis in mind. All chairs are made to measure with optional lateral back support. Heat and massage options are also available, with the goal of soothing aches and pains. Every effort is made to ensure each item of furniture is specifically designed to suit individual needs. Freephone: 0800 533 5099 or visit newlifemobility.co.uk.
The ultimate luxury home safety measures for you
The Safery is a UK-based international organisation that offers unique security-related features for the ultimate luxury home. With a range of options and products on offer to suit different budgets, the company specialises in the luxury sector, offering clever design flourishes such as hidden wall-mounted bars and an automated furniture lounge table with a built-in hospitality section. The security product range includes armoured escape passages and secure mobile panic facilities featuring options such as fire suppression systems, communication apparatus and surveillance equipment. The Safery not only offers a robust ready-made product range, it also specialises in creating unique solutions for bespoke client requests. Visit thesafery.co.uk.