The coming crisis at the BBC
The BBC's chief has quit ahead of what promises to be years of turmoil and conflict with a hostile government. Will the licence fee survive?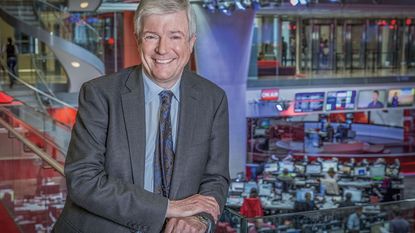 (Image credit: WARNING: Use of this copyright image is subject to the terms of use of BBC Pictures' Digital Picture Service (BBC Pictures) as set out at www.bbcpictures.co.uk. In particular, this image may )
Why is the BBC in the news?
This week Tony Hall (Lord Hall of Birkenhead) announced he'd be stepping down as director-general of the BBC in the summer, after seven years in charge. Hall is a former director of BBC News who was wooed back to the corporation in 2013 to steady the ship in the wake of the Jimmy Savile scandal and related unhappy conniptions. The ultimate BBC insider and safe pair of hands, Hall had been expected to stay on until 2022, the corporation's centenary year. But this week he announced that he's standing down to let a new leader get settled before what will also be a crucial year in terms of the BBC's funding settlement. (And, it has been widely speculated, before the BBC's current chairman, David Clementi, leaves next year and the government gets to install a new chairman and thereby influence the choice of the next DG.) Either way, Hall's decision has inevitably set off a whole new round of debate about how the corporation is funded, and whether the licence-fee model – a fixed levy of £154.50 paid by 25,752,560 UK households – is sustainable.
Why inevitably?
Because the licence fee and its future is already a pressing political issue, and Hall is leaving in order to let another general prepare for a looming battle. The BBC's current royal charter, last renegotiated between the BBC and the Conservative government in 2016, runs until 2027. Until a mid-term review in 2022, the fee will continue increasing with inflation (it currently raises abut £3.6bn a year, or around three-quarters of total BBC revenue). But from then on, its level is up for grabs – and the debate over the licence fee's whole future is certain to intensify in the run-up to charter renegotiation. The basic question is whether a compulsory levy to fund the BBC – in effect a poll tax – is an outrageous anachronism in a multi-channel world where large numbers (and a majority of younger viewers) don't watch BBC programmes. And it's a question that's becoming increasingly politicised.
How so?
Last July, the BBC's decision to stop subsidising free licences for roughly two-thirds of pensioners (about four million people) caused a storm of anger from politicians. Then, in the run-up to the December election, Boris Johnson (who last year dubbed it the "Brexit Bashing Corporation") and the culture secretary, Nicky Morgan, made clear that an overhaul of BBC funding is on the Conservatives' agenda – including decriminalisation of non-payment and a possible shift to a subscription model. This week Downing Street let it be known that it wants a say over who succeeds Hall; more ideologically driven Tories are proclaiming an existential crisis at what they see as a bastion of public-sector, market-stifling privilege.
Subscribe to MoneyWeek
Subscribe to MoneyWeek today and get your first six magazine issues absolutely FREE
Get 6 issues free
Sign up to Money Morning
Don't miss the latest investment and personal finances news, market analysis, plus money-saving tips with our free twice-daily newsletter
Don't miss the latest investment and personal finances news, market analysis, plus money-saving tips with our free twice-daily newsletter
An existential crisis?
The BBC does seem to be facing a turbulent moment. Back in October, even before the Tory sabre-rattling started, an Ofcom report had warned that the BBC "may not be sustainable in its current form, if it fails to regain younger audiences". And even for hardened veterans who have been tracking the BBC for 30 years, it's hard to remember a "worse or more dangerous time for the broadcaster", says Emily Bell in The Guardian. Competition from new technologies are changing audience behaviour and diluting the BBC's appeal, and morale has been "sapped by a damaging series of pay and discrimination cases". And now it faces a "hostile government that is sensing that, perhaps for the first time, there are no votes to be lost in eroding the funding and the power of the BBC".
Is there still a case for a licence fee?
When a licence fee was first introduced in 1923, the rationale was clear. There was no way to regulate or restrict who could receive the signal being broadcast, so funding the nascent national broadcaster by a tax on everyone buying a radio set made sense. But that's no longer the case and (arguably) hasn't been since the 1980s. These days, in the age of streaming and Netflix, the defence of the licence fee rests on more subtle arguments. First, that it's the only model that guarantees the BBC's universality (offering something for everyone) and political independence. And second, the licence fee model means that – rather than crowding out commercial rivals – the state-funded BBC acts as risk capital for the UK creative sector, allowing it to support emerging talent and invest for the long-term. Tony Hall wrote earlier this month in the Financial Times that every pound spent by the BBC generates £2 for the UK economy. Hall argues the licence fee is crucial to the BBC's role as a creative risk-taker and leader, and underpins its role in projecting the UK's soft power globally.
What are the alternatives?
Funding the national broadcaster out of general taxation (as they do in many similar European countries) would be fairer than the current poll tax, but would make the corporation far more politically exposed and dependent on the government of the day. More desirable, say many critics, would be a funding model based on voluntary subscriptions. In October, a paper by academic Philip Booth for the Institute of Economic Affairs proposed an interesting "third way" – not privatisation, but transforming the BBC into a subscriber-owned mutual along the lines of the National Trust. Technology has made any argument for a compulsory TV licence null and void, he says, and argues for a new model where households can either stop receiving certain BBC services or sign up to become member-owners of a new National Broadcasting Trust. It could have differential rates for the young and the old, for those watching on single or multiple devices, and so on. It would protect the BBC from political interference and encourage competition and diversity of provision. And no one would go to jail for not subscribing.
Simon Wilson's first career was in book publishing, as an economics editor at Routledge, and as a publisher of non-fiction at Random House, specialising in popular business and management books. While there, he published Customers.com, a bestselling classic of the early days of e-commerce, and The Money or Your Life: Reuniting Work and Joy, an inspirational book that helped inspire its publisher towards a post-corporate, portfolio life.
Since 2001, he has been a writer for MoneyWeek, a financial copywriter, and a long-time contributing editor at The Week. Simon also works as an actor and corporate trainer; current and past clients include investment banks, the Bank of England, the UK government, several Magic Circle law firms and all of the Big Four accountancy firms. He has a degree in languages (German and Spanish) and social and political sciences from the University of Cambridge.