Peter Thiel: Utopian elite flee for "Galt's Gulch"
Peter Thiel, the tech tycoon who founded PayPal, has long been prepared for a flight from societal collapse. As coronavirus panic spreads, where is the enigmatic billionaire now?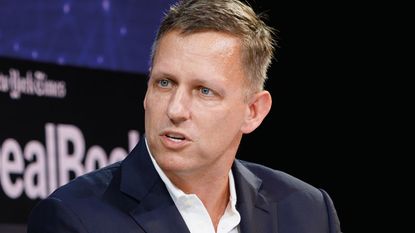 While most of us are preparing to hunker down at home in response to coronavirus, some of the "one-percenters" are "self-quarantining" in more "dramatic and expensive fashion", says Vanity Fair. Indeed, as The Sunday Telegraph points out, "many of the tech industry's elite – led by PayPal billionaire Peter Thiel – have spent years preparing for the apocalypse with bunkers, secret retreats and action plans". You might say "coronavirus is the moment Silicon Valley's 'preppers' have been waiting for".
So where exactly is the enigmatic Thiel? The chances are that he may be headed for the southern hemisphere, says The Guardian. In 2016, another influential tech entrepreneur, Sam Altman, revealed an arrangement that, in the eventuality of some kind of "systemic collapse scenario", they would both board a private jet and fly to a hideaway that Thiel bought in New Zealand in 2011. One of Thiel's inspirations is Atlas Shrugged novelist Ayn Rand, whose hero, John Galt, retreats to Galt's Gulch, a utopian community, in the face of societal collapse. The German-born venture capitalist has long considered New Zealand to be "the Future".
A great visionary… and cartoon villain
A conservative libertarian, and prominent backer of Donald Trump, Thiel, 52, has long split opinion. On the one hand he's hailed as a great visionary: The Economist credits him with "one of the most interesting minds in American business". On the other, he can come across as "a caricature of outsized villainy", says The Guardian. Known for his "public musings about the incompatibility of freedom and democracy", a spiteful side emerged in 2016 when he "vengefully" helped bankrupt Gawker, a scurrilous gossip website that had outed him as gay in 2007. Over the years, Thiel's futuristic utopianism has seen him back everything from "sea-steading" (the concept of creating permanent settlements at sea) to the singularity (the merging of humans and AI technology).
Subscribe to MoneyWeek
Subscribe to MoneyWeek today and get your first six magazine issues absolutely FREE
Get 6 issues free
Sign up to Money Morning
Don't miss the latest investment and personal finances news, market analysis, plus money-saving tips with our free twice-daily newsletter
Don't miss the latest investment and personal finances news, market analysis, plus money-saving tips with our free twice-daily newsletter
Born in Frankfurt in 1967, Thiel's love of sci-fi and fantasy fiction began early: as a child he played Dungeons & Dragons and he read Tolkien. But he was also a disciplined ideas-man who became a US chess master at 21. After studying philosophy at Stanford, where he co-founded "The Stanford Review" to counter the university's perceived "political correctness", Thiel hit Wall Street.
But by 1996, he had tired of selling derivatives for Credit Suisse and returned to California in search of more meaningful work. Thiel quickly became enthused by the nascent internet movement and, with financial support from his family, launched his first venture-capital company. In 1998, he struck gold when he realised he could solve a problem in making online payments – and the basis of his estimated $2.3bn fortune, PayPal, was born. A timely investment in Facebook did the rest.
Some odd moves
Thiel's career has been "evolving in an odd direction" of late, notes The Economist. He has largely turned his back on the denizens of Silicon Valley. In 2018, he relocated to Los Angeles, claiming that the Valley felt like a "one-party state", says Forbes. Last year, he accused Google of being "seemingly treasonous" because of its investments in China. While outspoken in his opinions, Thiel keeps his private life so tightly closed that no one knows for certain if he has a private jet, says HuffPost. Still, he's a dedicated survivor and it will be interesting to see where he turns up next.
Jane writes profiles for MoneyWeek and is city editor of The Week. A former British Society of Magazine Editors editor of the year, she cut her teeth in journalism editing The Daily Telegraph's Letters page and writing gossip for the London Evening Standard – while contributing to a kaleidoscopic range of business magazines including Personnel Today, Edge, Microscope, Computing, PC Business World, and Business & Finance.
She has edited corporate publications for accountants BDO, business psychologists YSC Consulting, and the law firm Stephenson Harwood – also enjoying a stint as a researcher for the due diligence department of a global risk advisory firm.
Her sole book to date, Stay or Go? (2016), rehearsed the arguments on both sides of the EU referendum.
She lives in north London, has a degree in modern history from Trinity College, Oxford, and is currently learning to play the drums.