Carlos Ghosn: Le Cost Killer's great jail break
Carlos Ghosn, the former Nissan boss charged with fraud, fled captivity in Tokyo and is now a fugitive in Lebanon. His memoirs should make for fascinating reading.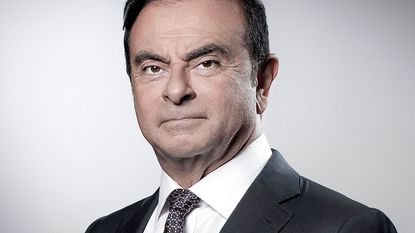 (Image credit: AFP via Getty Images)
When Carlos Ghosn was languishing in jail in Tokyo last year he was reported by Le Figaro to be like "a lion in a cage" – pacing his 16ft x 10ft cell and telling the few influential figures who agreed to meet him to "get me out of here". In the end, he pulled off that stunt himself – engineering an "audacious flit" to the Lebanon, by way of Turkey, having made a mockery of the supposedly water-tight surveillance under which he had been bailed, says the FT. The only pity, given that Ghosn, 65, was accused of "a big fiddle" was that, contrary to early reports, the former Renault-Nissan boss was not smuggled out of his Tokyo house in a large musical instrument case.
Spilling the tea
Now officially an international fugitive, Ghosn left a trail of chaos and recriminations behind him, says Bloomberg. Nissan executives are "quaking at all the tea he claims he is about to spill about the company". But that's nothing compared with the drubbing he dished out to Japan's "rigged" justice system in a hotly anticipated press conference in Beirut this week, where he denounced his detention as "a travesty against my human rights", vowed to clear his name and declared he is ready to stand trial "anywhere I can receive a fair trial". Ghosn, who had reportedly terrified the Nissan old guard with plans to push through a formal Nissan-Renault merger, named a cabal of executives allegedly involved in the "plot" to oust him and hinted that the conspiracy may have extended into the Japanese government.
Born in Brazil to Lebanese parents – his father, Jorge, worked in the airline industry and was constantly on the road – Ghosn is the "quintessential global citizen", says the FT. He speaks four languages: French, English, Arabic and Portuguese and says he "can't make a distinction about his roots". Certainly, Lebanon will feel like home – he moved there with his mother and siblings when he was six. A "rebellious child", who loved history and had a gift for maths, he studied engineering at the prestigious École Polytechnique in Paris – hence his top notch connections there – before landing his first job at Michelin.
Subscribe to MoneyWeek
Subscribe to MoneyWeek today and get your first six magazine issues absolutely FREE
Get 6 issues free
Sign up to Money Morning
Don't miss the latest investment and personal finances news, market analysis, plus money-saving tips with our free twice-daily newsletter
Don't miss the latest investment and personal finances news, market analysis, plus money-saving tips with our free twice-daily newsletter
In 1996, he took the top job at Renault and when the company merged with the ailing Nissan three years later won the soubriquet "Mr Fix-it" for his turnaround job there. In his pomp, when he was running two vast car companies at the same time, Ghosn was feted by Fortune as "a Machiavelli of management" and by the Harvard Business Review as "the very embodiment of globalisation". Famously known as "Le Cost Killer" in France for his tough-love revival of Renault he was viewed as a super-hero in Japan – he was even portrayed as the central character in a series of best-selling manga comics.
The jet-set monk
Ghosn was known as "the hardest working man" in a "brutally competitive business", says Forbes. In 2014, he confessed to living "like a monk": keeping to a strict schedule of eating, sleeping and exercise as he criss-crossed the world in his corporate jet. He appears to have enjoyed a rather more spacious lifestyle, in a succession of beautiful houses around the world, since his marriage, says The Times, and is believed to have accumulated a fortune estimated at €175m. Life in Lebanon should suit him fine "as a local boy made good". If all else fails, he can always write his memoirs, says The Washington Post. Hollywood is no doubt "already scrambling to obtain the rights to Ghosn's adventure. Tom Hanks to star, perhaps?"
Jane writes profiles for MoneyWeek and is city editor of The Week. A former British Society of Magazine Editors editor of the year, she cut her teeth in journalism editing The Daily Telegraph's Letters page and writing gossip for the London Evening Standard – while contributing to a kaleidoscopic range of business magazines including Personnel Today, Edge, Microscope, Computing, PC Business World, and Business & Finance.
She has edited corporate publications for accountants BDO, business psychologists YSC Consulting, and the law firm Stephenson Harwood – also enjoying a stint as a researcher for the due diligence department of a global risk advisory firm.
Her sole book to date, Stay or Go? (2016), rehearsed the arguments on both sides of the EU referendum.
She lives in north London, has a degree in modern history from Trinity College, Oxford, and is currently learning to play the drums.