11 September 1997: Scotland votes for devolution
In a referendum held on this day in 1997, Scotland voted for a devolved assembly, and greater tax-raising powers.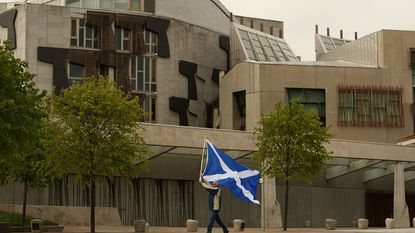 (Image credit: Man waving a flag in front of the Scottish Parliament. © Jeff J Mitchell/Getty Images)
Many Scots opposed the decision to unite with England and Wales in 1707. But the retention of separate legal systems and religious arrangements greatly reduced opposition, and after the failure of the Jacobite Rising of 1745-1746, it was not until the late-19th century that demands for Irish Home Rule led to demands for a similar process in Scotland. In 1913, a bill for Scottish devolution progressed through the House of Commons, but the start of World War I forced it to be dropped.
After the war, all the major parties opposed devolution. In 1969, the discovery of North Sea oil put it back on the agenda. The Labour government held a referendum in March 1979. Voters voted (narrowly) for devolution, but the poll failed to win the backing of 40% of Scotland's population. The Scottish National Party (SNP) lost all but two seats at the June general election.
During the 1980s, support for devolution gradually grew. Fearing they would be denied a majority by the SNP, Labour adopted Scottish and Welsh devolution as a policy in 1995. After their landslide victory in 1997, they held simultaneous referendums that September, on the principle of devolution, and whether a devolved assembly should have tax-raising powers. Scots votes backed both ideas with large majorities (though less than 40% of the overall electorate voted for tax-raising powers).
Subscribe to MoneyWeek
Subscribe to MoneyWeek today and get your first six magazine issues absolutely FREE
Get 6 issues free
Sign up to Money Morning
Don't miss the latest investment and personal finances news, market analysis, plus money-saving tips with our free twice-daily newsletter
Don't miss the latest investment and personal finances news, market analysis, plus money-saving tips with our free twice-daily newsletter
While many hoped that devolution would reduce the demand for full independence, the SNP formed a minority government in Edinburgh after the 2007 Scottish Parliament election. the 2014 independence referendum was won by the "No" camp, but some polls now suggest that a second referendum would result in independence.
Matthew graduated from the University of Durham in 2004; he then gained an MSc, followed by a PhD at the London School of Economics.
He has previously written for a wide range of publications, including the Guardian and the Economist, and also helped to run a newsletter on terrorism. He has spent time at Lehman Brothers, Citigroup and the consultancy Lombard Street Research.
Matthew is the author of Superinvestors: Lessons from the greatest investors in history, published by Harriman House, which has been translated into several languages. His second book, Investing Explained: The Accessible Guide to Building an Investment Portfolio, is published by Kogan Page.
As senior writer, he writes the shares and politics & economics pages, as well as weekly Blowing It and Great Frauds in History columns He also writes a fortnightly reviews page and trading tips, as well as regular cover stories and multi-page investment focus features.
Follow Matthew on Twitter: @DrMatthewPartri